This Saturday, January 9, proves to be busy start for 2016 for the Los Angeles Art World. Some stand out exhibitions take place downtown, Santa Monica, Hollywood and in Culver City.
CB1 Gallery celebrates the art of Los Angeles based artist Paul Donald in a solo exhibition titled "Endymion Project." The New Zealand born and Australian trained artist is focused on his own alienation with the role of a white male in today's society.
Inspired by Endymion from Classical mythology (who has been immortalized by European painter starting as early as the late eighteenth century), one senses the artist's identification with the vulnerability of his mythological counterpart.
"Endymion Project" will feature a live performance along with a group of objects that are meant to celebrate and obscure the naked white male body. Both the performance and exhibition are simultaneously inspired by the artist's ambivalence to his own white masculinity. Donald works in a variety of media, including painting, sculpture, video and performance.
The opening reception takes place Saturday, January 9, from 3 - 6 pm. Two other solo shows also opening are "My Head is a Ghost," featuring the art of Chuck Agro, and "Chris Oatey's "Snowmelt Paintings." The exhibitions will remain on view from January 9 through February 20, 2016. CB1 Gallery is located at 1923 S Santa Fe Ave, LA, 90021; http://cb1gallery.com
At Bergamot Station, Leslie Sacks Contemporary hosts an artist reception for "Portability," featuring the square-format acrylic paintings of Los Angeles based artist, Charles Christopher Hill. The acrylic works on canvas range in size from 10 x 10 inches, 12 x 12 inches, 2 x 2 feet up to 5 x 5 feet.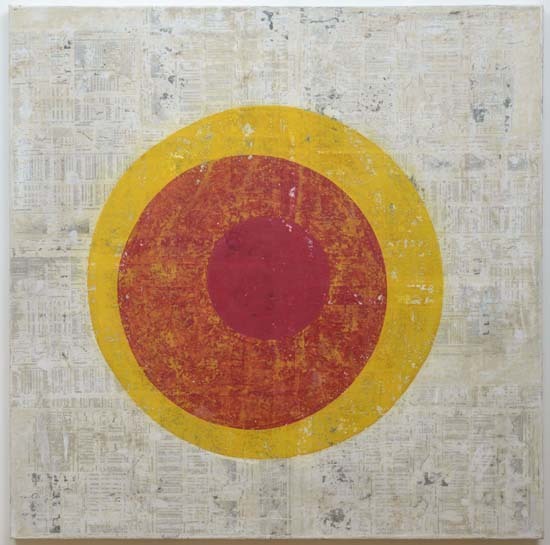 image: Courtesy of Leslie Sacks Contemporary, Charles Christopher Hill, Daddy, I Want It!, 2015, Acrylic on paper mounted on canvas, 48 x 48 inches HILL144

Hill's newspaper-collaged canvases offer an eclectic range of colors, such as a bright turquoise, luminous marigolds and shocking pinks.
The opening reception runs from 5-7pm at Leslie Sacks Contemporary (B6), Bergamot Station 2525 Michigan Ave., Santa Monica, 90404; "Portability" will remain on view through February 13, 2016. http://www.lscontemporary.com/
In Culver City...at the George Billis Gallery, artist Bonita Helmer will be featured in a solo exhibition titled "Observed" this Saturday from 5-7pm.The exhibition features Helmer's abstract paintings and will be her fifth exhibition at the gallery. Helmer combines her attraction to science and the universe with her first love and preferred medium...painting. She is currently a teacher at Otis College Art and Design where she has been teaching art since 1998.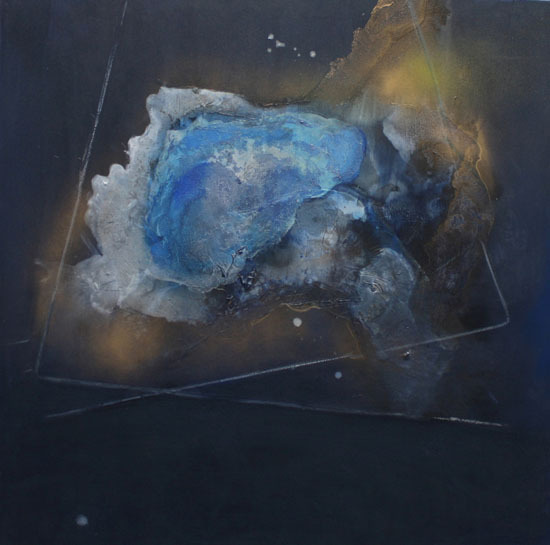 Image: Courtesy of George Billis Gallery, Bonita Helmer, Glu-on II, 2015, Acrylic and spray paint on canvas, 36 x 36 inches

As a teacher, the artist recognizes the importance of learning, and has studied the origins of the universe via physics and astronomy at UCLA. In 2014 Exploration Institute invited Helmer (the sole visual artist) to be on the board. The Exploration Institute brings together astronauts, physicists, underwater researchers and more.
Helmer's work has been exhibited nationally and internationally. Exhibitions include: MOCA, Beijing; a solo show at L'Espace Bateau Lavoir, L'Ecole des Arts Decoratifs in Paris; an official adjunct show as part of the MOCA Los Angeles, Whack retrospective of Women in Art; International Space Conference in Washington, DC.; Newport Harbor Art Museum (Orange County Museum of Art); Gallery Q, Tokyo; French Consulate/Alliance Francaise, Los Angeles; UCLA Dortort Center for the Arts, HUC Museum, NYU campus; Museum of Latin American Art (MOLAA). Helmer has also done paintings as set design for performance pieces, one co-produced by CalArts and the other in part by an NEA grant. Reception 5-8pm; George Billis Gallery, 2716 S. La Cienega Blvd., LA, 90029 http://www.georgebillis.com/
In Hollywood, Kohn Gallery exhibits a new body of work by established artist Lita Albuquerque. "Embodiment" features new pigment paintings and salt installations.
Albuquerque has traveled across the globe in search of a variety of materials. The art in "Embodiment" a form of rose madder (taken from lake roots), in addition to soft purple vesuvianite (originally found on Mt. Vesuvius) and pigments used in centuries-old Japanese painting technique called Enogu form the main gallery's palette.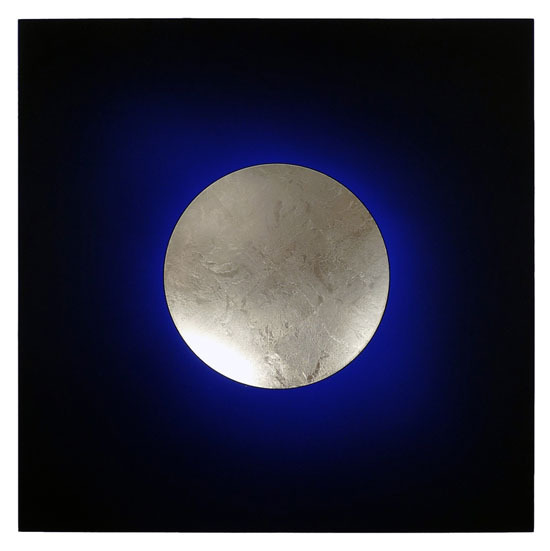 Image: Courtesy of Kohn Gallery, Lita Albuquerque, Auric Field (February 2015), 2015, pigment on panel and white gold leaf on resin, 30 x 30 inches
Albuquerque is known for her performance art and recently gathered several hundred participants to create a "performative sculpture" titled Spine of the Earth 2012, for the Getty's Pacific Standard Time Performance. She received the Cairo Biennale Prize at the Sixth International Cairo Biennale. Her work is held in the collections of the Metropolitan Museum of Art, the Getty Trust, the Whitney Museum of American Art, LACMA, and MOCA, among others. Albuquerque's exhibition, "20/20: Accelerando," opens January 24, 2016 (through April10, 2016) at the USC Fisher Museum of Art with a performance from 4-6pm and will run concurrently with "Embodiment." Artist reception takes place Saturday, January 9, from 6-8pm. Kohn Gallery, 1227 North Highland Ave., LA, CA 90038; http://www.kohngallery.com/
Calling all HuffPost superfans!
Sign up for membership to become a founding member and help shape HuffPost's next chapter