Black Friday or Small Business Saturday are the busiest shopping days of the year. If you haven't started planning your strategy for the holiday season, now's the time to dive in.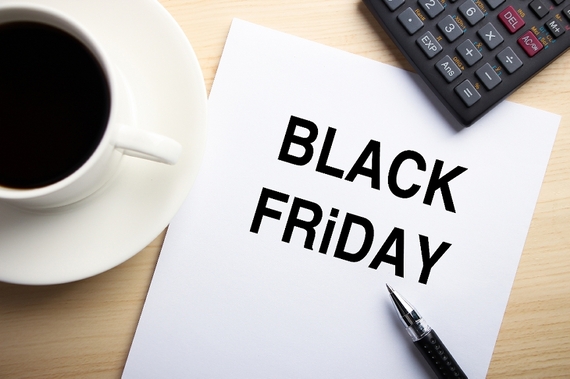 What Do You Want to Promote?
Defining your promotions strategy up front will help all the rest of your efforts fall into place. Will you offer a lump discount on all products, or will you highlight certain products or services with special pricing? The second strategy is a great way to drive traffic in the door for highly sought-after items. Once they're shopping, customers will likely buy other items as well.
If you have products that haven't sold well, bundle them with other more popular items, or offering them as free gifts with purchase.
If you sell products online, consider offering free shipping on Black Friday, or even throughout the shopping season as a way to attract more online customers.
Do You Have Enough Inventory?
If you're planning to push more promotions on certain items, you need to ensure you've got plenty in your inventory so you're not scrambling at the last minute, desperate to restock. The earlier you order your supplies and products, the less stress you'll have once the shopping season hits.
Is Your Staff Adequate for the Flood?
November and December are the busiest times of year for many companies. If in past years you've been swamped, you know you need to hire extra hands to help take care of the overflow of customers. You can hire temporary workers that only stay for the holiday season and then go on their merry little way.
Make sure to take the time to train them before the shopping season hits so that they know how to greet a customer, find inventory, and ring up sales. You'll be too busy to help much, so make sure they're confident in their roles while there's time to train them.
How Do Your Marketing Resources Look?
Did you know Small Business Saturday first launched in 2010? It was officially recognized as a holiday a year later by the US Senate, and now millions of shoppers turn out in droves the day after Black Friday to support small local businesses.
There are some great free resources that can let shoppers in your community know you're participating. Sign up to participate, and you can get access to free store signs and social media updates to share, cutting your marketing efforts in half.
Who Will Help You Spread the Word?
About a week before Black Friday and Small Business Saturday, start amping your customers up with teasers about your sales. Send out emails with highlights and coupons. Share some of the promotions on social media. If you buy advertising, update your visuals to reflect the upcoming sales. This will prime the pump and help customers plan their frenzy of shopping.
The sooner you plan your marketing and sales approach for Black Friday and Small Business Saturday, the smoother it will go!
Melinda F. Emerson, SmallBizLady is America's #1 small business expert. She is an author, speaker and small business coach whose areas of expertise include small business start-up, business development and social media marketing. She writes a weekly column for the New York Times, publishes a resource blog, www.succeedasyourownboss.com, which is syndicated through The Huffington Post. She also hosts a weekly talk show on Twitter called #SmallBizChat for small business owners. As a brand, she reaches 1.5 million entrepreneurs a week on the internet. As CEO of Quintessence Multimedia, Melinda develops audio, video and written content to fulfill her mission to end small business failure. Forbes Magazine named Melinda Emerson one of the #1 Woman for Entrepreneurs to follow on Twitter. Melinda has been featured on MSNBC, Fox News, NBC Nightly News and in Fortune, The Washington Post, USA Today, Wall Street Journal and Black Enterprise. She is the bestselling author of "Become Your Own Boss in 12 months; A Month-by-Month Guide to a Business That Works," and the ebook How to Become a Social Media Ninja; 101 Ways to Dominate Your Competition Online.
Calling all HuffPost superfans!
Sign up for membership to become a founding member and help shape HuffPost's next chapter