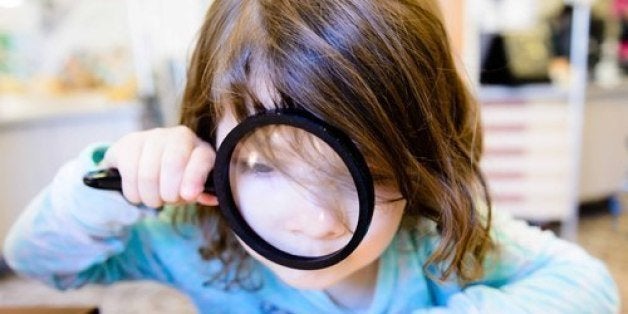 Many were surprised to learn that 2014 marked the first year in its 78-year history that a woman won the prestigious Fields Medal for excellence in mathematics. But, it's no secret that girls lag behind boys when it comes to an interest in science, technology, engineering and mathematics (STEM) or that jobs relating to STEM disciplines are the fastest-growing segment of the US economy. To give girls a leg-up it is important to get girls interested in the STEM disciplines early.
Lillian Kellogg, an advisor on the educational advisory board of The Goddard School, executive board member for P21, and vice president of Education Networks of America explains further why it's so important to get girls interested in STEM-based activities as early as the preschool. She emphasizes that women are significantly underrepresented in STEM-related careers and that the percentage of women in STEM jobs has actually declined since 1990, causing them to be left behind when it comes to fast-growing industries and opportunities to earn higher incomes.

Interestingly, Ms. Kellogg notes that:
Studies show there is no gender difference in a child's STEM abilities, however, as noted on the SciGirls website, "The cause for the gender gap in STEM achievement is social and environmental (Hill et al., 2010). Where gender differences consistently appear is in boys' and girls' interest and confidence in STEM subjects, starting at a very young age. For girls, this can be linked to a negative self-perception (Halpern et al., 2007). In grades 4, 8, and 12, females were less likely than their male counterparts to agree with the statements, "I am good at math" and "I am good at science" (National Science Foundation, 2003). And as early as elementary school, children are aware of these stereotypes and may express stereotypical ideas about who is suitable for certain S&E activities (Ambady, Shih, Kim, & Pittinsky, 2001). Ultimately, these viewpoints matter. If students do not believe they are capable, they are unlikely to succeed." STEM-based learning at the preschool level helps to combat the social and environmental challenges girls face in STEM-based learning. Besides, STEM can be the critical intersection between learning and fun.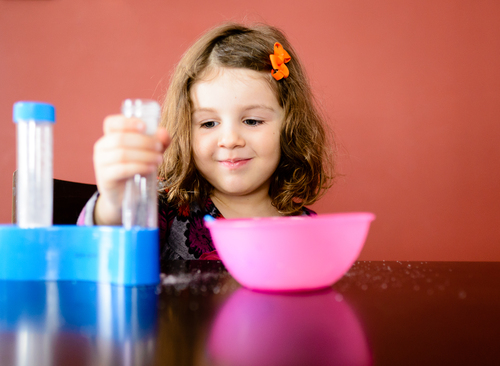 Ms. Kellogg recommends that parents follow The North American Association for Environmental Education suggestions to:
Connect with nature. Rocks, leaves, seeds -- just about anything found in nature provide excellent opportunities for STEM learning.
Change questions from "why" to "what." For example, you can ask, "What shapes do you see in those rocks?" inviting children to observe and communicate.
Surround children with books and programs that promote investigation and exploration. One website filled with activities about investigating nature they recommend is http://www.scholastic.com/magicschoolbus/.
Microsoft's Principal Researcher Rane Johnson-Stempson also outlines three simple things parents can do to help prepare their daughters for a career in technology and states that the reasons for doing so are sobering. For example:
By 2018, there will be more than 1.4 million open jobs in the technology sector in the United States.
At the current rate of students graduating with computer science degrees, only 61% of those jobs will be filled.
Of that 61%, only 29% will be women.
Ms. Johnson-Stempson offers tips for raising tech-savvy daughters:


1. Explore Opportunities. Microsoft and other organizations offer free online tools and programs to help parents inspire their daughters about a future in technology.
Free online tools, resources, videos and programs from Microsoft Research: Women in Computing and Microsoft's YouthSpark Hub
Learn to code: Code.org, Kodu Game Lab
Find programs in your area: International Women's Hackathon, National Girls Collaborative Project
2. Ask for her help.
It's easy for parents to call on their son to help fix the broken computer or smartphone. Make sure to also ask your daughter for help and if she (or your son) doesn't know how to fix it, work on the problem together to find the solution to reinforce woman can excel in technology.


3. Make it fun. Children always appreciate hands on learning. Here's a few tips to make technology fun!
Use marshmallows and dry spaghetti to build three-dimensional figures: cubes, triangular prisms, dodecahedrons, icosahedrons, etc.
Using basic robotics kits (found in the toy section at many stores), challenge students to use the pieces to accomplish a particular task, such as turning the pages in a book
Make an interactive cookbook by recording the steps with the video on your smartphone, download and edit with Movie Marker, create a blog with the ingredients of the recipe and attach the video.
As the mother of a preschool-aged daughter, I also seek out toys that help spark an interest in STEM disciplines and build her confidence in these areas. As the recent run on Lego's new female-scientist set "Research Institute" aptly demonstrates, parents and educators are eager for toys that promote an interest in the hard scientists among girls. There are many good STEM toys available, but some of our new favorite discoveries are:
Lolly Wolly Doodle Designed By Me: This new design-your-own dress feature is a fantastic way to demonstrate to even very young girls the role computers play in the design and creation of objects. Along with their parents, girls can choose from a huge selection of fabrics and dress designs and actually have the dress they designed on a computer or tablet deliver to their door within three weeks, providing tangible evidence of the role computers play in the creation of items they use every day.
Thames & Kosmos Science Kits: Thames & Kosmos offers a wide range of science kits, including a line priced at under $10.00. A favorite kit of my daughter's involves growing crystals and it comes complete with kid-sized lab googles to get her used to lab equipment.
i-Fido: A cute electronic dog that is controlled through a smartphone demonstrates the power of programing in a very simple but powerful way to young girls. i-Fido's movements and voice can be controlled easily through a free app, taking your girls' pretend play to the next level with computer assistance.
GoldieBlox: GoldieBlox has recently made some great improvements in their product line with the toys themselves being better engineered and much more fun! We have liked playing with Goldie Blox and the Dunk Tank building one of my children's' favorite carnival activities that allows them to build a contraption that results in a dog figure, fish ball, or other toy of their choice falling into a cup of water. Extra pieces are included in the kit allowing your girls to build other contraptions as well.
littleBits: littleBits makes electronic kits for a range of ages and ability levels. We've found their space kit, designed with input from NASA, to be particularly fun. The kit comes with instructions for 10 projects and encourages the use of every-day household objects to engage in activities like making a mars rover. These kits are better for slightly older kids or with heavy parental involvement but offer lots of opportunities to engage girls.