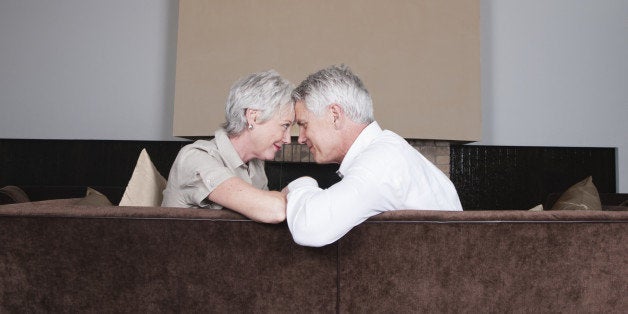 Many of us have been thrown into the crazy, mixed up world of dating not by choice and totally by surprise. Marriages fail and spouses die. Let's face it, we're meant to share a life with someone. We don't like to admit it, but living alone can get rather lonely after a while.
In the beginning, we get used to sleeping in the big king-sized bed smack in the middle without the lovely sound of snoring. There's no one pulling the covers away or watching late night TV as you try to find your sleep.
On a cold snowy night as you read a book, there might come a time when you will think how nice it would be if there was another body next to you, quietly sharing the same experience.
Here comes the big question: Is it worth the effort, to find your way back to sharing a life with someone?
We all know what it will be like if we don't. Nothing changes, life goes on and the longer we wait to find out, the harder it will get to discover your groove.
If we decide to take the leap again, we need to do it with an open heart and with open eyes. We know too much this time. We cannot afford another disaster.

You need to start with a crystal clear list of what you need in a person as opposed to what you want. The same list should also have what you absolutely will not accept. In midlife, the window of opportunity is smaller and shrinking this very minute. There isn't much wiggle room for mistakes.
Go back to when you first dated. Get in touch with that person who would find excitement in the possibility of falling in love. Listen to music that makes your heart beat faster. Let yourself dream and fantasize about the magic of love. It does come back. Remember the feeling of chemistry. The first kiss and the expectations of more.
Don't let fear and self-doubt prohibit the opportunity of falling in love. Many have allowed themselves to shut down to these emotions. Love can be a great motivator. You will eat healthier, work out more, sleep much better and enjoy the dance of romance.
Don't be afraid to join online dating sites. Make sure you are very selective and don't allow yourself to get pulled in by a handsome face. Search deeper and look at this as you would a business deal. You're in it for the long haul and you don't want to find any hidden secrets. You are investing in your life.
Continue on your journey with steadfast intentions and a strong purpose. You're an empowered woman. Looking for an empowered man. Join together in the world as a team. Share your wisdom, your families and your love.
It's never too late to find the love of your life. We are all worthy of that one special person who will bring you back to your groove!
Popular in the Community