As if she was in the land of Oz, Tonya Walker clicked her sparkling Jimmy Choo heels three times and was back home. Home to a life she had forgotten. A life that was lost for eight years, before undergoing Deep Brain Stimulation Surgery (DBS) to help control Parkinson's symptoms.
Walker was in her early thirties when she was diagnosed with Young Onset Parkinson's Disease (YOPD). The medicine used to help control her symptoms became less effective as the disease progressed in the years following her diagnosis. She lost dexterity on her left side, making it difficult to perform daily activities with her left arm. She also lost the ability to balance in her favorite Choo's. Parkinson's had robbed her of many things she enjoyed in life and replaced them with fatigue and slowness.
It wasn't until August 2013 when the switch was flipped on her DBS, that her eyes shined again like light bulbs.
"I remember the moment I slid my foot into those high heeled, suede strapped, Swarovski crystal embellished Jimmy Choo's for the first time after my brain surgery. It was as though I had regained a part of me. It wasn't just about the shoes. It was about the overall improvement in my quality of life," Walker recounts.
Up until her life-changing surgery, Walker had remained in the "Parkie closet", feeling secretive and still in denial about her disease.
"Back then, there was very little information or support for those of us with YOPD. Many people think of it as just an old person's disease. Since I became more open about my condition, I've connected with many others living with YOPD, and even heard about children diagnosed with Parkinson's or Parkinsonisms!" Walker said.
Once back in her Choo's and with improved management of her symptoms, Walker had the confidence to start blogging. And what better way to share her message, than through her affinity for fashionable footwear. The Shoe Maven was born.
"The Shoe Maven is a celebration of the end of my hiatus from heels! The Shoe Maven allows me to share my life-long love of fashion, but more importantly, it serves as a platform for my dedication to raising awareness about PD and fundraising to find a cure via Team Fox, which benefits the Michael J. Fox Foundation." Walker said.
April 1st, the start of Parkinson's Awareness Month, Walker grabbed her favorite heels and began a social media awareness campaign called "Heels On Head Up".

"I wanted to do something similar to the "Ice Bucket Challenge" that raised so much awareness for ALS. Most people know very little about Parkinson's. Over 5 million people worldwide are living with Parkinson's. And nearly 5 percent of those people are under the age of 40," Walker said.
To support Walker and all those with Young Onset Parkinson's Disease, simply post a picture donning your favorite shoes on Facebook or Instagram. Hashtag the picture #HeelsOnHeadUp and #GoTeamFox, and tag three friends.
"It's simple, it's easy and every day you put on a pair of shoes anyway - now all you have to do is post a quick photo to support a good cause," Walker said. "
So, get to posting those selfies in your favorite shoes!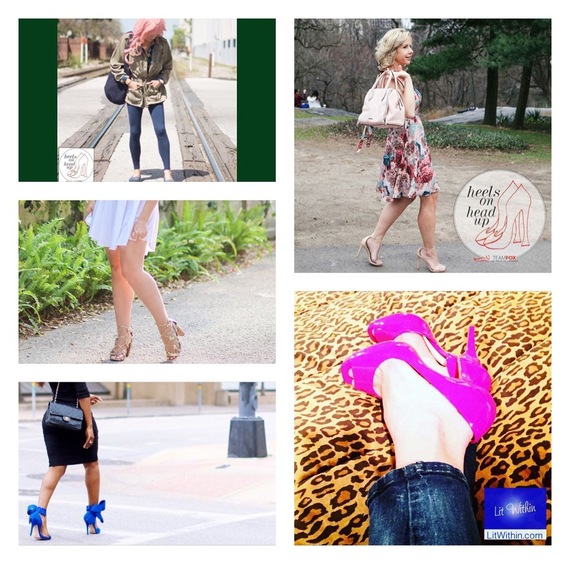 Calling all HuffPost superfans!
Sign up for membership to become a founding member and help shape HuffPost's next chapter