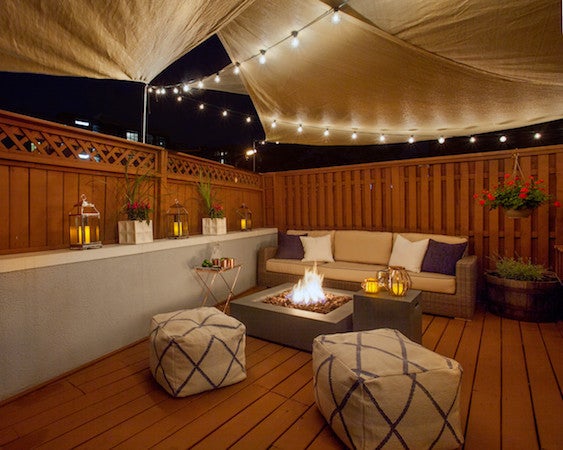 The weather is, slowly, starting to warm, which means that summer is (almost) here! Besides vacations and beach days, one of the joys of summer is entertaining. But don't go it alone. Dust off your patio furniture and follow our guide to summer entertaining.
Low-Maintenance Patio Furniture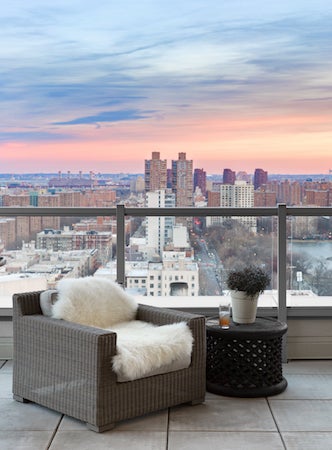 If your home is blessed with a patio or outdoor space, then make sure you're equipped with some low-maintenance patio furniture. Keep the cushions indoors until the day of and give your patio furnishings a quick hosing before your guests arrive. All-weather wicker furniture, like the Biscayne Luxe Swivel Chair from Restoration Hardware, makes for the perfect low-maintenance patio furniture.
Makeshift Bar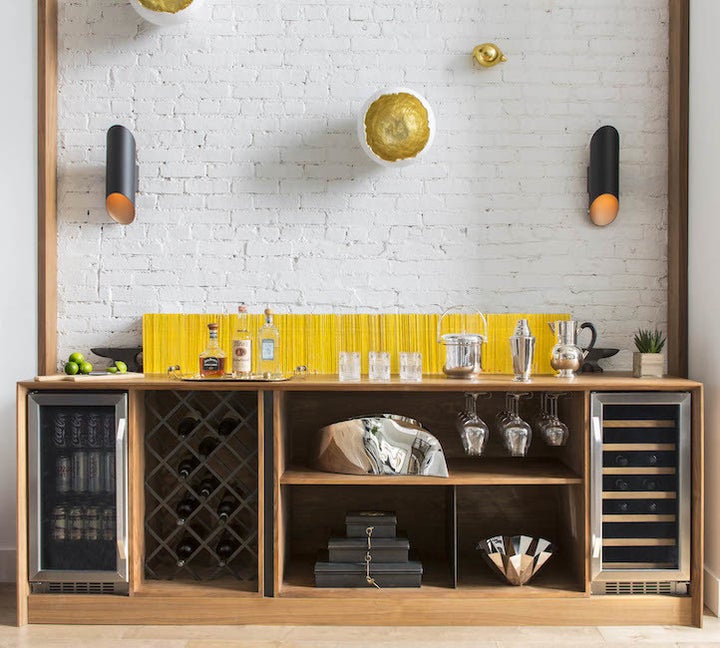 If you plan on serving your guests something to drink, and we certainly hope you do, then set out some ingredients for summer cocktails. And you don't need a built-in wet bar to get your drink on. Designate one counter or surface to cocktails, like we did in this SoHo duplex, and leave the rest to your guests.
Kitchen Stools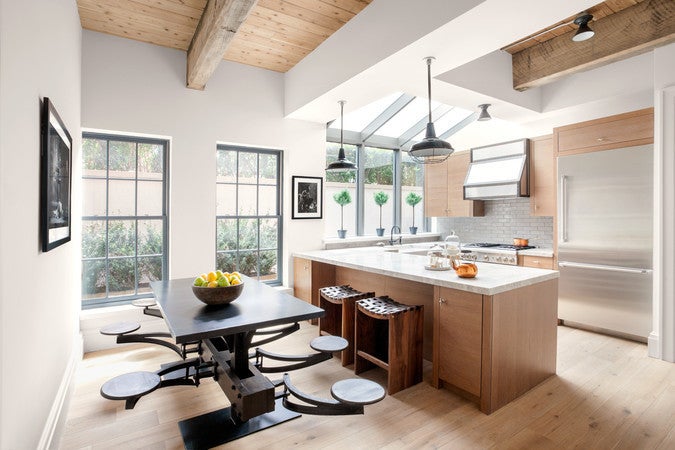 Guests have a tendency to get in the way of cooking. If your guests like to play sous chef, then park them at some counter stools, away from any food prep. In this Sag Harbor vacation home, we placed two bar stools and a dining table in close proximity to the kitchen, so that our client can keep the conversation flowing, with guests out of the way.
Extra Seating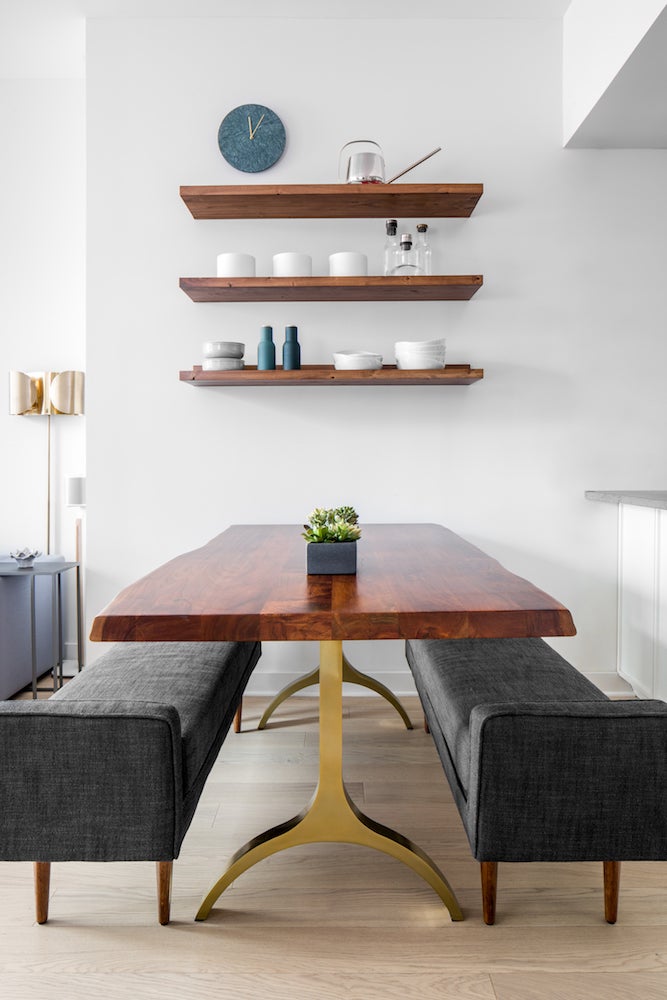 This rule is a staple of entertaining, and summer get-togethers are no exception. If you're having guests over, then make sure you have ample seating. Our client wanted extra seating options in his Gramercy Park apartment, and so we placed benches in the dining room, which can be easily pulled into the living room for summer entertaining.
Summer Lighting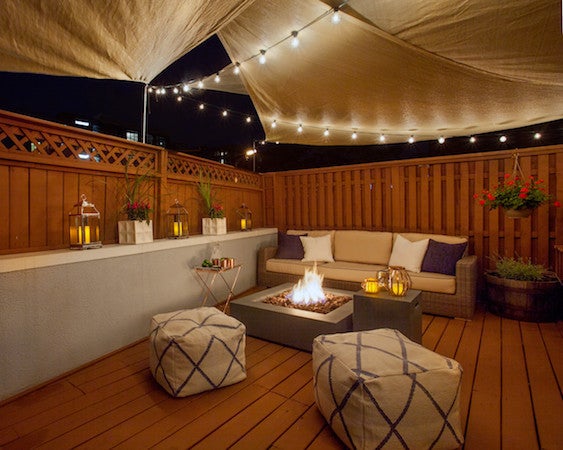 If you plan on hosting your guests after the sun sets, then you should definitely consider your outdoor lighting options. If you're trying to go for a rustic chic look, then string lighting is the way to go. Check out how we got the look in this Hoboken apartment.
Summer Entertaining Sans Television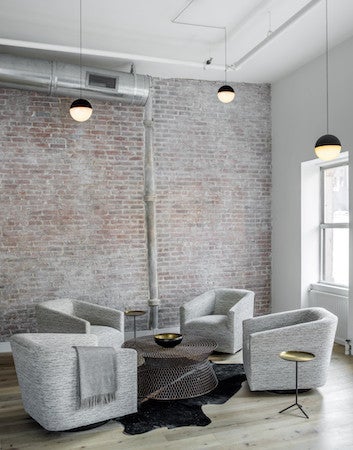 Besides food and drink, good conversation is the hallmark of a successful evening. If you want to keep the conversation flowing, collect your guests' phones at the beginning of the evening, and keep the television off. In this TriBeCa loft, we created a conversation nook away from the television, making it perfect for summer entertaining.
Bust Out the Barbecue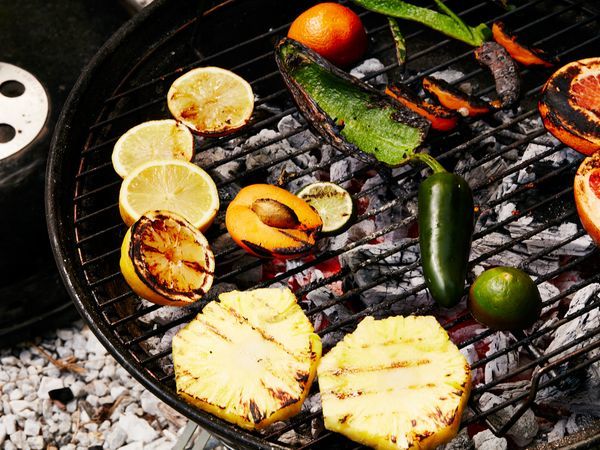 If you plan on serving your guests some food—and we certainly hope you do—then consider easy ways to cook up a meal without heating up the entire house. We love grilling during the summer. Not only is it a fun way to enjoy the outdoors, but it'll keep the oven from heating up your house. And while everyone loves some grilled meat, corn, zucchini and tomatoes taste great on the barbecue as well.
Related
Popular in the Community