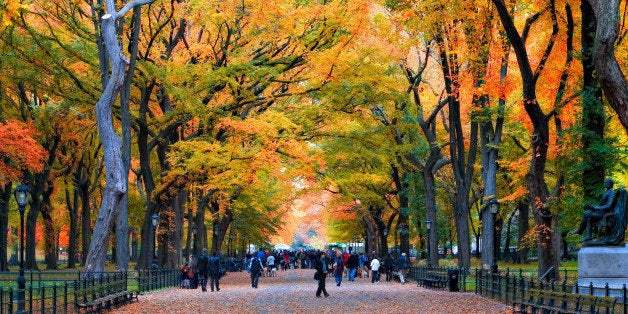 I know summer is over. I know talking about vacation is out of season. But the arrival of fall prompts me to go over some of the things I've done this past year that made me feel far away without leaving home.
In the middle of a cold Connecticut winter, my friend Chuck Allen invited all the people who have raved about his home-baked focaccia bread, to stop talking about it and actually learn to make it. The group, many of whom did not know each other, gathered in the expansive Stamford kitchen of Peggy Flood, one of Chuck's running partners.
From cardboard boxes and grocery bags, Chuck produced mixing bowls, utensils and a scale, distributed the equipment and then separated us into teams.
Baking bread is not for the time-pressed. We would be here through lunch time so Peggy had coffee and snacks scattered throughout the kitchen.
Chuck tried to command the attention of his rambunctious friends to explain the complex chemistry and mathematics that turn the ingredients for paste into something wonderful. We listened, some better than others, then gave it a try.
Between bouts of kneading, there was a lot of waiting around which allowed us to get to know each other. By the time the first loaves were pulled out of the oven the class seemed more like a party.
If I'm not mistaken, wine was provided to wash down the crusty, cheesy, olivy bread that -- despite our frequent mis-measuring and lack of attention -- turned out terrific, loaf after loaf. It was like no other day I'd spent with strangers; educational and fun. And just as if I'd been on a trip, I returned home with a souvenir -- delicious focaccia -- prettily packaged and ready to share.
When Aszmara dances, I feel like I'm the one who is moving because even though she's an Italian girl performing at a club in downtown New York City, she transports me to some exotic place, far, far away. Aszmara was my belly dancing teacher many years ago and I love watching her perform. The night she danced to help celebrate the just published memoir of her frequent accompanist Souren Baronian and the band Taksim, Aszmara did her usual amazing, athletic performance, spinning and winding as if all bones had been removed from her body leaving just muscle behind to do the work. Hair flying, shoulders shaking, tiny Aszmara is a force of nature when the music starts to play.
But on this night at The Cupping Room in downtown New York, something unexpected happened. The family and friends of the band members of Taksim took to the dance floor, too. Now it wasn't an audience watching but an audience participating and what a performance it was.
In blue jeans and work dresses, women crowded the small floor, tying winter scarves around their hips to accentuate the movement that is the symbol and the fascination of Middle Eastern dancing. It was too tempting for one elderly man in the audience who joined the women in this spontaneous combustion of rhythm and roll. If you had asked me at that moment, where I was, I could not have told you, so transported was I by the fever that had gripped the room.
Took a fresh look at a familiar place
My sister, Lee, was the one who prompted me to stop overlooking the treasures right at my door step. Like many people who live in a New York City suburb, I can be oblivious to all the city has to offer. But last summer, Lee moved to New York to spend a few months getting re-acquainted with the city where she'd lived while attending Columbia Law School. I accompanied her on a few of her forays, The Federal Hall National Memorial at the New York City Customs House, a bike ride through Central Park, Fourth of July Fireworks from atop a high rise in Battery Park.
Lee has returned to her home in D.C., but inspired by her, I am spending more time looking at the city with the fresh eyes of a tourist. Toward that end, I visited an exhibition of the costumes and personal clothing of Katharine Hepburn, a free-admission presentation at The New York Public Library for the Performing Arts. That a library would have such an extensive and fascinating collection was a big surprise.
And so was my most recent discovery; the Big Apple has gone big for bikes. You know I love to ride bikes and planned to enroll in the new New York City bike share, CitiBikes. Unfortunately, one can't enroll in CitiBikes and actually get a bike the same day. So for a press tasting of Sandeman's new 2011 vintage port in the city last night, I took my own bike on the train and into town and rode from the station to Greenwich Village. As I pedaled along new bike lanes, I was surprised at how many New Yorkers are using bikes to get around now.
I arrived at the tasting, left my helmet and bike basket at the coat check, and entered the room with a exercise-induced flush to my cheeks and a healthy thirst. When it was time to get back to Connecticut, I enjoyed a night time view of the Hudson River while pedaling along the west side greenway.
Had I been a tourist in any other city, I would have called this kind of an outing a special treat. It was my city and it was a special treat.
One of my favorite books is Alain de Botton's The Art of Travel. In one chapter, de Botton writes about Xavier de Maistre who was confined to his room under house arrest in 1790. Restless, de Maistre proceeds to re examine his familiar surroundings, producing his own book, A Journey Around My Room.
To the writings of these men, I add my own conclusion; Every place can be new. Friends can be teachers and we can travel to exotic worlds without ever leaving home.
How about you, what special stay-cation have you had?