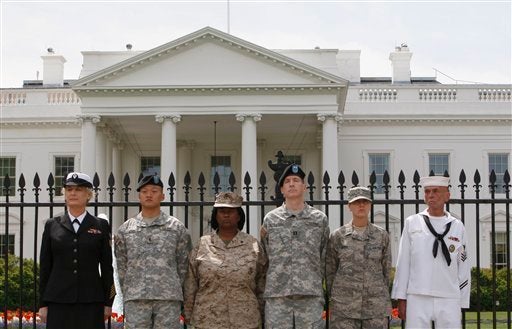 WASHINGTON -- The military's "don't ask, don't tell" policy ends at midnight, and gay rights group GetEQUAL says it will sponsor protests in more than a dozen cities across the country Tuesday to draw attention to discriminatory laws that still remain on the books.
GetEQUAL, a gay advocacy group that made headlines last year when military members chained themselves to the White House fence, plans a "Day of Discontent" to call attention to the need for full federal equality for LGBT Americans through rallies, protests and community meetings. The events will take place in conservative bastions such as Jackson, Miss., Norfolk, Va., Huntsville, Texas, and Moscow, Idaho, and coincide with repeal parties held by other advocacy groups in all 50 states.
"The protests and rallies are meant to be the next chapter," Heather Cronk, managing director for GetEQUAL, told The Huffington Post. Cronk noted that one event is planned for Laramie, Wyo. -- where the notorious 1998 killing of gay college student Matthew Shepard eventually led to passage of a federal hate crimes law. The end of DADT will mean little to gays and lesbians still living in conservative regions of the country, she told HuffPost.
Gays and lesbians in the military will be able to come out of the closet Tuesday but will still be denied benefits and protections accorded to their straight, married counterparts because of the Defense of Marriage Act. DOMA defines marriage for federal purposes as between one man and one woman and allows states normally bound to recognize marriages performed in other states to ignore the validity of those between same-sex couples.
A record number of lawmakers have co-sponsored a bill to repeal DOMA but passage is unlikely anytime soon.
For activists like Cronk, the legislative victories are only part of the battle. Even if DOMA were replaced by the Respect for Marriage Act tomorrow, she said, the Pentagon would still bar transgendered people from serving in the military.
The protests also will focus on workplace bias against gays, immigration laws that keep gay bi-national couples apart and other regulatory areas where discrimination persists.
"It has taken 17 years of hard work to remove this discriminatory policy and still our community faces discrimination and intolerance on a daily basis that this one important victory won't fix," GetEQUAL's director Robin McGehee said of DADT. "Tomorrow's collaborative effort by LGBT organizers across this nation will show lawmakers that we will not be content until we have full federal equality in all matters governed by civil law."
Of Tuesday's parties, Cronk said, "It's not 'celebrate, period.' It's 'celebrate, dot dot dot.' We'll celebrate for 10 minutes and then we'll get back to work."
Popular in the Community