During getgeeked's New York debut in 2014, I served as a Social Media Ambassador for the tech show. Last year, I won the runner-up title in America's Got Geek -- The competition to find the next big YouTube tech product reviewer, hosted by Jim Louderback and run by getgeeked Media during CE Week: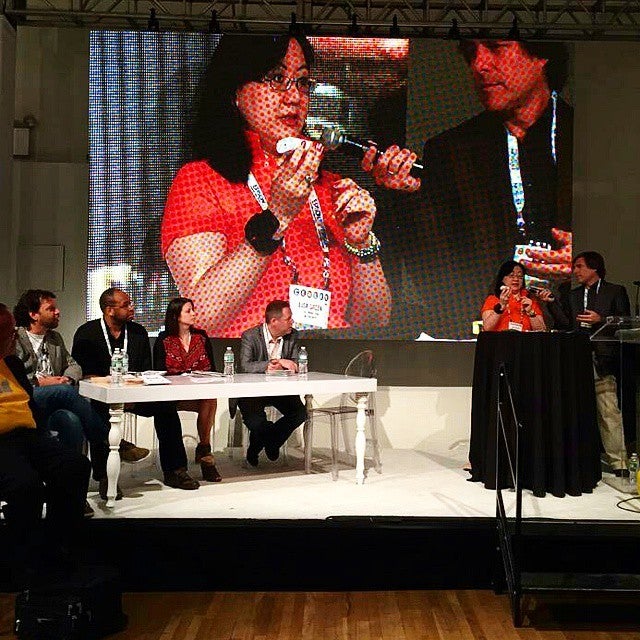 We created getgeeked to give companies access to both communities of influencers they need to be engaging with to succeed today - press and passionate tech enthusiasts - at one event so that's who you'll see there for the most part.
What differentiates getgeeked from other tech shows?
A lot! Before founding getgeeked, we looked around at all the amazing, disruptive products being launched today and realized the only thing not being disrupted were outdated "press-only" industry events.
At a getgeeked event, companies can meet with the same press those events deliver plus the influencers who are sharing opinions and recommendations that are more trusted, reach further, and have a huge impact on whether new tech products succeeds or fail. We work with every sponsor to ensure they generate photos and videos that can be shared after the event because having their own compelling content to share is hugely important for brands today. After a getgeeked event, our sponsors have a great story to tell and the content to tell it right.
Press coverage is still critical, but it's only one of many challenges companies are facing in a world where content is king and consumer recommendations are driving so many purchase decisions. getgeeked events are designed specifically to help companies address all the difficult challenges they're confronting.
Why is getgeeked still relevant?
getgeeked is not only still relevant, it's getting more relevant every day. Don't forget, we only launched our first event less than two years ago. The power and reach of influencers is only going to continue to grow. There's no turning that back now. All the recent studies show that their opinions are more trusted than any other advertising. It's crucial for brands to turn these influencers into advocates for their products and face-to-face interaction is still far and away the best way to create a strong relationship with a consumer.
Each of our four events so far has been bigger than the previous one with more geeks attending and more companies exhibiting. It's a real confirmation that companies are looking for an alternative to traditional, press-only events because they know that's no longer enough by itself.
In fact, this year, we were asked to be part of CE Week, which is NYC's biggest B2B tech event. It was our biggest event ever. Just under 1500 geeks came to check out innovative new products and meet face-to-face with representatives from the companies that are producing them. We also partnered with Digital Trends, one of the country's most popular tech blogs. As the official host of the getgeeked New York conference, they gave our sponsors even more reach by live streaming interviews to their community from the stage and the show floor. It was awesome.
We're not just doing events either. We're building a community of tech enthusiasts that brands can tap into for beta-testing, product review programs, market research and more. We want to make it easier for brands to communicate with consumers, get feedback earlier, and produce better products as a result. As we like to say, "gadgets are better when geeks have a say!"
What's really cool is that consumers expect to have relationships with brands today. Our attendees are passionate about technology. They understand they have influence and they want to become advocates for products they like. Companies are always telling me that the geeks ask harder questions than the press.
Of course, these challenges aren't brand new either. The first event I co-founded, DigitalLife, was the country's biggest consumer-facing tech event from 2004 - 2008.
What are the trends for this year?
The most interesting general trend for me is really just the continued consumer adoption of products in categories that didn't even exist a few years ago such as wearables, robotics, 3D printing, Internet of Things (Iot), Smart Home, Connected Car and others.
What do you see becoming big trends soon?
The most exciting trend that we're just now at the very beginning of is definitely virtual reality (VR). This is the first real game-changer we've seen in a long time, in terms of fundamentally changing how we interact with technology, each other, and the world around us.
Which products are currently exciting you?
I'm not really too jazzed about most of the wearables, or at least the current group of smartwatches. They're cool, but I'm in the group that's still trying to figure out why I need that. Improvements in smartphones are only incremental from one version to the next at this point, but I do love to see them getting better.
The new Lenovo Phab2 with Google's Tango augmented reality (AR) technology is pretty amazing. And, even though it's still in its infancy, I really do love playing around with VR. Even the experience with Google Cardboard, which I bought for my 9 year-old, is awesome.
I also love watching the advances in how entertainment is delivered and consumed. The era of the cord-cutter is coming fast. Of course, many people have already cut the cord, but with Smart TVs getting better, bandwidth getting faster, and the industry itself finally trying to figure it out, the entire cable / TV industry is going to look very, very different in a few years.
What were the most unusual products presented at this year's getgeeked?
Well, there was a ton of amazing gear to check out. There were smart toothbrushes, showerheads, and smoke alarms... awesome action cameras, amazing drones, electric scooters, affordable, easy-to-use 3D printers and so much more.
A few products definitely come to mind though. We have the world's first dedicated Tortilla toaster from a startup called nuni Toaster. A-Champs is launching ROXs, which they call a "real life gaming console" because you actually set up the base unit and sub-units outside, and kids have to run and jump to play the games. Uncharted Play is showcasing energy-harnessing technology that could be a real game-changer for poorer communities across the globe. And, of course, there's Fizzics' portable draft beer system that you can take anywhere and have a fresh cold brew with you. Now, that's progress!
If you could re/design any product, what would it be?
In the world we currently live in, I would love to crack the code on smartwatches because they are really geeky cool. My instinct is that it would have to somehow actually replace your phone to really be worthwhile. Advances in different types of materials that are making bendable and retractable screens possible could be the key.
Lenovo recently invited us to bring 150 getgeeked members to their big, annual Tech World event in San Francisco where they launched the Phab2 I mentioned. In one of the demo kiosks after the keynote, they showed off a full smartphone that bended so you could wear it on your wrist. It was amazing.
In the world that's coming, the products I would love to design will be the stuff that really brings technology closer together with the human form. The stuff that connects your brain and your thoughts to actions on a screen and stuff like that.
Of course, a really cool hoverboard that actually works would be nice too!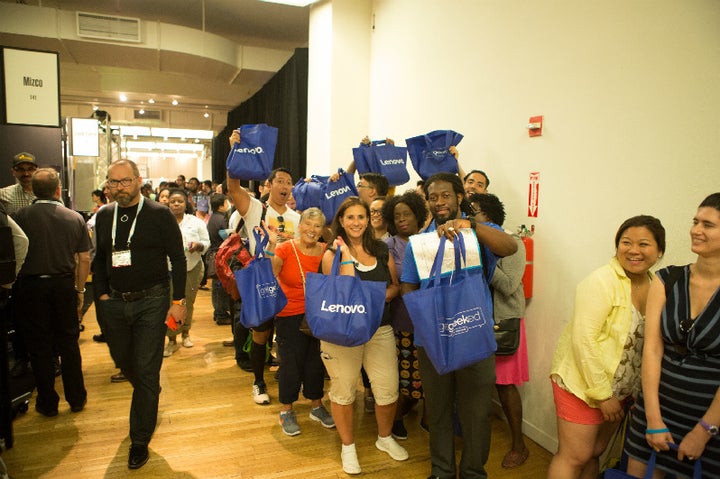 Related
Popular in the Community