Getting Active for a Healthier Life and Better World
By: Meryl Davis, Olympic Gold Medalist and UNICEF Kid Power Champion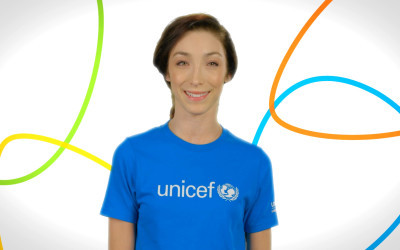 As children, we watched in awe as our favorite Olympians competed on the world's largest stage to achieve their lifelong dreams. We heard their stories of dedication and triumph and wanted to be just like them.
After years of diligent training as "Olympic hopefuls," so much changes when we can actually call ourselves members of Team USA. The change, as I experienced it, isn't so much about how we see ourselves, but rather our responsibility to those at home. As Olympians, we've not only earned the right to represent ourselves and our home countries at the Games, but also to serve as role models and to set an example.
In those many years of preparation required to become an Olympian, it's impossible not to gain respect for our greatest tool: our bodies. What we athletes put them through, the decisions we make and the lengths we go to in order to keep them fit and healthy enlighten us to the possibilities of our own strength and fortitude. Of course, we also become keenly aware of the consequences of our decisions. Eating the right things, getting sleep and monitoring our health become necessary in order for us to meet the daily demands of being an elite athlete.
Through it all, I've learned first-hand the value of setting goals and working to achieve them while overcoming physical, mental and emotional obstacles along the way. Being able to call myself an Olympian fills me with great pride. To be standing in the footsteps of my own childhood idols is an honor and a responsibility neither I, nor my ice-dance partner, Charlie White, take lightly.
Combining my passion for healthy living and desire to be a good role model to future generations has led me to one of my most rewarding roles yet - being a UNICEF Kid Power Champion. This innovative program allows kids to get active and save lives while learning about the importance of global citizenship. While taking steps to help end global malnutrition while wearing the UNICEF Kid Power Band, kids go on virtual missions where they have the opportunity to earn points and learn about new cultures. Points unlock funding that delivers lifesaving therapeutic food packets to severely malnourished children around the world. Kids can really make a difference, for themselves, and for kids around the world, as 1 in 4 kids in the U.S. is inactive and 1 in 4 kids globally is malnourished.
Like so many Olympians, I've spent years investing in my dream and have come to appreciate the importance of a healthy lifestyle. As athletes, we approach each day ready to answer the question, "how can I make myself better today?" Walking into the opening ceremony at the Olympic Games, though, opens one's eyes to the beauty of being a part of something so much bigger than one's self. For me, that beauty is also realized in being a part of the UNICEF Kid Power Team. By working together, we can help UNICEF ensure that children have the ability to grow up happy and healthy.
Through the program, kids are also learning about the challenges that their peers around the globe face on a daily basis. By joining me on my virtual mission to Uganda, kids learn about a boy named Mugisha whose life is being put on hold to care for his little brother who is being treated for severe malnutrition. In getting active, kids will learn to invest in themselves while becoming global citizens and helping kids like Mugisha to get the nutrition they need. With more than 1.7 million food packets already unlocked, this is a program and organization I'm incredibly proud to be a part of. As I continue to travel the world and advocate for healthy living, I'm always proud to be on the UNICEF Kid Power Team. I hope you and your family will join me!