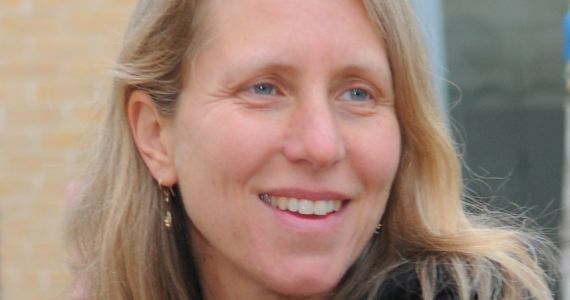 The young girl reached for the pencil and then paused with the blank piece of ruled paper in front of her. Her teacher looked on, not knowing what to expect, as this was their first class together, and her literacy level had yet to be tested. The student gripped the pencil tightly in her hands and said, ''I always dreamed of drawing or writing on paper and playing with a pencil between my weaving fingers. And now I can."
Sitting on the floor of her home in a village in central Afghanistan, Basma is far from the millions of American children who started a new school year this September. At 13 years old Basma is having her first day of school -- ever.
Only weeks before, Basma had been found working on a carpet loom by one of our organization's inspectors. Her "weaving fingers," as she described them, already showed signs of arthritis from holding tools since the age of 9, tying knots for 14 hours a day.
According to the International Labour Organization, there are 168 million child laborers like Basma, forced to sacrifice their youth and their education. In Afghanistan, UNICEF estimates that as many as one in three school-age children are put to work, many of them weaving rugs for Western retailers.
GoodWeave was able to find Basma because the rug on her loom was destined for a U.S. company that had joined our certification program. The company tasked GoodWeave with ensuring that no child was exploited anywhere in their supply chain. In exchange, their rugs bear the GoodWeave label, a signal to consumers of the products' ethical origins.
If a child is found, GoodWeave arranges educational opportunities. But for Basma and girls across Afghanistan -- where the female literacy rate is a dismal 12 percent, according to the UN, and where the Taliban still intimidate schoolgirls -- the stakes of holding a pencil are high.
Basma's father adamantly refused to let his daughter get an education. After GoodWeave facilitated discussions with the family and a representative from the overseas importer, he agreed to homeschooling with a female teacher.
This story is not only relevant to the many families who have recently sent their children back to school. It resonates around the world following the announcement last week that the 2014 Nobel Peace Prize will be shared by GoodWeave founder Kailash Satyarthi and Malala Yousafzai "for their struggle against the suppression of children and young people and for the right of all children to education."
When Kailash founded GoodWeave, it was with the idea that harnessing the power of the marketplace could disrupt the economic incentives driving child exploitation. (Watch Kailash tell GoodWeave's founding story.) Child labor isn't so cheap if it costs you your brand reputation. I'm not sure any of us could have imagined just how far this idea could go -- reaching a home in an Afghan village and compelling a father to educate his daughter.
At first it was a feat for Basma to even hold a pencil, but her teacher now reports that she is filling those pages of ruled paper with letters and numbers.
GoodWeave aims to end child labor in the carpet industry by certifying child-labor-free rugs, and by providing education and opportunities to rescued and at-risk children.