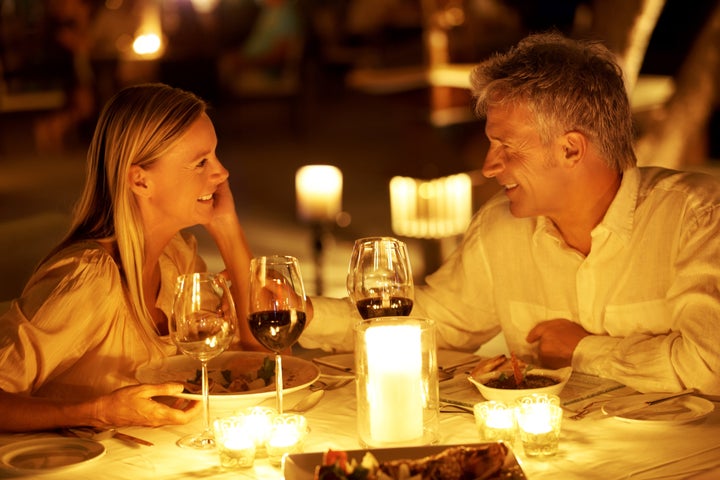 Getting back into the dating world after divorce can be tough. After sporting a wedding ring for what seems like eternity, you may feel naked, vulnerable and alone. You're lost and you don't know exactly who you are without your ex partner.
The most important thing is not to crumble and despair. Prepare yourself for the dating world by working on personal development, joining a gym, or if you work out regularly, try a different type of workout like yoga or bar pilates. You could also try a detox like going raw for a week or doing a juice cleanse -- even a high protein diet. Whatever you decide to do, make sure its completely different from your usual habits so your body will feel the change. These small changes will make you feel great about yourself, which in turn will give you the confidence to get out into the dating world again after divorce.
It's important to feel your best. Don't go into the dating world again until you feel completely comfortable in your body. If you feel that you need to lose 10 pounds, buy clothes that don't make you look like a suburban frump. Get a haircut that doesn't look like something from the 80's before you hit the town. If you feel confident, the opposite sex will be attracted to your energy and you will meet the right kind of people.
Many people over 30 feel that they can't meet people like they used to when they were younger and they use this as an excuse to go into isolation. However, this could not be further from the truth! The only advantage twenty somethings have is that they might go clubbing more frequently. Realistically though, not many couples develop in a crowded, dark, loud room full of people looking to get wasted and find a partner for the night. In many ways, you actually have more of an advantage now that you're older. Your social calendar probably consists of intimate dinner parties or professional events. These types of situations are perfect for getting to know people! If you have gone into complete isolation and don't participate in any social outings, never underestimate the power of friends. Ask one of your friends to bring you along to their Christmas party or work function -- even ask if they know anyone to set you up with!
My number one tip when meeting new people is to always speak highly of your ex partner. I don't mean that you should go on and on about what a wonderful companion they were -- just keep it simple. A gracious comment such as, "we decided to go our separate ways as we had grown apart" is a perfect response for why your marriage went south. Even if your ex partner cheated on you or you broke up because of his or her anger management issues, revealing these too early will have a negative effect on your social life. Even if you are itching to spill the great depths of your relationship after a few glasses of wine, hold your tongue. This will become easier as time goes on, and you potential new partner will be certainly be impressed that you've been through so much but still managed to be diplomatic when speaking about your ex. This is particularly important if you have children with your ex, as he or she could be a large part of your new partner's life should you settle down together.
If you follow these tips and keep your head up, you will be on the fast track to the fabulous new life that awaits you.
Related