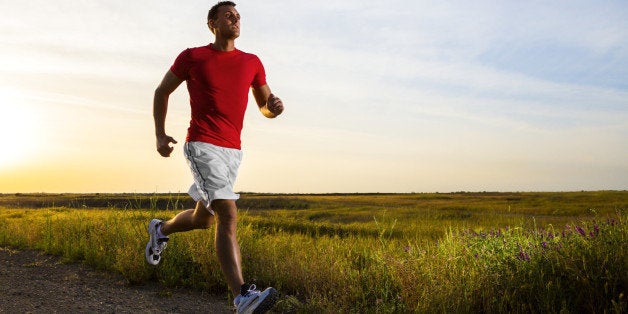 Six months ago, I committed to getting fit -- not just physically, but digitally. I was a digital slob, and it was affecting my health and well-being. My digital consumption lacked balance, focus and discipline. It all began in the 1980s.
I grew up when the Internet was Arpanet, digital was a programming language called BASIC, a mobile device was a Walkman and as for social, well, one was either a socialite or a socialist. But that was '80s Britain. As a technophile, I tracked innovations, devoured new gaming platforms like a Pac-man and consumed computing devices like candy. Progress was my prescription drug.
Fast forward 30 years; I was working in a Madison Avenue ad agency, the epitome of the "early adopter" consumer I'd convince clients to market to. Digital permeated every facet of my being. Constantly connected to my phone, my remote control to reality. Nirvana: an age-confronting digital native inhabiting an always-on, connected, networked, social, mobile world, happy, resplendent in my digital riches.
But happy I was not. I was digitally unfit, from consuming an unhealthy diet of data. Desertion or detox was not an option. On Jan. 1, 2014, I committed to get digitally fit. When one commits to change and take action, universal forces align to provide help and reassurance.
Enter: Arianna Huffington. Three weeks ago at Neuehouse, I attended Arianna's marvelous presentation about the new success metric. Building on the theme of her book, Thrive, she eloquently explained why true success can not be predicated on a precarious "two legged stool" of money and power. Rather, a third metric or leg, comprised of well-being, wonder, wisdom and giving is essential to success.
I was transfixed. Arianna had contextualized what I felt. Well-being sometimes requires us to switch-off to be switched on. Wisdom is more than the accumulation of information and knowledge. Relishing the wonder of the physical world necessitates turning off our virtual world. And embracing the idea of giving is what makes us feel truly alive. Indeed, seeking balance was the key to digital fitness. But I've leaned that digital fitness also needs a focus.
Two days later, I watched a YouTube video called" Look-up". Poetic and insightful about our daily digital dilemmas, I felt the creator, Gary Turk, had sidestepped a bigger issue; we can't turn back or turn-off technology. Only when we intelligently focus our use of digital technology will we achieve balance, or as Arianna stated, thrive.
Even with a focus, digital fitness demands discipline. Recent research published by a consortium of universities validated Arianna's hypothesis on the individual and societal risks of reduced slumber time. Professor Foster of Circadian Neuroscience at Oxford University concluded as "the supremely arrogant species; we think we can abandon four billion years of evolution and ignore the fact that we have evolved under a light-dark cycle."
This sounded unhealthily familiar. Proper sleep-time needs discipline.

Achieving My Digital Fitness.
I started with an idea from a true man of wisdom, Frank Horwill, an athletics coach from another generation. The three eights was his idea of balance, focus and discipline; the discipline of eight hours sleep, eight hours of focused work and a balanced eight hours of play. I now strive to live by these principles.

Eight hours of sleep. Aside from those with small children, the discipline of getting eight hours sleep should be easy. But with the omnipresence of my connected devices and infinite profusion of content streams, sleep was challenging. I took action and removed my digital temptations. Now my bedroom is mobile, tablet and e-reader free. I also added technology, an UP band that tracks my sleep patterns. Quantifying my sleep is now fun, game-like and competitive, as I actively seek the perfect eight hours versus the friends I follow.

Eight hours of work.
The delineation of business and leisure has never been more blurred. What remains clear is good work, whatever field, requires focused attention. Here are my tips:
Email efficiency: Email involves taking action. I now apply a simple decision criteria when reading email -- delete it, defer the action, delegate the action or do what is required, there and then.
Avoid alert anxiety. I turned of alerts and notifications on my phone. With no constant pop-up windows, I've less distraction, better attention, more energy... and battery-life.
Don't just text, talk. I think we sometimes forget the core purpose of a phone. A quick call is often faster than a stream of texts.
Be anti-social. When working, I avoid my social media -- Facebook, Twitter, Google+, Snapchat and Instagram no longer devour my time and energy.
Reconnect by disconnecting. At work, I don't take my phone everywhere. Sometimes it leads to a serendipitous conversation, idea or inspiration. Gary Turk was right in that fact.
And if you still need some digital discipline, there's the wonderful bossy robot assistant.
Eight hours of play. It's not eight hours of screen confinement, nerding on Netflix, pimping interests on Pinterest, feeding frivolities into Facebook or grinding through Gears of War. I'm using digital to reduce the stress of content consumption. Curation apps like Offline and Pause magazinekeep me in the know. However, play is also about creation, invention, imagination and stimulation.
Maslow's hierarchy of needs emphasizes the importance of our self-esteem and actualization needs. For many, a popular selfie ticks that box, but human happiness requires more than narcissistic adoration. We require achievement, mastery, recognition and fulfillment.
As my physical world becomes digital, my playtime is more gratifying. Capturing and publishing my adventures with my GoPro, tracking my physical fitness and improvements with RunKeeper, learning new talents through Skillshare, discovering new city experiences with SideTour. My opportunities for experiences and advancement are endless.
The digital world can dominate and devour us. Or, if we choose, it can inspire us, feed our curiosity and improve us. It's up to us. Maybe it's time to get digitally fit?