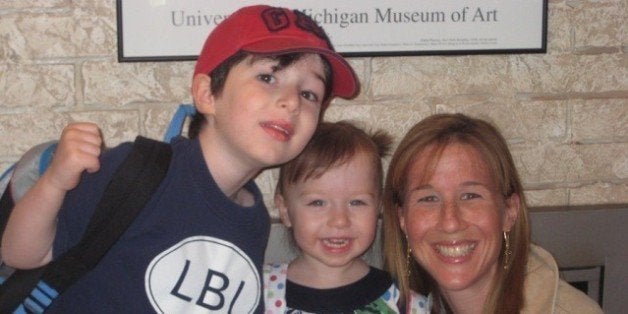 I've never really lost a friend, only picked up more along the way, including those from my childhood, from college, graduate school and on into adulthood. I never had to break up with any girlfriends (except one mom stalker friend, but that's another story). I was dumped by one boyfriend in college, and I only had one employee leave under my watch in my professional life. When it came to relationships with my nannies, however, I got dumped -- a lot.
And that is how it felt each time one of our nannies left us -- like they were dumping us, leaving my family, my kids and their playgrounds and baby music classes and games and nap schedules. Like they were abandoning us for some kind of different job, some new situation or some something else. Each time a nanny left, it rocked my world. I was scared that I would never find another nanny, that I could never leave my kids with anyone new, that I could never go to work again, that my career was over or that I would find a new nanny, but my kids would be scarred by the revolving nanny door in our lives
My kids are now 11 and 9, and it doesn't look like that revolving nanny door did any damage (to them, at least.) And now that I am more removed from each situation, I can see with some hindsight and with some clarity why I got dumped so much.
I hired our first nanny when my son was three months old and my mother was dying. She died six months months later. I think I always looked for a connection with our nannies, because I didn't have my mother there with me to ask for advice, to bond with me over my kids or just to talk to. For these reasons, I think I looked to my nannies to have some kind of connection beyond just that of a working mom and a working nanny. I grew too close to our nannies, and that closeness and need for connection clouded my judgment. I let our nannies get away with too much because I wanted to feel that bond. They didn't think that leaving us (I mean dumping us) was that big of a deal -- after all, we were close -- we were connected. So much for connections.
Please like me, really like me
Along these same lines, I wanted our nannies to like me. I figured if they liked me, then they'd like my kids and care for them with as much love and warmth as I wanted them to. My plan worked. Our nannies did like me, but maybe too much. I wanted them to feel comfortable with me, but they became too comfortable. So much so that they felt it would be OK not showing up for work on too many occasions, or come in late or leave early and then leave us -- just like that. That wasn't so OK with me.
Young nannies = transient nannies
I was drawn to the younger nannies. I thought they'd have more energy to play with my kids, take them on long walks, take them to the park and kick the soccer ball around with. They did, and that was great. But the young nannies, like most young people (and I realize that I sound about 100 years old right now) were in very transient stages of their lives. They were always looking for the next thing whether that was graduate school, a full time teaching job, some other kind of "real job," a surprise pregnancy and the list went on. In many ways, the young nannies were still figuring out who they wanted to be when they grew up, because they weren't yet grown up and being our nanny was just a stop along the way.

Too scared to find someone new
Part of the reason that I put with so many issues from my nannies is that the thought of finding someone new to watch my kids always sounded so much scarier than dealing with the current imperfect nanny. And also for this reason, I put up with stuff that I should have seen as red flags. I should have dumped the nannies when I had the chance. But I waited too long and became the dumpee and not the dumper. Note: always better to be the dumper.
The funny thing is though, that I wouldn't change a thing -- really. Each one of our nannies (and to be clear, there were five nannies in less than 10 years) brought something to the table. They taught invaluable lessons to my kids and to me, and although they were far from perfect, they helped me get through those critical years when my kids were really young -- when I needed someone to watch my kids so that I could go to work and do my job. It worked for us for as long as we could make it work. And now I know why.
Popular in the Community