Miamians never turn down a good reason to get fancy, especially when our beloved charities are the recipients of the community's largesse. There were too many black-tie events to count -- often, up to four a weekend -- celebrating milestones and raising millions of dollars for causes dear to our hearts. Here's a look at our Top 10 Galas of 2015.
1. Pérez Art Museum Miami's (PAMM) Art of the Party on January 17, 2015 jump-started the year with lots of glam, featuring supermodel Karolina Kurkova and Miami's own Pitbull mingling with Miami art patrons and social VIPs. Guests of the Chef's Table four-course, seated dinner - conceptualized by Lee Brian Schrager and prepared by superchef Chef Thomas Troisgros, no less -- were treated to a 90-minute performance by buttery-voiced chanteuse Nicole Henry.
Pérez Art Museum Miami Board Chair Aaron Podhurst opened the night with a Dom Perignon toast to Art of the Party chairs Wayne and Arlene Chaplin. Also gathering for the night of philanthropy and Samba were were PAMM namesake Jorge Perez and wife Darlene; Stephen and Kara Ross; Craig Robins and Jackie Soffer; Ingrid Hoffman; Iran Issa-Khan; Mayors Carlos Gimenez and Mayor Manny Diaz; Raul "El Gordo" and Millie de Molina; Walid and Susie Wahab; Edgar and Nicole Lozano; Jason and Michelle Rubell; Dennis and Debra Scholl; and Jonathan and Criselda Breene.
Guests mingled in the Art of the Party Supper Club, held in the museum's second-floor special exhibition galleries. Partygoers danced to Fergie's "A Little Party Never Hurt Nobody" and the 20-person Samba procession, a la Carnival in Brazil, led guests to the after-party. Brazilian band Batuke Samba Funk and the legendary sax player/James Brown band leader Pee Wee Ellis joined the group for the waterfront concert that kept guests dancing into the early hours. Photos by WorldRedEye.com:http://worldredeye.com/2015/01/perez-art-museum-miamis-art-of-the-party-presented-by-louis-vuitton/.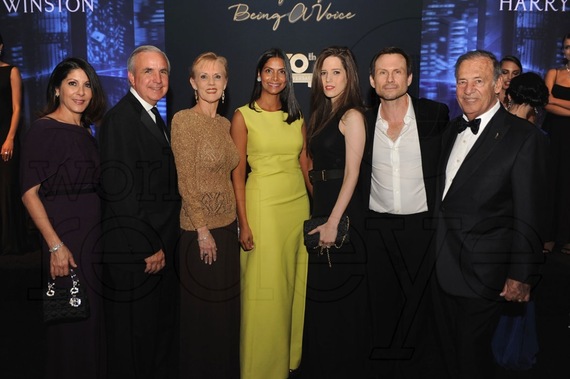 Yolanda Berkowitz, Carlos & Lourdes Gimenez, Leyla Portela, Brittany & Christian Slater, & Jeff Berkowitz
Photo credit: Seth Browarnik/WorldRedEye.com
2. The Voices For Children Foundation's 30th anniversary "Be A Voice, Feel The Passion" gala on January 17 drew 500 of Miami's most influential and philanthropic. Spearheaded by Jeff and Yolanda Berkowitz, the annual fundraiser raised $850,000 -- a record amount for the charity -- to benefit advocacy for children in foster care.
Film and television actor Christian Slater and wife Brittany Slater served as honorary co-chairs, while WSVN'S clever Belkys Nerey was the evening's emcee, with $179,000 raised in donations to the Angel Society, the organization's annual giving program -- also a historic high for the organization.
During the gala, Miami power couple and longtime Voices For Children Foundation supporters Jeff and Yolanda Berkowitz were presented with the organization's 2015 Humanitarian Award.
Other attendees included Florida Senator Rene Garcia; Miami-Dade County Mayor Carlos Gimenez and wife Lourdes Gimenez; Judge Cyndi Lederman; Judge Bronwyn Miller; Leyla Portela; Judge Migna Sanchez-Llorens, and Commissioner Marc Sarnoff and wife Teresa Sarnoff.
A special performance by LA-based dance phenomenon Charles "Lil' Buck" Riley - who has toured with Madonna -- wowed guests. During dinner, guests were also entertained by New York's DJ Kucha, and Grupo Vitamina from Venezuela.
Throughout the evening, guests were given the opportunity to preview Harry Winston's newest jewelry collection, Secrets by Harry Winston, and bid on luxury goods and travel experiences during a live and silent auction. Auction items included tickets to Stella McCartney's Spring 2016 Presentation in New York, exclusive membership to The Edition Beach Club, and a private shopping spree at Ralph Lauren Bal Harbour.
This year, the gala partnered with private car service, RedCap, to provide guests safe rides to and from the events in the guests' own cars. Photos by WorldRedEye.com: http://worldredeye.com/2015/01/2015-be-a-voice-feel-the-passion-gala/.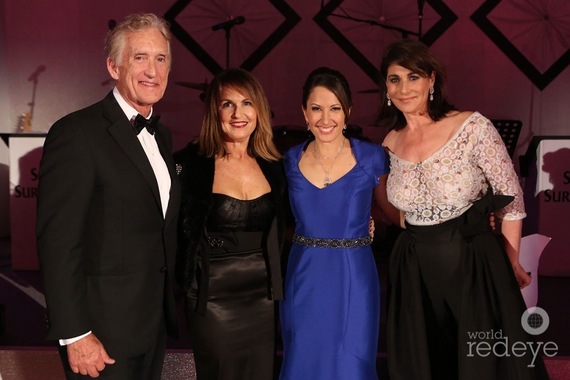 Don Browne, Robbin Newman,Pam Giganti, & Jennifer Valoppi
Photo credit: Seth Browarnik/WorldRedEye.com

3. The Women of Tomorrow Mentor & Scholarship Program honored community leaders at its Annual Black Tie Gala on March 7, 2015. Close to 500 of Miami's leading philanthropists and celebrities were in attendance, including James Rosenquist, widely regarded as one of the greatest living American artists.
Raising approximately $750,000 for the program, founders Jennifer Valoppi and Don Browne, along with Gala Chair Marisa Toccin, celebrated the organization's 18th year of mentoring at-risk high school girls.
Those at the glam affair at the beautiful Mandarin Oriental Hotel in Miami included actor and director Miguel Varoni, actress Catherine Siachoque, telenovela actress and model Maritza Rodriguez, actress Sonya Smith, actress Ana Lorena Sanchez, Univision host Dr. Juan Rivera, school board member Dr. Larry Feldman, Wayne Boich, attorney Marvin Ross Friedman and reality star Brittny Gastineau.
The evening included a lavish cocktail reception and silent auction of more than 100 items from our favorite brands including as Roger Vivier, Saint Laurent, Prada, Loews Miami Beach, Prime 112 and Mandarin Oriental Hotel, among many others. This year's live auction included luxe items such as a Neiman Marcus, Bal Harbour $5,000 Shopping Spree, which raised a whopping $20,000 for the charity. The heated bidding also included a Dinner Party for 10 with celebrity Chef Ingrid Hoffman.
In what is our favorite part of the WOT gala experience, the mentees -- each holding a light -- filled the ballroom, signifying the light within each of them. After a beautiful dinner, guests took to the dance floor, grooving to South Florida's Soul Survivors. Photos by WorldRedEye.com: http://worldredeye.com/2015/03/women-of-tomorrow-gala-at-mandarin-oriental-2/.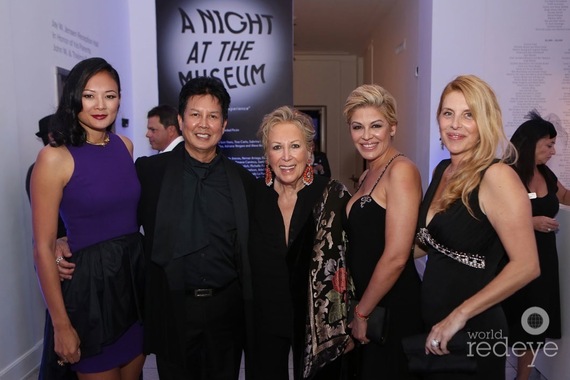 Criselda Breene, Tui Pranich, Iran Issa-Khan, Malena Assing, & Soledad Picon
Photo credit: Seth Browarnik/WorldRedEye.com

4. The Bass Museum of Art, one of Miami Beach's main cultural landmarks, rang in its annual fundraiser Hollywood-style on March 11, 2015. "A Night at the Museum" - chaired by Criselda Breene, Diane Lieberman and Soledad Pićon, along with Vice Chairs Malena Assing, Luli Ballestrin, Adrienne bon Haes, Tina Carlo, Sabrina Espinosa, Elysze Held, Carolina Lanao, Tatyana Silva, Adriana Vergara and Alexa Wolman -- was very much a night to remember, with over 450 guests in attendance, raising funds for museum programming.
Guests were welcomed with dramatic Hollywood premiere-style searchlights and a red carpet upon arrival. The dress code was Film Noir, which provided inspiration for fedoras and double-breasted gangster suits for gents, and hats and curvaceous dresses for the femme fatales. Guests mingled in the galleries which were transformed into retro lounges and streetscapes. DJ Mauricio Parra provided the soundtrack for the evening. The highlight of the evening was a curated auction of contemporary artists including Hernan Bas and Emmett Moore. Photos by WorldRedEye.com: http://worldredeye.com/2015/03/a-night-at-the-bass-museum-3/
5. The Patricia and Phillip Frost Museum of Science held its 13th Annual Galaxy Gala - this year's theme: Aqua Lumiere - to help raise funds for the development of the new state-of-the-art museum currently under construction in downtown Miami's Museum Park. The event, held at Hilton Miami Downtown, on April 18, began with a cocktail reception and an auction, and was followed by dining, dancing and entertainment from Drew T and DJ Blaze Carreras. Latin Grammy-nominated artist Debi Nova took the stage for a special performance.
Hosted by Chief Meteorologist John Morales of NBC 6 South Florida, the evening celebrated science using innovative features and exciting technology, including a water and light graffiti interactive experience by French artist Antonin Fourneau (which led to some great Instagram posts).
During the Gala, the Museum honored individuals and organizations who have exhibited exceptional leadership and commitment to the development and building of the new Museum. The Visionary Award was presented to The Batchelor Foundation, Founder George E. Batchelor; the Vanguard Award was presented to Baptist Health South Florida; and the Patricia and Phillip Frost Museum of Science award was presented to Julia Rea Bianchi.
Coinciding with the Galaxy Gala was the Museum's Big Bang 2015: H2Glow after-party, hosted by the Frost Science Young Patrons, with DJ, dancing, special performances and of course plenty of cocktails. All proceeds from both events directly benefit the Patricia and Phillip Frost Museum of Science and its programs.
Photos by WorldRedEye.com: http://worldredeye.com/2015/04/patricia-and-phillip-frost-museum-of-science-13th-annual-galaxy-gala-and-big-bang-after-party/
6. International superstar Barry Manilow captivated over 400 guests with a concert at the Adrienne Arsht Center for the Performing Arts of Miami-Dade County's 9th Anniversary Gala on April 24, 2015. A special tribute to Frank Sinatra in honor of Sinatra's 100th birthday, the event was held at the Ziff Ballet Opera House, which was transformed into an intimate supper club with cocktails, dinner, and dancing directly on the Lynn Wolfson Stage.
Monies raised by the Gala were reinvested into the Arsht Center's educational programming. In addition to the extensive programming, The Center hosts 12 signature series, including the largest jazz series in South Florida, the biggest flamenco festival on the East Coast (who knew?), and an arts education program that serves nearly 30,000 children each year.
Margaret and Mike Eidson joined philanthropists Swanee and Paul DiMare to form the Gala leadership committee. The Center's name benefactor, the glamorous Adrienne Arsht, served as honorary chair of the committee for the black tie event. Photos by WorldRedEye.com: http://worldredeye.com/2015/04/2015-adrienne-arsht-center-gala/.
7. Hip parents got to embrace their inner '80s child at The Cushman School Gala held on May 1, 2015 at the Eden Roc Hotel. The annual gala is the 90-year-old school's premier fundraising event, which benefits the PLAY TO LEARN, a campaign for a Performing Arts & Athletic Center.
The Gala was attended by more than 400 supporters who turned the Eden Roc's Mona Lisa room into a 1980s dance after-party with many heavy metal dads, some Cyndi Lauper moms, and a great mix of Miami Vice, Dynasty and roller skaters. Guests at event included VIP Cushman parents Fabian and Martina Basabe, Chef Michelle Bernstein, Christina Getty, Chris Radomski, Sara and Ugo Colombo, Chad and Ilona Oppenheim, and Nicolette Bernstein and David Cohen.
A live and silent auction was also part of the '80s action, with in-demand items such as a 14-person dinner at your home catered by Chef Michelle Bernstein, and five individual reserved parking spaces at the school to be used during the next school year.
8. The Sparkle Ballroom at the Fontainebleau Miami Beach lived up to its name on May 9, 2015, when more than 1,200 guests gathered as the Miami Beach Chamber of Commerce honored five distinguished leaders of the community at its 93rd Annual Dinner Gala and Silent Auction. Hosted by Chamber Chairman Michael S. Goldberg and yours truly, Tara Solomon, the Gala celebrated another successful year supporting educational initiatives in the Miami Beach community. The gala was organized by a subcommittee Co-Chaired by Robin Jacobs and Sherry Kaplan Roberts.
Party goers enjoyed an entertaining evening filled with over 300 silent auction items, awards dinner, a unique live auction, dancing and music and entertainment with the incredible DJ Irie, powerhouse chanteuse Maryel Epps, and child prodigy Biana Pinchuk.
This year's celebrated honorees were Alan and Diane Lieberman, owners of South Beach Group Hotels (SBG) and SBI Realty, receiving the Excellence in Tourism Award; Stanley Tate, visionary behind the Stanley G. Tate Florida Prepaid College Program, receiving the Leonard A. "Doc" Baker Lifetime Achievement Award; Bernie Yuman, Entertainment Entrepreneur and graduate of Miami Beach Senior High, receiving the City National Bank Hi-Tides Outstanding Achievement Award; and Rabbi Gary Glickstein, spiritual leader of Temple Beth Sholom, receiving the Jan Pfeiffer Distinguished Service Award.
Attendees included Bruce Weber and Nan Bush, Daymond John, Gloria and Emilio Estefan, Don and Mary Anne Shula, and Anthony and Alina Shriver. After the dinner and presentation, guests continued the evening in true Miami Beach style at the "Party Through The Decades" After Party hosted by City National Bank where guests filmed Slow Motion Videos and danced the night away.
Photos by WorldRedEye.com:
http://worldredeye.com/2015/05/miami-beach-chamber-of-commerce-annual-dinner-gala/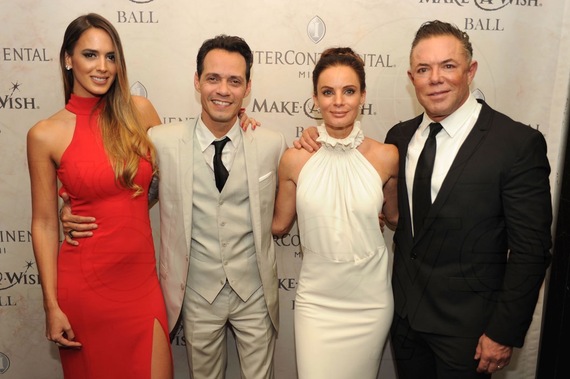 Shannon De Lima, Marc Anthony, Gabrielle Anwar, & Shareef Malnik
Photo credit: Seth Browarnik/WorldRedEye.com
9. The 21st Annual InterContinental® Miami Make-A-Wish® Ball, held on November 3, outdid itself once again as more than 850 guests attended an over-the-top, mythology-themed gala. The annual Ball raised $2.25 million and counting for Make-A-Wish® Southern Florida, and was hosted by the InterContinental® Miami, Ball founder and in-kind donor for the past 21 years, along with Shareef Malnik, who has served as Ball Chairman for 11 years.
Guests were greeted by towering pharaoh statues as they made their way to the ancient Greece-themed white carpet, surrounded by drapes and Ionic columns. Welcoming guests were "The Three Amigos" -- Shareef Malnik, philanthropist, Make-A-Wish® Board Chairman Elect, and owner of The Forge Restaurant | Wine Bar; Robert Hill, Gala Host and InterContinental® Miami General Manager; and Norm Wedderburn, President and CEO of Make-A-Wish® Southern Florida.
During the mystical cocktail reception, guests enjoyed cocktails and elaborate gourmet stations, surrounded by oversized ice carvings and a video montage of a larger-than-life Poseidon, God of the Sea. To keep with the mythology theme, servers were outfitted in Trojan and mermaid attire throughout the reception, also complete with gold "living" statues and interpretive dancers acting out tales from ancient Greece. Guests bid on hundreds of premier items and experiences at the Ball's legendary silent auction, donated by InterContinental® Hotels & Resorts worldwide as well as leading entertainment, fashion and luxury brands.
The glamorous celebration featured a return appearance by actress/filmmaker Gabrielle Anwar as celebrity emcee for the fifth consecutive year. In what has become a Ball tradition, Gabrielle and Shareef opened the night's festivities with a dramatic moment. This year, the Miami Gay Men's Chorus -- wearing white and red togas with golden laurel leaves behind their ears -- broke into clever song lyrics, written by Gabrielle herself, which encouraged guests to bid generously during the Wish auction that immediately followed. The highlight of the Ball was a special performance by six-time Grammy Award-winning entertainer Marc Anthony, who delivered an incredible concert, including the sexiest rendition of "Hotel California," ever.
Guests included Al and Nancy Malnik, lifetime benefactors of Make-A-Wish® Southern Florida; Bob and Alysia Press; Romero Britto; Taylor and Lisa Gang; Katherine Fernandez-Rundle; Donald and Lisa Pliner; "Real Housewives of Miami" cast members Adriana de Moura and Lisa Hochstein; Igor Makarov; Elaine Lancaster; James L. Ferraro; Fabian Basabe; Michael Capponi; DJ Irie; Steven and Carly Patterson; Daniel and Stephanie Gold; Gary and Dana Shear; Edgar and Nicole Lozano; and Wayne and Arlene Chaplin.
The Ball had an equally dynamic finale with the InterContinental® Miami Make-A-Wish® Nightclub, presented by E11EVEN-LIV, chaired by Shareef Malnik and Vice Chairman Michael Capponi, and co-produced by Maxwell Blandford and Clif Loftin, with creative direction by DECO Productions. Co-Chairs of the InterContinental® Miami Make-A-Wish® Nightclub were Maxwell Blandford, Christine Corson, Nick D'Annunzio, Danny Estevez, Clif Loftin and Antonio Misuraca. The Nightclub was located on the Mezzanine level of the InterContinental® Miami and featured DJ Nathan Asher, DJ Joe Dert, and globally renowned DJ and producer Chuckie, who kept the party going well into the night. The Nightclub, which celebrated its 6th anniversary, also included an extravagant runway show curated by Neiman Marcus Bal Harbour. The models were styled by the genius Arel Ramos with hair by coif king Danny Jelaca of Danny Jelaca Salon. Photos by WorldRedEye.com:
http://worldredeye.com/2015/11/21st-annual-intercontinental-miami-make-a-wish-ball/.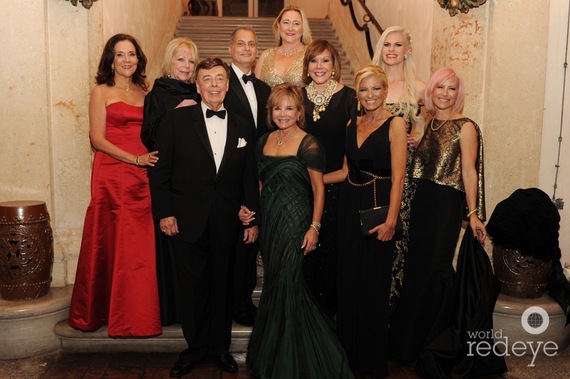 Linda Levy Goldberg, Cathy Jones, James Murphy, Joel Hoffman, Swanee DiMare, Nicole Lozano, Sonia Gibson, Lesli Brown, Suzy Buckley Woodward & Alexa Wolman.
Photo credit: Seth Browarnik/WorldRedEye.com

10. Even intermittent rain couldn't put a damper on the sparkle and shine of Vizcaya's 59th annual Ball, themed "A Return to the Gilded Age and All that Glitters," held on November 21. Guests, many carrying provided umbrellas, walked down the 200-foot red carpet to the black-tie event, where guests were welcomed to a stylish cocktail reception in the courtyard with a seafood bar and music by the Florida Youth Orchestra.
The evening was truly idyllic, and spirits were high, with attendees in glittering garb (best in show was Kristin Ducote's bejeweled Chanel camera minaudiere) and proud to support the preservation of Vizcaya Museum and Gardens, a National Historic Landmark. The evening's entertainment included music by The Steve Chase Band -- so good they inspired Nicole Lozano's "booby-cam" to make its debut -- and a fabulous on-line silent auction. Following a delicious, multi-course dinner (we ate every bite of our perfect filet), we watched spectacular fireworks above Biscayne Bay.
Bravo to the 59th annual Vizcaya Ball Committee: Lesli Ann Brown, Sonia Gibson, Linda Levy Goldberg, Cathy L. Jones, Nicole Lozano, Christina Martin, William Meyersohn, James W. Murphy, Alexa Wolman, and Suzy Buckley Woodward, with Swanee DiMare serving as honorary chair. The well-heeled guests included Susan and Anthony Abraham, Jr., Pearl Baker-Katz, Trish and Dan Bell, Terry Buoniconti, Laurie Evans, Andreea Baclea, Maria Beguiristain, Marisa Toccin and Hal Lucas, Miami-Dade County Mayor Carlos A. Gimenez, Vizcaya Museum and Gardens Trust Chairman Ray MaGhee, Aislyn and Scott McDonald, M.D., Bronwyn Miller, Miami-Dade County Commission Chairman Jean Monestime, Laura and Juan Munilla, Chris Pederson, Migna Sanchez-Llorens and Diane Sepler.
Photos by WorldRedEye.com: http://worldredeye.com/2015/11/the-59th-annual-vizcaya-ball/.
REAL LIFE. REAL NEWS. REAL VOICES.
Help us tell more of the stories that matter from voices that too often remain unheard.