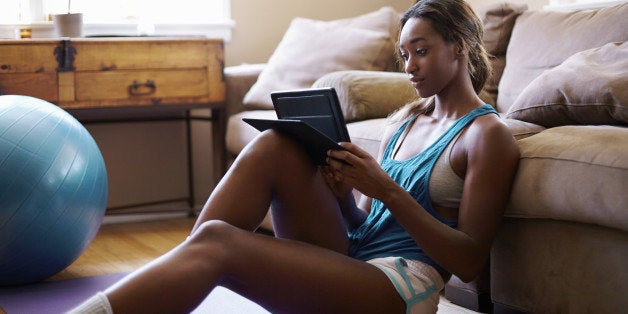 I am doing absolutely all of my Christmas shopping online this year, and most of my personal shopping is done online too.
I pay my bills online, I work online. This past summer I took a course online. Except for the fact that I love to travel, I really don't need to leave my house anymore (I can even order groceries online and have them delivered).
The one thing that I thought I would always have to leave the house for were my appointments with the personal trainer at my gym.
Well, think again. He has recently gone online too!
No matter where I am in my travels, we can keep our appointments. I have to admit, I didn't have a good feeling about this -- sure, it was cheaper, but could it be effective?
My answer is "yes." Yours may not be. There are definitely pros and cons to this, but they all boil down to the individual.
Among the biggest benefits of having an online personal trainer is that the training sessions are often scheduled via Skype or other video conferencing tools, video courses of specific exercise plans to suite your needs, along with dietary plans. In between videoconferences, there is regular email communication for questions and issues, and always the opportunity for additional video-conferencing. Unlike the usual gym sessions you can always ask that burning fitness question anytime. Or ask to have a look at your diet plan for next week.
The initial conference includes the "coughing up" of lots of physical information - specific information that the client will provide by following instructions for garnering it. Then the trainer will develop the individual program, based on the client's goals for weight and fitness. As the program moves forward, the client is expected to keep a log of workouts and daily food intake, which is shared with the trainer via video conferencing, or email one a week.
Access to the Best Trainers in the World.
Online workout programs been gaining popularity in the last few years and are now named as one of the key fitness trends in 2016.
Many of the world-class trainers have gone online. So if you want the best, and he is in South Africa, you can now have him. And if you are really into a specific fitness category, you can now find a personal trainer online who could not be found in your location. I have a friend who only wants Pilates training. She lives in a small town in upstate New York and her perfect trainer is in California.
Easy Access to Trainer Information and Evaluation.
Online trainers do advertise and they do belong to "clearinghouse" networks. Before you make a choice, you can get all kinds of information about them -- client reviews on social media, for example. You can access their social media pages and their websites. So, you really are not making a "blind" decision.
A top trainer is often booked solid. And as he gets booked, you not only wait for an opening, you are also going to pay a lot for their time - up to $300-400 per session. If they go online, however, this may be the cost of a month's worth of a program or even two months.

Flexible Time and Location.
I travel because I want to. Others travel for business -- a lot. Having online access to your trainer from any location is a pretty big benefit, especially if you have questions and don't want to continue with a specific workout until you get an answer. And you do not have to wait until you get back home to have your program adjusted.
Support Outside of Actual Training Times.
It's hard to get trainers to respond to calls and emails outside of your hour of time with them. In fact, most won't do it without extra fees. Online trainers operate differently. They are available during reasonable hours and will respond to your calls and emails. In my case, I was getting replies as early as 6:00 a.m. and as late as 23.00 pm.
You've probably figured most of these out already, but just in case I think it's worth reminding of the cons.
No One Spotting for Technique.
Using the wrong technique negates a workout and can even be harmful. For this reason, most online trainers do use Skype and initial video instructions, however they can't be with you during each workout session and monitor all your actions.
Possible solution I have practiced -- recording myself doing an exercise on video and sending that to my trainer for assessment.
How Progress Is Evaluated.
This requires honesty from the client, because it's easy not to be honest. A trainer can only go by the information provided, so if a client "fudges," it is the client who will suffer, and an online program won't work. So, yes, you'll need a lot of motivation and self-diligence to make it work for you. After all, like with any other type of training -- you need to have a clear vision goals if you want to succeed.
This is the other element of potential failure. Clients who meet with their trainer face-to-face will be motivated to keep up the program, or face the criticism. And skipping sessions is so easy when no one's exactly watching you. So, yep, you need to have a huge tone of fitness motivation when you choose to workout online.
There are some middle grounds between going to the gym and going fully online.
For instance, getting a fitness plan from a personal trainer and nutritionist consultations and using YouTube to find video exercises. There are plenty of amazing channels to follow!
Some companies are now offering on demand video exercises and guides that are custom-made for you.
It almost seems as if this is a natural extension of the earlier and still-used video workouts and exercise programs that customers order and play at home while they workout. Taking things to the next level by hiring a remote personal trainer is a bigger commitment. It is definitely not for everyone. It works for me because I am really committed.
It hasn't worked for a lot of my friends, because they just don't have the self-discipline to work out and stay on a diet without face-to-face supervision -- sort of like the student who misbehaves when the teacher leaves the room.
What are your thoughts on online personal training?