Nothing reminds me of how insignificant I am as looking at the twinkling lights of a major metropolitan city at night. Fortunately, as I survey the world from my perch tonight on the 58th floor, I am staying at the new InterContinental Hotel in downtown Los Angeles – because every interaction I have had here is designed to convince me that I am very important.
The floor-to-ceiling windows along two sides of my bedroom walls provide an expansive view of a city pulsing vibrantly, even at 2am on a weeknight. There is a steady flow of vehicles on the three major freeways within my view and a glowing carpet of energy stretches out to the horizon in one direction. In the other, brightly lit office buildings provide a tableau of empty conference rooms waiting for tomorrow's captains of industry to arrive.
These signs of life represent millions of Angelinos who power this city with their intricate, complex stories woven tightly into a fabric of life that would remain substantially unchanged if any one of us were removed.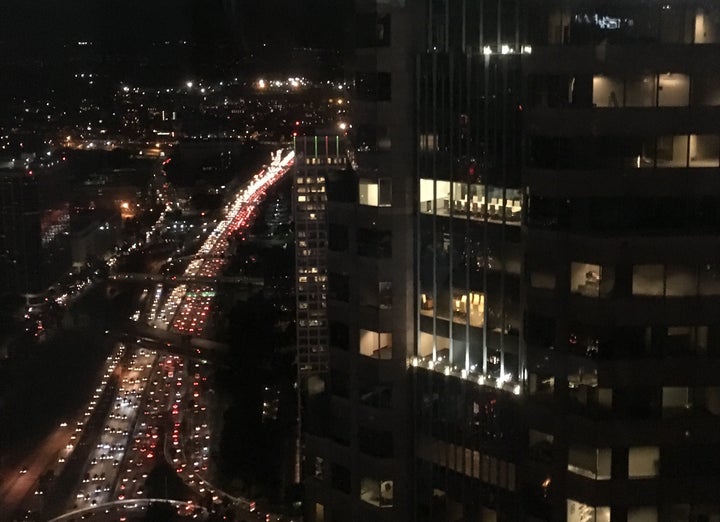 Our overnight stay was a gift from my wife as a way to celebrate our 20th wedding anniversary. From the moment we arrived, every member of the staff has treated us like royalty. A greeter on the ground floor directed us to the hotel lobby on the 70th floor. There, gazing at the Pacific Ocean in the distance, we checked in and received a brief orientation so we could find our way around the hotel.
In the room, a bottle of champagne awaited us, along with a small bowl of handmade chocolate-covered fruits and a letter of congratulations on reaching this milestone in our marriage. We toasted each other as we watched the sun set, pausing only briefly to try to capture the beauty of the moment.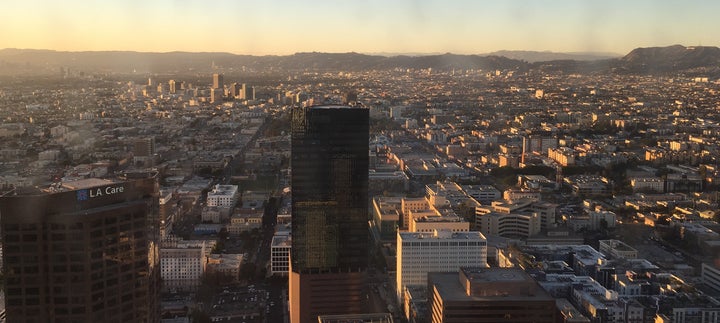 Lisa knew that I would enjoy our view even more if we were also eating good food, so she reserved an early table for us at Sora, the sushi restaurant that takes up half of the 69th floor. Tucked into our booth-for-two at the window, we had a northeastern view of Los Angeles, including the "tiny" buildings that dominated the skyline in earlier times – from the city hall, built in 1928, to the former Arco Twin Towers built more than 45 years ago. Those structures, like the Wilshire Grand that houses the InterContinental, were all built by the same firm – AC Martin Partners. That tiny bit of obscure LA trivia provides a sense of reassurance that this giant building – the tallest west of the Mississippi – is part of the natural evolution of this great city.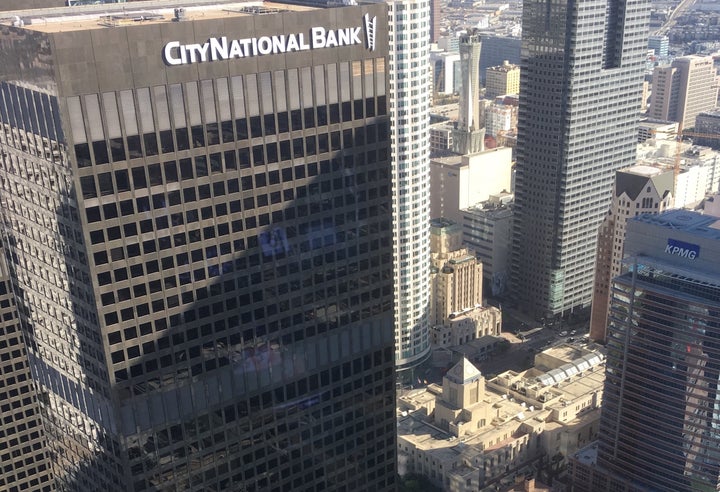 Dinner was wonderful – fresh sushi that melted in our mouths, with a perfect pairing of sake. Topped with a glass of champagne from the the restaurant manager, and a gift of deliciously light tofu cheesecake from our server, the meal was a romantic reminder of how good our lives together have been… and there was another treat yet to come.
When we finished dessert, we were escorted to the open-air bar and lounge on the 73rd floor by the manager of that venue, who simply wanted to make sure our evening included a taste of everything the hotel had to offer – including its 360-degree view of the city.
By morning, Los Angeles has taken on yet another new look – a sprawling metropolis that is deceptively peaceful and calm. From our windows, we can see from Pasadena in the east, past the Hollywood sign, to Century City, Westwood, and Santa Monica on the coast. We trace routes we frequently drive and pick out familiar landmarks as easily as if we were looking at a Google Earth map… but this is real-time… and real.
Our breakfast at Dekkadance, the restaurant on the other half of the 69th floor, provides more stunning views, along with a delicious international buffet of breakfast delights. We watch helicopters fly by at eye-level, follow jetliners as they land at LAX, and see how the Santa Ana winds have blown the smog out to the ocean.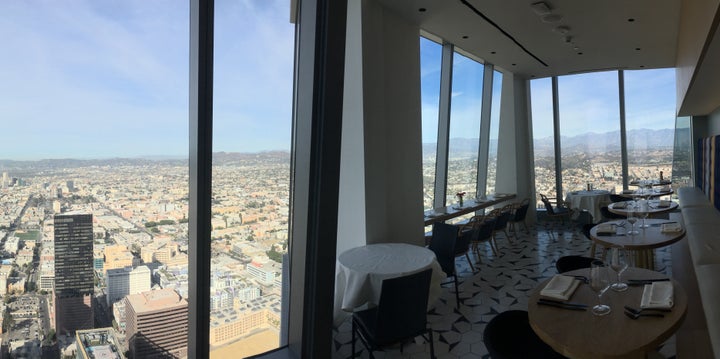 Finally, sadly, it is time to leave. We cede our tiny outpost in the sky to the next lucky hotel guests, and we head home to begin our next twenty years of marriage… reminded by our short stay that, although I may be insignificant, life is good.
Popular in the Community