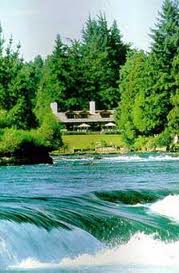 One thing about visiting New Zealand, don't do it in a rush! One week is clearly not enough time, even if you're only going to the North Island like I was.
Anxious to see more than Auckland and Wellington on this trip, I toured the town of Taupo near the central island's geothermal area on a quick overnight trip. Midway between these two cities, the environment reminded me of Lake Tahoe, but without the casinos and more serene, despite Lake Taupo's ring of snow-capped volcanic mountain peaks. I visited in New Zealand's wintertime when the temperatures were surprisingly mild and the crowds thin, if at all -- highly recommended!
Taupo is a three-hour drive south from Auckland. Rental cars are expensive in New Zealand -- $150 per day -- and gasoline prices about twice as high as in the U.S. I opted to take the Intercity bus (although I think more visitors arrive by helicopter), and really had no regrets as we passed sheep, cows and horses in the Maori land of the big white cloud. There was room to stretch out and the bus kept to schedule, although stops along the way in small towns mean the trip takes an hour longer than driving.
Arriving at Taupo, I had a quick stop at a look-out point over the spectacularly turquoise-colored Huka Falls, the major site here for tourists and a recreational area that welcomes fly fishing, bungee jumping, kayaking and jet boating, or simply strolling along the green banks of the swift-moving Waikato River. If that doesn't suit, there's always golf at two nearby courses, mountain bike riding or a dip in the thermal hot pools at Wairakei Terraces.
I stayed at Huka Lodge, which is consistently rated among the finest, if not exactly the best-known resorts in the world. Huka Lodge does not disappoint. Say the resort's name in New Zealand and everyone knows it. A honeymooner's favorite, it could just as well be a spot to hold an executive retreat.
Huka Lodge is part of a trio of properties owned by Dutch businessman and world traveler Alex van Heeren who made his money trading commodities. The other resorts he owns are Grande Provence in South Africa and Dolphin Island in the Fiji Islands. Beginning in 1984, he transformed a run-down fishing lodge built in the 1920s by Irishman Alan Pye into a 17-acre property with several cottage-style rooms, plus a pool, tennis and croquet courts.
The resort's general manager Lous de Bievre (also Dutch) lives at the lodge, keeping a close eye on everything going on and making sure guests are comfortable. Lots of famous people have been here such as The Queen Mother, Charles Lindbergh, James Mitchener, Bill Gates and Rupert Murdoch. I didn't see Bill Clinton listed as a guest though his photo was on a wall display at a hotel in Auckland where I stayed.
Dinners are served in the main lodge overlooking stunning views of the river after enjoying New Zealand wines and canapes fire-side with fellow guests. Breakfast is communal style around large dining room tables. Rates are steep, starting at $620 per person for a junior lodge suite, but that includes breakfast, dinner, pre-dinner drinks, and use of the lodge facilities.
The place has the feel of a country home, with only 18 suites and two spacious hideaway cottages. The cottages offer two and four-bedroom suites, fully equipped kitchens, a den and their own pools, plus a personal chief if you so desire. The suites are larger than most apartments, and have every amenity -- my favorites were the well-stocked mini-bar at no charge, and the heated towel racks and floors. And I was pleased to find no TV or phone in the room, unless of course you request it. Lonely? Don't be! Ducks come up to your deck to greet you -- don't leave your door open or give them food. You won't get rid of them!
At night, it is so dark that the only light is from the bed-side alarm clock. I unplugged mine for the total effect, and slept in late for the first time the entire two-week trip -- not a sound from any other any guests.
The soundtrack at Huka Lodge is always the moving river, close enough to hear it rush by.
Related