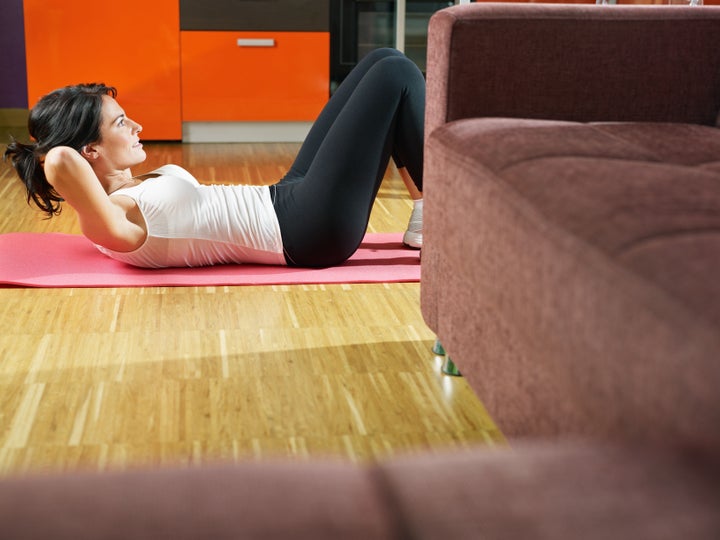 Though I'm a celebrity trainer with A-list clients such as Jessica Alba, Halle Berry and Zac Efron and and a panel member of Gold's Gym Institute, one thing I can promise is that you don't need to have a lot of money -- or be a celebrity -- to get in shape!
Most people want to get fit, but assume they need a huge income to do so. Don't use this as an excuse, because nothing could be further from the truth! If you really want to drop weight and tone up, there are many ways to do so on a budget. Take a look:

Make Housework A Workout
One way to get in shape is to tackle household chores. Mowing the lawn in the summer, shoveling the snow in the winter, vacuuming, washing windows, dusting and sweeping all burn calories and can provide an excellent cardiovascular workout. According to Diet.com, vacuuming the rug, sweeping and mopping the floors can burn up to 100 calories in 20 minutes. Throw some music on to make it even more enjoyable! Include high-energy Latin rhythms or perhaps even a Bollywood beat to get you moving!
Use What You Have
Weight training is important, but not everyone can afford a full set of weights. If you can invest in an affordable set, that's great! If not, use household items. Canned food, milk jugs and water bottles work very well as free weights. Building lean muscle tissue burns calories even while you sleep! Believe me, you'll feel it!
Walk This Way
Walking is absolutely free and is an activity that you can do almost anywhere at any time. During the warm weather, get outside, move briskly and breathe the fresh air. When the temperature drops, walk indoors at a local mall or community recreation center. Invest in a pedometer to calculate how many steps you take and how many calories you burned. Include walking up a flight of stairs or a hill and suddenly you have taken your walk to a workout by including interval training.
Body Basics
There are many exercises you can do by using your own body as resistance. Lunges, stomach crunches, pushups, pull-ups, squats and dips are all excellent exercises that require nothing but you! No need to invest anything but your time.
Let's Get Physical
Exercise videos are a great way to get in shape! My 3-2-1 Training Method DVD highlights the workout I do with celebrities while we are on the road on location shoots. If you don't have weights or a weight bench, substitute household items for resistance, prop some pillows to make an incline bench and use a staircase for the step ups. The best part of working out at home is you can do it in your own time in your own space.
Bargain Shop
Many of my clients like good bargains! If you really want to create a home gym, shop garage sales for used fitness equipment. And, don't forget to shop online to find close out prices or overstocks on small items including dumbbells, exercise balls and resistance bands.
Affordable Gyms Are Out There
Working out at a gym is still the most powerful way to get in shape. You'll be surrounded by energy, a wealth of exercise options and other people who share your fitness goals. There are lots of good deals out there, so make sure to do your homework. You don't have to spend your entire paycheck -- moderately priced gyms do exist! There are "no-frills" gyms popping up everywhere, such as the Gold's Gym Express concept, which offers members a powerful workout experience without a heavy price tag. The standard monthly dues start at $9.99 -- definitely a bargain!
Remember...fitness is not a luxury. It's a necessity for a long and healthy life. As I've outlined above, there are many opportunities to get in shape that will not break the bank. I hope you consider them!
Ramona Braganza is a celebrity trainer, panel member of Gold's Gym Institute and the creator of the 3-2-1 Training Method and 3-2-1 Baby Bulge Be Gone. Her clients include Jessica Alba, Halle Berry, Tom Welling and Zac Efron and she spent a decade as a professional cheerleader for the Los Angeles Raiders, eventually leaving to pursue a career as a fitness professional. She has been featured in Shape, Self, Women's Health, Glamour, Cosmo Girl, In Style, US Weekly and more.