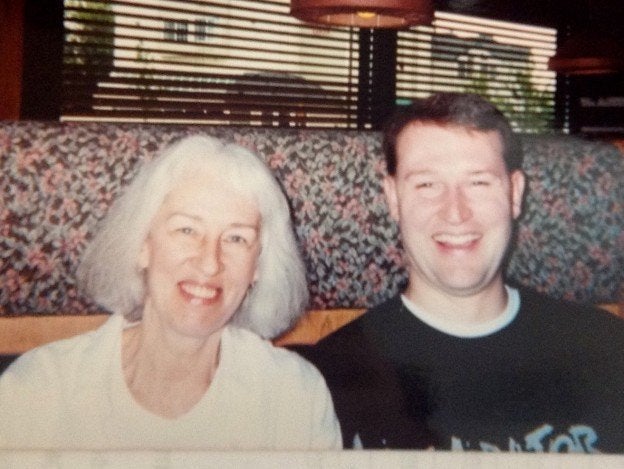 This is the thirtieth post of "30 Adoption Portraits in 30 Days," a series designed to give a voice to people with widely varying experiences, including birthparents, adoptees, adoptive parents, foster parents, waiting adoptive parents and others touched by adoption.
Grandma's house in Ogden, Utah, was where I first learned what death is.
Dad walked through the front door into the small living room of Grandma's house. It was late afternoon. I was playing with Grandma's Lincoln Logs on the carpet. Somehow, I knew something was wrong. Dad went down on one knee there on the carpet, ruffled my hair and said, "Mommy died today, Chad." There were no tears that I remember, but Dad seemed sad. I was 5 years old.
When I was older, I asked Dad what he did when he first heard the news that his wife was dead. "I went bowling," he said. At first that seemed cruel to me, but then it felt -- oddly -- OK. I didn't have a problem with it.
I was 5 years and a couple of months old the day Dad told me Mom died. I don't have a memory of my twin brother Brad on that day. He was probably with me at Grandma's house, but I only have that ten-second memory of what Dad told me while I played with those Lincoln Logs.
"OK, Dad," I think I told him, and went back to playing with the blocks.
At age 5, I couldn't fathom the finality of Dad's news. Mom was gone. Truly, utterly, never-to-return gone. The world would go on. Someone, somewhere, was laughing. Someone, somewhere, was having the best day of his or her life. What did my mother's death mean to them? Just another paragraph in the obituaries, a square black-and-white photograph lost on a whole page of other square, black-and-white photographs. Survived by her husband, Lynn, and four children, Luralyn, Chad, Brad and Tiffany.
But I had two other mothers in the world, neither of whom I had yet met. Living, breathing, cancer-free mothers. My biological mother knew I was alive, but didn't know where I was.
Dad remarried my step-mom six months later and we instantly had two new brothers, one new sister, and then one more sister when they became pregnant. That made eight children.
I always knew I was adopted. Dad must have told us at a very young age. I had the notion that somehow it made me special. "I was adopted," was something I'd say to brag.
Brad and I shared a room. We used to scratch each other's backs on Christmas Eve, trying to stay up all night so we might get a chance to see Santa Claus but never really making it that long. I don't remember very many conversations about our biological parents, though. We just didn't talk about it. Certainly not in any deep sense. We were well taken care of, very much loved, and all our little minds really had time for was playing with G.I. Joe or the latest "Star Wars" figures.
As we grew up, shuffled back and forth to school, baseball practice, soccer practice, scouts and the nearest swimming pools in the summer, there were times and circumstances when I was reminded that I was adopted, that there was a woman out there who was my biological mother, from whose flesh I had come, and that there was a father out there, too, who may or may not know we even existed. Sometimes I would pause and look at all the people around me, wondering if she was in the crowd. Did she think about Brad and me?
Sometimes my curiosity ran wild. I wanted to know the before-story. Why was I adopted? What happened to cause it? And what about our father? Who was he? Dad told us our father was a basketball player, was six feet eight inches tall, and was a mathematician. He said our mother was a secretary at a law firm, that she was 27 when we were born, and that our father was 21.
I remember calculating, a couple times every year, how old they were. I thought about them every year on our birthday, wondered if they were thinking about us, too. How could they not? It seemed like the only connection I had with them. It was the one time during the year that we could somehow share.
Next: "Our mother was thinking of us, that was certain."
The beginning of my search
When Brad and I were about 12 years old, our adoptive parents received a letter from the attorney who did the legal work for our adoption. The letter was from our biological mother.
She wanted the parents of her biological twins to know that she was in rehabilitation for alcohol abuse. That letter perked my interest, and I thought more and more about it. Our mother was thinking of us, that was certain.
In my mid-20s, I found an old filing cabinet in the basement, packed away in a storage room. I rifled through every file in it and found documents from the attorney who did the legal work for our adoption. One document, three pages long, detailed the release of twin boys to my parents. In every case, the name of our biological Mother had been literally cut from the documents. I also found medical bills, totaling about $800, which our adoptive parents paid.
I noticed that my biological mother had made two phone calls the day after we were born. I was consumed with curiosity about what happened in that room and who she talked to. I took all the paperwork. It was a start, the only thing I had to go on. I sent copies of all the documents and a request for the names of my biological parents to the attorney, who was still in practice, and eagerly waited a reply.
Weeks, then months passed. Nothing came in the mail. I assumed the attorney was bound by Oregon law to keep everything private. The laws in Oregon at the time didn't allow me to obtain a copy of my pre-adoption birth certificate, so all I had to go on were the few documents I had found.
A few years passed. When I learned there was a measure on the Oregon ballot that addressed the rights of adult adoptees, I was intrigued and found through an Internet search that the measure would allow adult adoptees to obtain a copy of their pre-adoption birth certificates. I was thrilled. At last, it looked like I might be able to get a copy of it.
I watched the Oregon election more closely than my own California election. In November of 1998, Measure 58, the Open Adoption Law in the state of Oregon, was voted into law. It was a moment of joy for me, but the joy didn't last for long. Six birth mothers challenged the new law and it was held up in the courts until the Oregon Supreme Court threw it out in 2000.
I received a copy of my original birth certificate on July 11th, 2000.
I had my mother's name! One Internet search revealed that she was still living near Eugene, Oregon. It was that easy. I had a friend call her to see if she wanted contact. I didn't want to bother her if she wasn't interested. It seemed like the right approach.
Two days after I received my original birth certificate, my friend spoke to her and discovered that she was, indeed, my mother. She was willing to speak to me but wanted half an hour to gather her thoughts, my friend told me.
So I waited half an hour, pacing, shaking. Then I called. She answered on the second ring. "Hello."
"Hello, this is Chad," I said.
"Before we go on," she said, "we need to make sure I'm the one you're looking for."
"Do you have a fraternal twin brother?" she asked.
"Were you born on December 27th, 1969?"
"Yes," I said. This was when I jumped in with: "We were born at the Sacred Heart Hospital in Eugene, Oregon?"
"You found me," she said with a sigh. "What do you want to know?"
"Anything you're willing to share," I said.
And thus began the most stunning, memorable conversation of my life.
bDad and Brad

I learned that bMom and bDad, as I began to affectionately call them, split up while bMom was pregnant with us. They hadn't spoken even once in thirty years. bMom asked me during that first call if she could find bDad for me. I said yes and she found him the very next day. He called me! We swapped photos.
I told Brad that weekend that I'd found them. He was pretty stunned, but seemed excited and interested. He spoke to them, too.
The First Meeting

bMom via email, a few days before our first meeting:
I'm not nervous in the least. But I'm nervous because I'm not nervous. In fact, I've got the screaming meemies because I'm not nervous. Brad sent me a picture of you, Chad, in a little green sweater and a fuzzy hat that was taken when you were about 1 or 2. You were sooo cute. But I know you are all grown up now. I promise not to try to diaper you. -bMom

We met at the first rest stop just north of the Oregon/Washington border. I was driving about 30 miles an hour the last ten miles, literally shaking with nervousness. When I pulled into the parking lot I saw them standing together on the hill between the trees. I got out and could barely walk toward them.
bMom broke away from bDad and ran the last few steps, grabbed me in a hug. I lost it. Tears steamed down my face. I remember seeing bDad walk up. I heard him say, "What about me?"
bMom and I laughed. She pulled away and beckoned him to join us. We all hugged each other, then stepped away and just looked back and forth for a while.
"You did good, Chad!" bDad said at one point.
We spent two days together that first meeting.
I met an entire family. Biological grandparents from bDad's side. Aunts and uncles, two half-sisters. I tried not to feel guilty. I'd thrown a rock into a pond and had little control over how all the parties involved were going to react.
I never felt anything but acceptance from the entire family for crashing into their lives. I was proud to have come from this bunch of truly wonderful people.
Brad was at dental school in Connecticut during that time, but he came out for his first meeting a month after I met them. That first night, late, bDad excused himself to go to bed. He went upstairs. Shortly after, bMom also excused herself to go to bed and followed bDad upstairs.
"Is there something going on between those two?" Brad asked me shortly after bMom went up. From what I could tell, there certainly was. I just smiled and laughed with Brad.
bMom called me one day while I was driving home and said, "Your bDad is finally going to make an honest woman out of me. We're getting married." The signs that this might happen had been pretty clear all along, but this was still a stunning moment for me. My biological parents, who hadn't spoken since bMom was pregnant with us -- nearly thirty years -- were getting married.
They've been married for many years now.
On August 13th, 2001, the first anniversary of the day bDad, bMom and I met in person for the first time, I received a bouquet of blue flowers. Thirteen of them.
On July 13th, 2002, the two year anniversary date of when I called bMom, Charline for the first time, I received a phone call while I was eating dinner in a restaurant with some friends. My caller ID said it was bDad, Tom.
"Hello, is this Chad?" said bDad.
"I have this woman here who says she's your biological mother. She'd like to talk to you."
"Oh, boy," I said, going along with the joke. "Can you tell her I need half an hour to gather my thoughts?" We laughed, then laughed some more.
Before You Go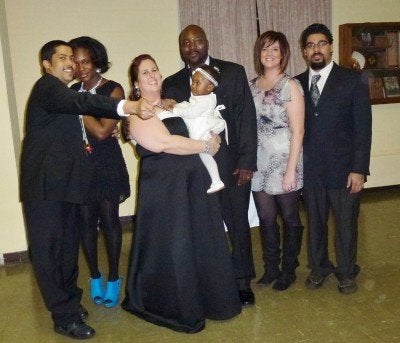 Adoption Portraits
Popular in the Community