Recently, Forbes.com featured an article about the benefits of doing good through corporate social responsibility. This is something that I can attest to personally.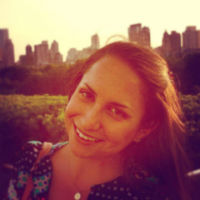 A few years ago, a friend invited me to participate in a 5K run benefiting the nonprofit organization where she works. The Central Park Challenge raises funds to support YAI, an organization that helps individuals with disabilities build the skills they need to live the lives they want.
I saw the great work my friend was doing at YAI and as someone who tries to make a positive difference in the world by raising money for causes that I'm passionate about, I was happy to be part of the event.
From my experience working in marketing, I knew that running the 5K wasn't the only way I could lend my support. Through my employment at an Out-of-Home advertising company, I knew I had a means to generate awareness for YAI, the CPC and people with disabilities. Because I believe so strongly in YAI's mission, I felt compelled to help in any way I could.
I started a company team and asked my colleagues to join me in running the 5K. I was happy to see how enthusiastically people responded. Our team worked hard to fundraise, and everyone got friends and family to join the movement by donating in support of their runs. It felt great to get together behind such a great cause.
Our fundraising activities created so much excitement that the company also donated ad space to help generate awareness for the event.
On race day, we gathered in Central Park with hundreds of other runners and individuals -- including those who receive services from YAI -- who were at the event to show their support.
The race was great, with lots of cheering from staff and individuals served by YAI along the way.
For me, the most inspiring part was to see so many people overcome challenges and work together to get involved to make the day and the event so special.
I was proud that we were able to increase awareness and raise donations for YAI and I am happy that although I no longer work at the company, they still continue to partner with YAI to spread the word.
It is always great when companies get involved with organizations like YAI since they can leverage their assets to assist on a greater scale and help make more of a difference. Getting involved with nonprofits also builds a sense of community and teamwork amongst colleagues.
When it comes to making a difference, I think a great place to start is to figure out what your personal cause is. Whether you get involved through your company, or on an individual basis, if you choose to support work that you believe in and are passionate about, you'll have a great time doing whatever you can to help. Getting involved will give back much more than you imagined.
Calling all HuffPost superfans!
Sign up for membership to become a founding member and help shape HuffPost's next chapter