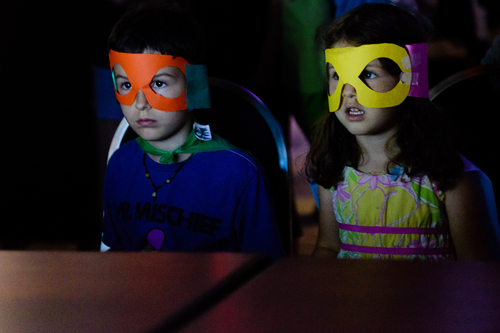 Last year my kids and I had our first Con experience together when we visited DC's AwesomeCon. It was surprisingly family-friendly and my kids asked if they could go back the next weekend. Like most Cons, AwesomeCon was a three-day event but we are gearing up for a nearby Comic-Con in Baltimore running from September 25-27th.
Because I'll have four kids in tow I started looking for ways the whole family could geek out for the experience. I found quite a few ways everyone, including the baby, could get ready.
Reading: Comic-Con must have comics! Get kids ready by reading your favorite comics or graphic novels. Kids Love Comics will be on-hand in Baltimore and travels to Cons throughout the country to help promote literacy and creativity.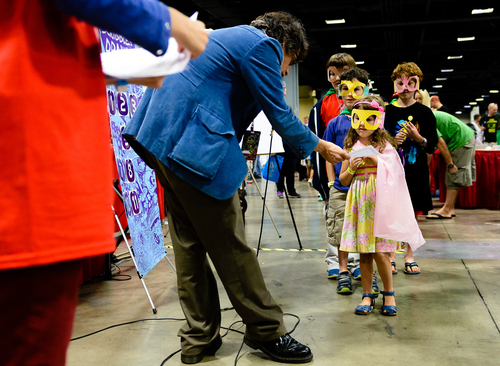 Clothing: Many Con-goers take their costumes and clothing very seriously. One of my children's favorite parts of AwesomeCon was seeing the cosplay from Lego minifigures to Ariel to several Deadpools. The great thing is, anything goes. Star Wars, Superhero, Princess, Dr. Who - it's all fair game. Kids tend to have costumes already or you can use a Con as an excuse to buy or make an awesome Halloween costume. But, if you would rather geek out in other ways look for awesome t-shirts and gear from Superherostuff.com, which is a go-to resource from everything from hoodies to onsies so you can get in on the fun without needing to do anything elaborate. My infant son will be showing his stripes in a "B is for Boba Fett" onsie.
Carrying Baby: I found it better to go hands-free as much as possible while walking around the Con. This time around I found the perfect baby carrier for Comic-Con - the Lilliebaby All Seasons Tokidoki print carrier. Not only will baby fit right in but back support and air ventilation mean that I'll be comfortable too.
Carrying Stuff: When it comes to visiting a Con with kids chances are you will leave with a couple of comics and crafts....and maybe a lot more. Anything from Ju-Ju-Be's Tokidoki X line is the perfect accessory to carry your haul, diapers, and the kid gear most parents need to bring with them everywhere.
Toys: Get the kids ready for what they will see at the Con. With the newest Star Wars release just a few months away this year is all about priming kids for The Force Awakens. Serious collectors will love Black Series figures while others will enjoy playing with kid-proof Playskool or Rebels toys, like the Millennium Falcon play set. If you are not getting into the Star Wars hype, there are always superheroes, like the Adventures Iron Man Armor Up Fortress Playset. But Cons aren't just about Star Wars and Super Heroes. My Little Pony usually has a huge presence as well - and your little girl or Brony will fit right in with a walking Pinkie Pie.