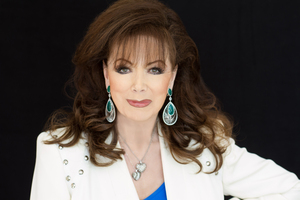 A funny thing happened during my interview with Jackie Collins at her hotel on Manhattan's Upper East Side on a humid Monday morning. A few minutes after sitting down in a secluded corner in the lounge it became apparent that this wasn't going to be a typical interview about her new book The Santangelos; it was going to be like two friends catching up over lunch. Granted we've spent time together in the past, but now my recent adventures and the lessons she's learned in life became intertwined. I told her I recently moved to Las Vegas, which opened a lengthy discussion on relationships and commitment. Interestingly many of her novels including The Santangelos have been set in Sin City.
"I love Vegas! I went there as a kid originally," she said. "I remember I was with this guy I was dating. I was like 15 or something. We were driving through the desert and suddenly you see the lights. It was fantastic."
Like many of her readers I've come to think of her characters as real people---almost friends. Reuniting with her most famous character in The Santangelos, Lucky, the strong, kick-ass woman who can go head to head with any man, was a treat. The novel continues the family saga that first began in her 1981 book Chances. This time around Collins made the decision to kill off one of her most beloved characters.
"It was so difficult because I know people are going to be so upset. That was the only thing I knew was going to happen before I started writing," she admitted.
Dressed in black pants, a black top and a long white coat, Collins is glamorous without working at it. She ordered sparkling water and a smoked salmon sandwich. It's her first meal since she arrived in New York the night before. I'm not hungry, but she encouraged me to at least get a drink. Even before our order arrives, we're in a deep discussion about men. Can they really be trusted?
"All men cheat," she said adamantly. "Given the right time, place and opportunity where they think they're not going to be found out, all men cheat. Look at the Hollywood marriages. Look at Ben Affleck and Jennifer Lopez with strippers---allegedly. Look at the last boyfriend Britney Spears had---cheating on her allegedly. Look at Casper Spark cheating with a transsexual. Unfortunately the public ones get found out, but there are a ton of men out there who don't. There are a ton of men who have two families."
Collins, who was married for 26 years to her second husband, Oscar Lerman, until his death in 1992, always found a way to balance her career with an honest personal life. Perhaps she struck gold with the right man or maybe it was her strength.
"If I was with a guy and he cheated on me, which I've never discovered, I'd cut off his balls and use them for earrings. Then I'd throw him out!" she said without blinking an eye.
As we laughed, I couldn't help but admire her own sense of worth. She's very clear on infidelity. She won't tolerate it from a man, and she won't celebrate it from a woman.
"I'm in shock America is even contemplating voting for Mrs. Clinton. What is she a country western wife---I'll stand by my man? Bullshit! Let's forget about Benghazi and the vanished e-mails and all that. The fact that she allowed him [Bill Clinton] to publically cheat on her is enough for me to say, 'I want a woman president, but not that woman,'" she said.
Like Lucky, Collins had to prove herself to her family. A few years ago she told me her father was a bit of a chauvinist and very dominant. This time she went deeper and confessed that he would say things to her like, "You're old enough and ugly enough" if she ever asked for anything. She also had an aunt who called her "scruffy." Neither were positive affirmations for a young girl. She's currently writing her autobiography, Reform School or Hollywood, and through the writing process she's realized a few things about herself.
"I raised myself," she said. "I was a middle child who nobody paid any attention to."
Her older sister, actress Joan Collins, was off making movies, and her brother was king of the house because her parents always wanted a boy.
"I turned myself into what I thought I should be, and I showed them all. I really did."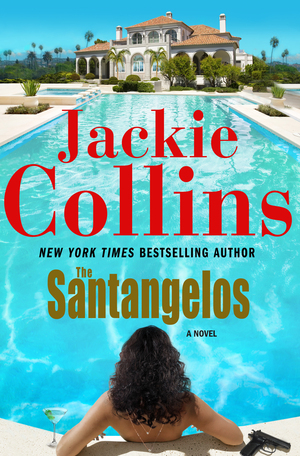 Looking into her eyes, I realized more than ever that she's right when she says people are always surprised at how down to Earth she truly is. She leads a very private life and likes to think of herself as one of the boys. That comes through in her writing. Take her new character, the troubled young actress Willow Price. She writes in The Santangelos: "Willow took pride in being the best little cocksucker in town."
"And they say I write romance novels!" she laughed after I read her that passage.
Of course no time with Jackie Collins would be complete without dishing about some of the hottest topics in entertainment. Caitlyn Jenner came up, of course.
"It's enough already," she said. "I did a bus tour with Married Lovers in the South, and so many young boys came up to me who were transgender and told me it was hopeless there, and they had to move to New York or LA. It was the biggest suicide group of people ever. So, I think it's great for her, but it's enough already."
And what advice would she give Caitlyn?
"Don't let it be all about your looks as a woman. Develop your personality."
Close to two hours later she's finished her sandwich, and my Pinot Grigio is gone. While we never did have a traditional interview, we had an honest talk that went far deeper than I could have imagined. Not only did I get to know more about the woman behind the best-selling books, I feel like I gained a confident. She even joked, "And I solved your love life!" She certainly did give me good advice that I will cherish and may even read about her in her next book. Before we leave there was just one thing left to do.
"Let's get a picture," she said with a smile.
Author Photo: Lorin Davis
Popular in the Community