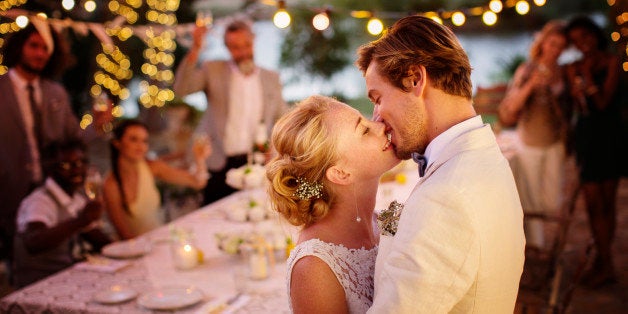 Four months ago, I sat in bed one Sunday afternoon and typed out my feelings regarding a topic I have mused over for years. My thoughts came alive in an article entitled, ''Getting Married Is Not an Accomplishment."
At the time, I would have never, ever imagined that my little article and my insignificant opinion would become trending, translated into multiple languages, and lead to me having the opportunity to share my opinion on national television.
Seriously, in no way when I was writing the piece did I find my stance to be that controversial, but I was quickly proven wrong. Hundreds of tweets came my way applauding the article. And of course there were also those who both respectfully, and not so respectfully, disagreed with me. Having my beliefs challenged did not bother me, though. After all, diverse opinions are what make the world go round.

Having both my character and my love for my fiancé questioned was one of the hardest things I have experienced in my life.

What did affect me, and tremendously so at that, was a few of the people closest to me mistook my words to mean something they absolutely don't. Specifically, it was the opinion of some that my article was slighting my future husband-to-be, Craig. Their translation of my editorial was, "Craig is not an accomplishment."
Typing that out is literally painful, because it could not be further from the truth. Having both my character and my love for my fiancé questioned was one of the hardest things I have experienced in my life.
So, with my wedding being a month away, I think it is the perfect time to follow-up to what I initially wrote. My position has not changed in the least, but it has been on my heart to clarify my words for the sake of Craig. Not because he didn't understand what I truly meant (He was and continues to be my biggest supporter), but because I owe it to the both of us to ensure my respect for him isn't up for interpretation.
As I wrote before, my unchanging opinion is this: Proposals and weddings are a beautiful, wonderful, exciting, celebration-worthy part of life. But to me, they are just that: a life milestone. I don't believe that having a diamond adorned on the ring finger makes me, or anyone, more accomplished than those without. And, I don't believe the act of saying "I do" is where the accomplishment part of marriage comes into play.
Of course, I also formidably stand by my belief that academic, professional and other successes shouldn't be put in a smaller light than that of entering into an engagement.
But, there is something I didn't write in my last article that I really wish I had:
Happiness is an accomplishment.
I had this revelation a few weeks ago at my bridal shower. Before the party, my sister emailed Craig and me a set of questions for us to answer individually. Our responses were for a game in which the shower attendees got to guess whose answer was whose. One of the questions was, "What's one word that you would choose to describe your relationship?" My answer: "happiness." I found out at the shower he chose the word "happy." It's something I will never forget.
We found happiness with each other. And that is indeed one of my achievements.
Some people's happiness comes with finding the person they want to spend the rest of their life with. Some people's happiness comes through work or school or hobbies or kids. Most people's happiness comes from a mixture of different things (as does mine). But the point to be made is, true happiness isn't always easy to come by, so when it's found, it should be cherished -- no matter what form it comes in.

Continued happiness and commitment will always be the real accomplishment aspect of getting married.

Of course, one can argue that the engagement ring and ceremony bring happiness. And these things do. But for me at least, without the love I have found with my future spouse, all of the wedding-related things and experiences wouldn't bring an ounce of joy. The root of my happiness is Craig and our commitment -- not the tangible items.
Furthermore, what counts to me much more than the ceremony is the years after. Staying true to the "Until Death Do Us Part." Always loving, honoring and respecting each other. Maintaining faithfulness. Choosing to continually lift each other up. Staying joyful and supportive through the many trials we will undoubtedly face.
In my eyes, continued happiness and commitment will always be the real accomplishment aspect of getting married.
So, I would like to end with this:
Craig, you are an accomplishment because you bring me unending happiness. The type of happiness that causes me to break down in tears at random times because I still can't fathom that I have found the perfect person to spend my life with.
The ring and "I do" are essential stepping stones in the path to living our lives together, and I absolutely cannot wait to say our vows and celebrate with all the people we love. But much more than that, I look forward to honoring those vows and being happy for all our days.
Related