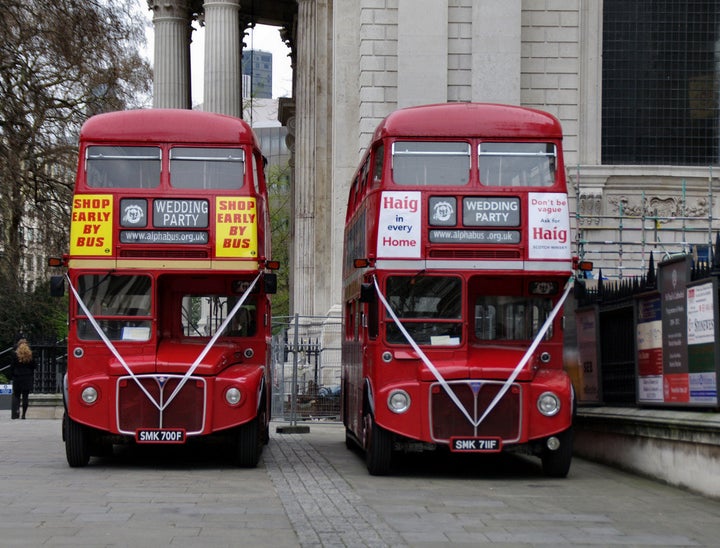 For overseas visitors to marry in the United Kingdom, the bride and groom must first obtain a marriage visitor visa. After arrival, there is a seven-day residency requirement before filing a marriage notice in
.
is the only U.K. country with no residency requirements; however, even here one of the partners must appear at the registrar's office within seven days before the marriage. Both bride and groom must be present in England and Wales to apply for a marriage notice, but in Scotland and Northern Ireland, the notice may be mailed to the register office.
Intents to marry in the U.K. take the form of notices to marry or bans ("
") filed at an
. In Scotland and Northern Ireland, any register office is available for this purpose, and application may be made by mail. In England and Wales, 76 offices are designated for submitting notices, and an application must be made in person by both parties. After notice, the waiting period before the wedding is 15 days in England and Wales; in Scotland and Northern Ireland, the requirement is 14 days.
The marriage must be performed before a person (whether clergy or otherwise) who is approved to register weddings in the district as well as two other witnesses. Generally a
may take place at a register office or religious facility. The officiant must be approved to perform the rite through authorization by the Registrar General. In England, Wales and Scotland, sites may be religious buildings as well as other public venues approved by local authorities. Individual exceptions might be made for ceremonies in homes, hospitals and prisons. In Northern Ireland, the marriage may take place anywhere the officiant approves.
After a ceremony, a couple may receive a copy of a certificate of marriage. Marriage certificates show date and place of marriage; names, rank or profession, residence and ages of bride and groom; name and profession of fathers; denomination of ceremony; name and signature of two witnesses; name of registrar; and name of the officiant. Marriage certificates for England and Wales may be obtained through
. In
, the General Register Office should be contacted, and in Northern Island, certificates are available through
government services. Immediately following a civil ceremony, couples may obtain a certified copy of the register entry of the marriage for a fee.
For marriage in England and Wales, official identification is required and usually a passport or birth certificate is sufficient. If previously married, a certified copy of death or divorce is needed. For those younger than 18 but older than 16, the written consent of parents or legal guardians is mandated. For
, those from abroad must present a certified copy of birth and a passport, and if previously married, an authorized copy of divorce or death of spouse. To marry in
, required documents include a birth certificate, death certificates and/or divorce decrees from previous unions, and if either of the partners has not resided in the U.K. for the past two years, an authorized certificate from country of origin that there is no impediment to the marriage. For all countries, if documentation is in a language other than English, an authorized translation must be produced.
Same-sex marriages are not currently honored in the U.K., but same-sex unions are allowed as civil partnerships by the
. However, the September 2011
article "
,'" says, "The coalition is to push ahead with plans for gay marriage following the personal intervention of David Cameron." Also, the
reported in January 2012 that Scotland legislators favor the issue while many church leaders oppose. The current same-sex unions allow many of the same legal benefits of heterosexual marriages, but religious symbolism and music with such ceremonies are forbidden, according to
home affairs editor Alan Travis.
There are subtle differences between the countries' religious organizations and laws on marriage that comprise the United Kingdom. For instance, those planning a religious ceremony in some ancient Scottish castle must keep in mind that the wedding location is at the discretion of the officiating clergy. Couples should make sure of the officiant's consent to the location and exact religious and local expectations for publishing banns. In England and Wales, civil ceremonies may not take place outdoors, including in hot-air balloons or on some lush, windswept moor.