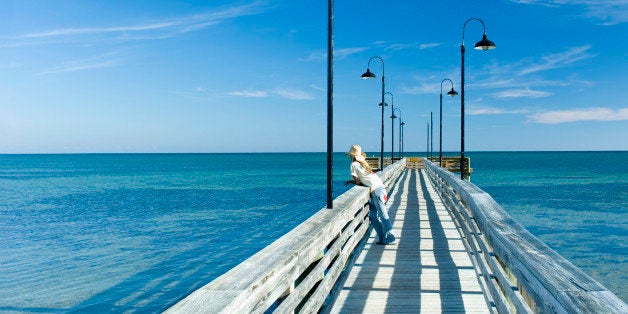 Our first trip together of the year 2016 was a 5 days tour of the Florida Keys, a small chain of islands stretching from the south Florida coast, south west towards Cuba and the Caribbean. The laid back island vibes, tropical weather and eccentric personality of the place make you feel like you've left the States far behind and landed in a different world altogether.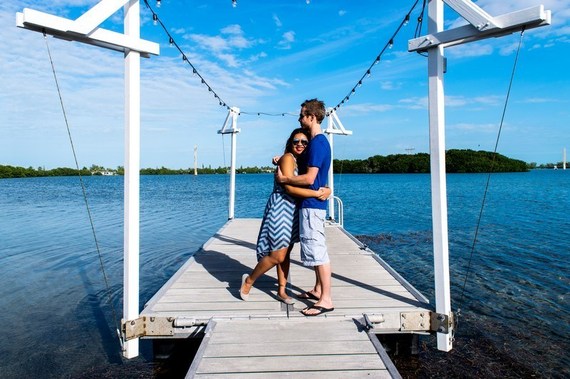 As we're getting married in December 2016, we have marriage, weddings and romance on the brain, so we have dedicated our final year before marriage to our Pre-Wedding Bucket List and wedding inspiration! As soon as we arrived in Key West and every moment after that throughout the Florida Keys, we started talking about how it would be the perfect location for a destination wedding, offering everything from off the beaten path locations, the warm weather, breathtaking sunsets and one-of-a-kind wedding opportunities. Not forgetting, you can cap it all off with a Key Lime Wedding Cake!
You don't have to be a literature fan to appreciate the grandeur and charm of this iconic landmark in Key West. The acre of land offers a breath-taking setting for both intimate and larger weddings in the carefully landscaped gardens during the day or night. Following the ceremony you and your guests can enjoy private guided tours throughout the house as well as use of the wrap around verandas during your reception offering great views to the nearby lighthouse. There will also be plenty of jokes about the irony of getting married in the home of a man who was almost as well known for his infidelity and divorce as he was for his writing!
Florida Keys is home to the only living coral barrier reef in the United States and each year many marine life enthusiasts take advantage of the opportunity to have their wedding witnessed by an audience of tropical sea-life. This doesn't mean sacrificing all the frills of a traditional wedding however, as many dive companies will equip the bride with a shell-arrangement bouquet and a tuxedo t-shirt for the groom (although full wedding dress is an option for the more traditional couple!)
What could be more romantic than exchanging your marriage vows in a tropical garden of butterflies and exotic birds flying around your heads? Key West Nature and Butterfly Conservatory offers exactly that in an intimate setting for up to 20 guests with the added bonus of a pair of flamingos! Your ceremony will take place at 5pm when the conservatory has been closed to other guests, and to mark the occasion staff will arrange a special butterfly release on completion of your vows.
When you think of a Florida wedding, most people will picture an idyllic beach scene with barefoot guests on the sand. If that's not your thing why not venture to one of the Key's many tropical gardens for a more exotic experience? One of these is Key West Tropical Forest and Botanic Gardens, known as "the only frost-free botanical garden in the continental United States" and designed by the renowned landscaper Raymond Jungles.
To do justice to your seaside location, getting married on board a boat is the true Florida Keys wedding experience! There are endless options of boats available to charter for the big day, from the traditional tall-ship or sail-boat to the more modern glass-bottom, catamaran or even luxury yacht, the choice is yours.
If a themed wedding is your thing, go all out with a pirate theme with rum for a celebratory toast and guests dressed as the crew! Be sure to celebrate with a Key Lime wedding cake and starfish confetti, if you´re lucky you may even be joined in your celebrations by local dolphins.
Finally we can't forget the classic barefoot on a white sand beach wedding. Florida Keys is home to many islands that are only accessible by boat or kayak offering incredibly private and personal ceremonies framed by endless blue sea and exquisite sunsets.
If you prefer to stay closer to civilization there are many luxury seafront hotels and private homes for an equally romantic and peaceful wedding among friends and family.

About the Author:
Kach is a proud Filipina who quit her corporate job to become a long-term traveler promoting Sustainable Travel Lifestyle. She's also a certified Tantra Yoga teacher, TEFL qualified, Ayurveda Massage Therapist and the Little Brown Monkey behind Two Monkeys Travel Group. Follow her at facebook.com/twomonkeystravel or Twitter - @2monkeystravel
Related