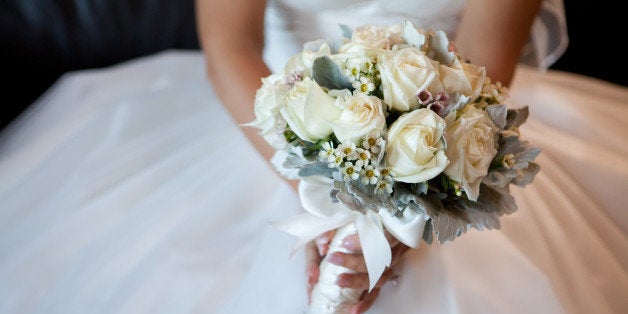 Wedding planning when you are an adult orphan is a stark reminder of what isn't in your life anymore. My parents died when I was 24 and I married when I was 35, so I had more than ten years of living without my parents by the time of my wedding. However, in those 10 years I was never confronted with the absence of my parents as frequently as I was during the planning of my wedding.
Weddings are inherently family occasions and most of them are geared towards young brides in their twenties who have doting parents, so I should have been prepared for the barrage going in, but I was not.

"I guess it just never occurred to me that I shouldn't have the wedding that I wanted because my parents were dead."

I had ideas of what my wedding would be like since I was a little girl (I admit it) and although I had let a lot of dreams and expectations go when they died, I wasn't ready for my wedding to be one of them. I knew it wouldn't be how I dreamed it would be because they weren't there, but I still wanted the big dress, the church and a nice reception. We're not talking the wedding of the century here, but even these pretty standard pieces of a wedding felt very strange when I was constantly asked about my parents.
Going dress shopping was the first place it happened. I was probably very naïve, but I just wanted to shop like I did for all of my clothes. I went to some of the chain bridal stores and looked around, but I soon found out that shopping for your wedding dress is not a solo activity. In one of the stores, you had to fill out a questionnaire that asked for your parents' names before you could even try on any of the dresses. I just left that section blank on the form and then the sales person asked where my mother was and when I said she had passed away, I got a sad look and the "I'm sorry." I didn't blame her, I mean, what is she supposed to say? I guess I just wasn't used to getting into my family history when I wanted to buy clothes.
Planning the church service was probably the hardest of all the parentless activities. We married in a church that had a very specific schedule for the wedding service, and I loved the church, so I didn't mind following their directions, but I just couldn't check so many of their boxes.
Giving the bride away -- I didn't have that.
At one part of the ceremony, your parents are supposed to stand to show their consent and support for the marriage -- I didn't have that.
A mother/grandmother processional -- I didn't have that.
Unity candles were popular at the time -- I didn't have that.
I started to feel badly for our minister, who had probably only been in the job a couple of months. He didn't know what to do when all of the checkboxes were not checked.
Throughout the entire process I was asked about my parents, and I must have told dozens of vendors and salespeople that they were dead. From reception planners to florists, to the guy that altered my dress, they all asked and I told them all, then I got an awkward "I'm sorry" and we would move on.
It wasn't their condolences that bothered me; it was the look of surprise or the follow-up questions asking why I wanted a traditional wedding if my parents were dead. I know I could have taken an easier route. I know I could have gone to the courthouse or planned something informal and small, but that wasn't what I wanted. And for me, I would have felt cheated out of one more life experience.
On my actual wedding day, I decided to walk myself down the aisle. I had offers from well-meaning friends to escort me, but it felt important to do it on my own.

"If my parents couldn't do it, then I was the one that got myself this far, so I would do it alone."

It was probably one of the hardest things I've ever done, but it also felt the most honest.
There was no father-daughter dance and no toasts from my family at the reception.
I had a table set up with photos from my parents' wedding and had friends in attendance spanning the timeline of my life that had become more like my family. I had my loving groom and his supportive family. It was a beautiful day. It was how I wanted to celebrate this new phase in my life.
If my parents hadn't raised me to be tenacious and independent, I wouldn't have been able to have the wedding that I wanted. I would have crumbled at the dress store and headed for the courthouse.
And I felt like they approved of how I did things.
We were married in November, which should have meant that the weather was cooler, but it was humid and hot. At the end of the wedding, my groom and I were standing outside on the front steps of the church, and we kissed. At that moment, a cool breeze came up and lifted my veil into the air, and I felt a very welcome chill down my back. It was them. It was my parents. I know it was them helping me out and giving me their blessing.
They were with me through the entire process; they just weren't visible to everyone else. They weren't a checkbox to check. They are part of me, and they always will be.
This post is part of Common Grief, a Healthy Living editorial initiative. Grief is an inevitable part of life, but that doesn't make navigating it any easier. The deep sorrow that accompanies the death of a loved one, the end of a marriage or even moving far away from home, is real. But while grief is universal, we all grieve differently. So we started Common Grief to help learn from each other. Let's talk about living with loss. If you have a story you'd like to share, email us at strongertogether@huffingtonpost.com.