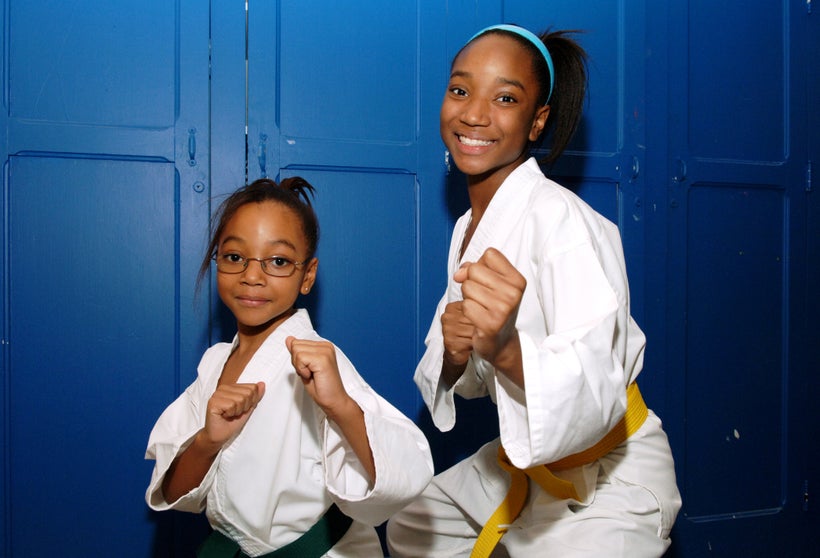 June 23 marks the 45th anniversary of Title IX, the landmark civil rights law that protects students from sex discrimination in education. Implemented in 1972, Title IX is perhaps best known for greatly expanding opportunities for girls and women to play sports. And while we've made great progress to reduce gender barriers to sports participation in schools, we know that social and economic barriers still block many girls from getting in the game.
At the national and state levels, girls of color and girls from low-income communities receive far fewer athletic opportunities than white girls, white boys, and boys of color. The National Women's Law Center in 2015 reported that girls from heavily minority high schools have only 39 percent of the opportunities to play sports as girls at heavily white schools. The implications of these disparities have immediate as well as long-term consequences.
Participation in athletics contributes to improved educational outcomes for girls. Playing sports increases the likelihood a girl will graduate from high school, make better grades and score higher on standardized tests. In addition, female student athletes have much lower rates of drug use, high-risk sexual behavior and pregnancy, and they report better body image, self-esteem, and positive relationships with peers.
Take for example Shani, a high school junior who attends Girls Inc. of the Washington, D.C. Metro Area – and a track and field student athlete. Growing up, Shani lacked self-confidence, struggled with her weight and insecurities related to a learning disability. But participating in sports allowed her to break out of her shell and gain leadership skills. Sports showed her she could overcome challenges; that she was capable of doing whatever she put her mind towards.
Said Shani, "For so many of the kids in my neighborhood, sports are one of the few things we get outside of the classroom, to do something positive and productive. I see girls not involved in sports or other activities become pregnant and fall behind in school. I'm grateful to be able to contribute to something greater than myself and work alongside others towards a common goal."
Long-term, playing sports decreases a young woman's chance of developing a number of health-related problems including obesity, diabetes, heart disease and breast cancer. Sports participation also positively affects a girl's future economic and employment status. In fact, 74% of women executives agree that a background in sports can help accelerate a woman's leadership and career potential. But access to sports is difficult for far too many girls, especially those who need it the most.
One in 5 girls in the U.S. live in poverty. Girls growing up in tough economic circumstances face profound barriers. They are at increased risk of not graduating from high school, teen pregnancy, depression, anxiety, and poor self-esteem. The need for outlets like sports is without question. Yet these girls experience unequal access to the very sports opportunities that stand to make a significant, positive difference.
Community-based organizations like Girls Inc. help fill the gap to make sports participation a reality for girls. We are proud to have been there from the beginning, signing on to support Title IX 45 years ago. We see the difference sports and an active lifestyle can make on a girl's physical, social and emotional health. In addition to better health outcomes, through sports girls learn concepts such as teamwork, cooperation and competition; they develop confidence and self-esteem, take healthy risks and learn how to step out of their comfort zone.
We know these important skills will benefit girls in the long-run as they navigate the pressures and challenges of growing up, going off to college, and preparing to lead successful futures as adults. But they can't reap the benefits of sports participation without our help. It takes all of us coming together – policy makers, schools, private sector, nonprofit organizations and concerned citizens – to ensure girls receive equal opportunity to experience the advantages that come from playing sports.
Every day, in communities across the U.S., girls encounter significant obstacles to their well-being and success. On this, the anniversary of Title IX, let us recommit to doing whatever we can to provide girls every opportunity to be all they can and want to be.
Calling all HuffPost superfans!
Sign up for membership to become a founding member and help shape HuffPost's next chapter
This post was published on the now-closed HuffPost Contributor platform. Contributors control their own work and posted freely to our site. If you need to flag this entry as abusive,
send us an email
.