When Google announced in March that it was shutting down Google Reader -- a web app for aggregating and reading the news feeds that many blogs and web sites make available -- effective July, there was much wailing and gnashing of teeth by users. (And also some "so what"-ing by tech writers.)
Two weeks after the Google announcement, a web app called Feedly re-launched itself with a snappy, Google Reader-ish interface and made an aggressive push for Google Reader users. It worked. Since the revamp, Feedly has nearly doubled its user base and continues to tweak the app in response to user comments.
Edwin Khodabakchian, co-founder and CEO took a few minutes away from building the next version of the product to talk to me about Feedly.
How many people do you think were using Google Reader regularly when Google announced the shutdown?
We frankly aren't sure about the total number of Google Reader users. We've heard anything from 10 million to 25 million.
Why do you think Google would give up such a traffic trove and such good access to power users of its products?
Our opinion on Google's decision revolves around the combination of some challenges with RSS technology, and Google's own business goals with Google+. RSS, despite being a key part of the fabric of the Web, has some shortcomings which have prevented it from becoming more mainstream. Google had the choice between re-inventing RSS into a more open standard for content feeds, or investing similar resources into making Google+ a more viable competitor to Facebook. In our opinion they have chosen the later.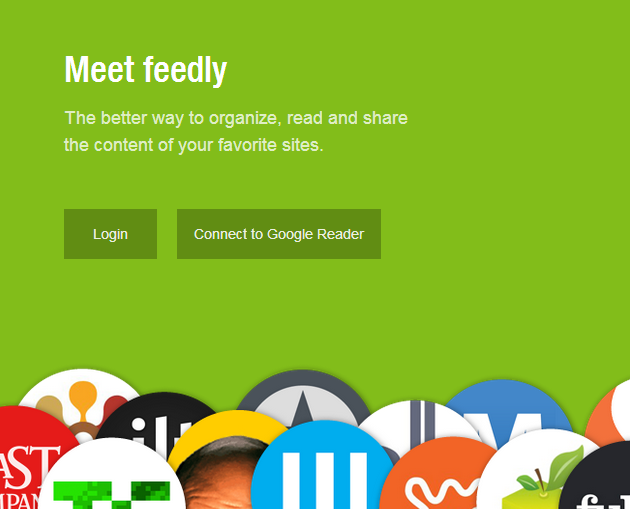 Did you have some advance warning that Google was about to kill Google Reader, or were you actually able to code and launch a revamped Feedly within two weeks?
No, we did not get any advance warning of the shut-down, but we were not totally surprised because we knew there was a great deal of turnover within the Google Reader team. Notwithstanding Google's decision to shut down Reader, we have been working in this space for many years and were already growing by four percent per week since our last major release in September. The Google Reader retirement accelerated that trend.
How many regular users does Feedly have today? How many of those do you think migrated from Google Reader?
At the time of the Google Reader announcement, Feedly had approximately 4 million users. Since then, we have added an additional three million users. Just as important to us is the fact that we are seeing very high retention rates among those new to Feedly.
We have Twitter now. Why do we still need RSS aggregators?
Twitter is a great networking and discovery tool, but it comes down to the difference between sharing content and consuming content. Not every article or insight worth reading fits within Twitter's limitations. Twitter is also focused on real-time content and is not structured enough to be a productive reader. Many people use their Feedly to find gems and share them on Twitter, Facebook, Pinterest or Google+ in order to spark great conversations.
Isn't Feedly largely dependent on web sites continuing to produce RSS feeds?
How are you addressing sites like Yahoo! News and Slate that have started cutting back their RSS feeds?
We are working actively with publishers to define extensions which will empower them to more easily sell premium content and putting in place time walls. Open feeds can be both a powerful retention and sales tools for publishers. There is a lot of value to be created in this area.
You're working on something called Normandy that you think will ease the transition for Google Reader users to Feedly. How will that work?
Normandy is the code name for a project we have been working on which will empower users to move their feeds to the cloud. It will allow our users to be able to consume the content of their choosing from any application on any device. We will be announcing more details about Normandy in the near future.
You have versions of Feedly for iPhone, iPad, Android, and the major desktop browsers. What other platforms do you want to be on?
We are seeing demand for Windows 8, Windows Phone, Opera and Blackberry. We also think that there are some interesting opportunities for consuming part of your Feedly on a 40-inch screen.
You recently ran a survey about possibly adding some group-sharing functionality and got 7,000 responses. Where are you going with your sharing model?
The ability to easily share content has always been an important part of the Feedly value proposition: a lot of our users read their Feedly with the goal of feeding their networks. We started with Twitter, Facebook and email. We then added Google+. Earlier this year, we worked on a seamless integration with Buffer: a tool that allows you to share to multiple networks and lets you schedule posts. Two weeks ago, we added support for Pinterest so that users can easily pin visuals to their inspiration boards.
The missing element of sharing is a more private sharing model, one that would allow you to share content with your wife, your family, your co-workers, or a subset of your friends without polluting your Twitter or Facebook timeline and would have less friction than email.
Are you going to poll users to evaluate other enhancements?
We are lucky to have a very vibrant community so each time we start thinking about a feature, we reach out to them to better understand what the motivation behind the feature should be and see if there is a consistent set of requirements. In the case of the private sharing there was both a lot of demand and a very consistent set of requirements so we are excited to explore that opportunity.
How will Feedly make money? Sponsors? A premium version?
Our business model has both short-term and longer-term revenue sources. Feedly revenue today is derived from user content discovery and product discovery. Additional revenue channels will be introduced over time.
Have you considered going the Yahoo! and BuzzFeed route and hiring reporters or bloggers to brand as original content?
No, we haven't. We see our role as an open system which helps users discover new sources and helps publishers better monetize their content and build more engaging networks.
Do you think a single killer feature has emerged, or are you at that point yet?
There's no single feature. Rather, there is a combination of solutions that empower publishers and developers, enable social feedback, and re-imagine the ways that individuals discover and curate content. The key is to do all of this in a way which is respectful of the Web and keeps the ecosystem open. Because of the sheer amount of tremendous content available today, we see Feedly's role as the best service to allow individuals to curate, consume and share this vast ocean of information.
Popular in the Community