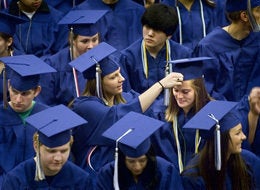 When President Obama delivered commencement addresses this spring, he was speaking to the fortunate ones. Yes, today's college graduates face enormous challenges in finding jobs, but they are in much better positions than the millions of young adults who never attended college or didn't finish -- a much larger number than most Americans realize.
A new study from the American Enterprise Institute reports that fewer than 60 percent of students in four-year institutions graduate within six years, with many colleges posting graduation rates below 40 percent. Even more stark is the difference between the highest and lowest performing institutions: At the nation's most competitive universities, the average graduation rate is 89 percent, while the least competitive universities graduate an average of 12 percent of their students. Students and families have a right to know this information. We as a nation, including policymakers, educators and students, must work together to dramatically improve postsecondary completion rates.
There are many parts of the completion challenge and affordability is certainly one obstacle. Containing the soaring costs of college is critical. President Obama's plan to make college more affordable will provide additional help to families who are being forced to choose between saving for retirement and paying for education or, in the case of many lower-income families, needing to pay for basic necessities rather than buying books for the semester.
But another -- and perhaps bigger -- reason the challenge is so great is that we have not designed a system to serve the needs of today's college students. For too long, postsecondary policies have been designed for the "traditional" student, a young person who is enrolled full-time in a residential four-year college and is largely financially dependent on parents. Not surprisingly, this student is most likely to graduate. But the reality is that our perception of the typical college coed only accounts for about 25 percent of all students today.
Who are the other 75 percent? They are millions of young men and women who, like their peers, recognize the value of a college credential but face obstacles as soon as they register for their first class. They are often not prepared academically. One of their defining characteristics is that they need to work while they go to college so often they can only attend classes part-time. They may also have the additional responsibility of children or caring for other family members. And they often live on their own or with their own families.
As Paul Attewell at the City University of New York has noted, these competing demands profoundly affect students' levels of academic engagement, in terms of how much time they spend reading and studying, their participation in campus life, and their choices of majors. Consequently, many cycle in and out of college in response to demands to earn income or to cope with family needs. Often they take a break from school because they are financially broke and need to earn enough to cover rent and bills, not to mention tuition for the next semester. Unfortunately, many of these students never go back to class.
Research shows these young men and women want to complete college but are overwhelmed by obstacles. We must ensure college students are positioned to succeed because of the design of the system, not by miracle of individual heroic effort. We know how to help these students who sacrifice so much to pursue their education succeed.
First, we must develop clear and high standards that ensure all high school graduates are ready for college. Far too many students arrive at college ill-prepared and have to take remedial classes to learn what they should have learned in high school, adding time and expenses to their course of study. Many drop out of college before ever taking a credit-bearing college-level course or one that counts toward their major.
School districts working with postsecondary institutions can change this. For example, in Texas, the University of Texas, El Paso Community College, and the local school district have collaboratively tackled this problem. Today, 3,000 high school students take college courses while still in high school. The result? El Paso Community college has awarded 69 percent more degrees and certificates in 2008 than it did in 2003 (1,443), although enrollment grew by only 8.6 percent during this period.
Second, we must support innovative approaches that meet the needs of today's students. Postsecondary institutions that are not as focused on completion rates often make administrative decisions and design course schedules that don't consider the student who has to work or who needs basic academic skills. We must address questions such as how can institutions adopt approaches that accelerate high quality learning and ultimately shorten the amount of time it takes to earn a degree? Are there small and large administrative changes institutions can make that dramatically change student outcomes? Are there ways powerful new technologies can extend class time and deepen student learning?
Models piloted by Ivy Tech in Indiana, King County in Washington state, and City University of New York have been intentionally designed for today's students in everything from registration, to course selection and scheduling, to merging remedial and credit coursework, in order to help students maintain momentum through their course of study. Carnegie Mellon has introduced courses blending next generation technology and targeted instruction, which have produced equal or better completion and mastery results than traditional classroom-based courses -- and in half the time.
Third, we must encourage employer policies that help students balance school and work. Too often young people feel they must decide between work and school, and typically the paycheck wins. Employers can support young people in work and school by working with local colleges and their own human resource departments to ensure both the curriculum and course and work schedules are in sync. Whether it's Winzlear Gear in Chicago, a small manufacturing firm that encourages its workers to earn a degree, or UPS in Kentucky that has forged a formal partnership with a local community college, we must identify creative ways to make education a reality for the working professional.
I applaud the college graduates of 2009. But we must now work to create opportunities where all young people who have the desire can earn, learn, and ultimately gain a credential or degree with real competitive value in today's global 21st Century economy.
Hilary Pennington, Director of Education, Post-Secondary Success and Special Initiatives in the United States Program of the Bill & Melinda Gates Foundation, leads the foundation's Postsecondary Education initiative.