At the 2016 Academy Awards ceremony comedian Chris Rock delivered his much awaited monologue about Hollywood's enduring exclusion of African Americans. But some of his intended laughs were decidedly unfunny, especially the one at the expense of three Asian kids, whose parents weren't told the content of the joke until after they signed the contract: "Why all Asians?" Asked one of the the children's mother, Laura Kung. "But I assumed there was a bigger picture, a more complex joke given all the emphasis placed on diversity at the Oscars this year."
Unfortunately, the bigger picture was missing. Chris Rock (who may not have written this joke) delivered a follow-up that so much as admitted its tastelessness: "If anybody is upset about this joke, just tweet about it on your phone, which was also made by these kids."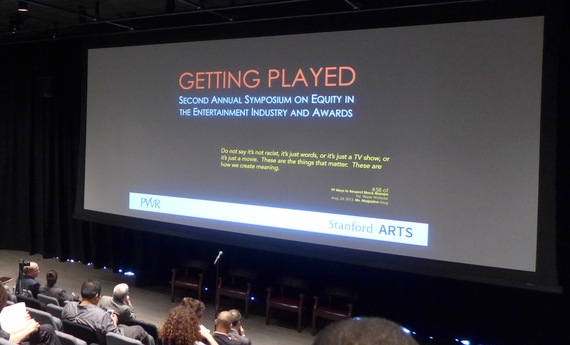 The annual symposium, which took place on the day before the Oscars, is the brainchild of Dr. Kathleen Tarr, filmmaker, lawyer, and Stanford lecturer in the Program in Writing and Rhetoric, whose 2010 prize-winning documentary Getting Played: who's playing you?! addressed the issue of inclusion in the entertainment industry. Dr. Tarr opened by asking the entertainment industry to cease and desist its discriminatory employment practices. Entertainment hubs Los Angeles and New York City are over 50% female and over 50% people of color, and yet over 70% of episodic and theatrical actors are White, and as Geena Davis relayed to NPR in 2013 - citing the research of her Institute on Gender in Media - "If we added female characters at the rate we have been over the past 20 years, we will achieve parity in 700 years."
Strongly countering the entertainment industry's claims to deliver only what the audience wants and the kinds of projects that will be funded, this symposium invites the public to reconsider American culture's dominant narratives.
Dr. Tarr tells a packed auditorium at Stanford University's new McMurtry art and art history building:
Oh, yes! The Academy Awards. They are tomorrow. I will be missing them; I will not be watching. Because for the second year in a row, all nominees in the acting categories are White. This year, there is a film, Straight Outta Compton, that is not included in the Best Picture category despite critical acclaim and the Academy's option of nominating10 films. The Academy only nominated 8 out of 10 possible for Best Picture. ... and while it is true that the at best 87% White, 58% male Academy still needs...evolving, it is also true that inequities define this Industry.
Tarr goes on to argue that the fault should not only land at the Academy's door and provides many stories of industry exclusion: When Mario Van Peebles was shopping his Black Panthers screenplay around, industry executives imagined Tom Cruise as the lead. Danny Glover's Toussaint L'Ouverture, Larissa Fasthorse's script on Native Americans, Michael Gene Sullivan's biopic about Duke Ellington, and many others encountered similarly absurd scenarios where studio executives suggested white stars "to make the material sell."
The truth is, audiences are diverse and are ready to see stories that reflect their world authentically. Tarr assures her audience there are many great screenplays out there starring underrepresented people and stories. The problem is not lack of scripts.
You just don't see a lot of them produced for the big or small screen ... or the stage. And what you do see is frequently not ... authentic.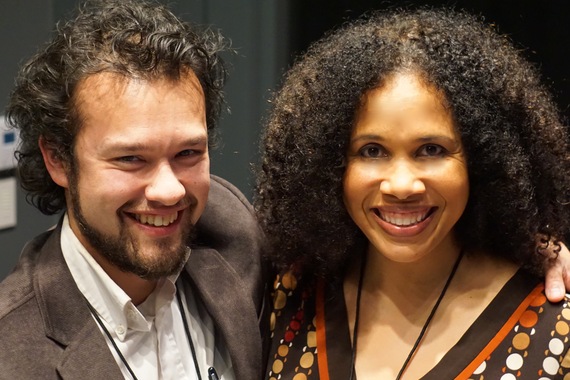 Tarr further challenges the industry claim that it only gives audiences what they want to sell tickets/to make a profit. As a lawyer she clearly sees through this circular logic and identifies the legal issues:
Consumer preference is not a legal defense to employment discrimination except in extremely limited circumstances. So why have we ever been discussing audience preferences?
She draws an analogy with court case Wilson v. Southwest Airlines Co. (1981) which tried to argue that only hiring attractive female flight attendants and ticket agents was bona fide because it intended to "fulfill its public promise to take passengers skyward with love." The courts rejected this argument because this discrimination is unnecessary in the operation of an airline. Likewise, race discrimination in employment is never permissible under U.S. law.
It may be illegal to post a casting call that asks for a person of a particular background, Latino, Asian, African-American, Native American, etc., but it is common practice in casting calls. Authentic representation remains a question of justice and also popular demand. Tarr reminds us "The First Amendment is not an excuse to avoid equity. There is a difference between speech that is rightfully protected because it is intended to express an idea and a decision that is based in commerce. Casting Tom Cruise to star in Panther is not meant to further an idea, it is meant to make a profit."
Panelists echoed Tarr's arguments, adding a breadth of perspectives, insights, and potential solutions. Keynote speaker, actor Amy Pietz, most well known for her role in Caroline in the City, for which she received a SAG Award Nomination for Best Actress in a Comedy, testified to the troubled state of working conditions for women in Hollywood. Relating many cringe-worthy, dark anecdotes about sexual harassment on the set in Hollywood, Pietz notes: "There is no actors' union representative on the set during sex scenes." And that's not the half of it. "If a famous actor decries a gender gap in pay, that's just the tip of the iceberg." When an A-list woman celebrity has the box-office clout to point out this well-known financial fact, she nevertheless shrinks from sharing the myriad of physical and emotional abuses that occur daily and which many others, her makeup artist, for example, remain powerless to protest.
Speaking from a broad spectrum of the entertainment industry including film, theater and opera, Getting Played panelists debated the numerous injustices and exclusions. Michael Mohammed, Director, Musical Theatre Workshop at the San Francisco Conservatory of Music, noted that the scourge of blackface may finally be disappearing from the entertainment industry, but asked why operas need consider only white talent in the first place: "what would happen if a person of color got the Othello part?" For Mohammed, opera and all theater arts must reflect critically on their traditions in order to stay true to the spirit of the art form: "The tighter we cling to tradition the more we rob opera of its significance."

Marissa Lee of the organization Racebending addressed the whitewashing of Asian characters in The Last Airbender and many other films. Dr. Charlotte Tate and Adam Tobin offered insights in broaching conversations about inclusion.
Filmmaker, entrepreneur and founder and curator of the International Black Women's Film Festival in San Francisco, California, Adrienne Anderson presented an impressive array of black women's cinema and encouraged audiences to seek out newer, more inclusive storytelling. Want to see how diverse media can be? "go to a film festival to see something new."
Guy Aoki, head and co-founder of the Media Action Network for Asian Americans reminded the audience that 1 in 6 doctors is Asian and related that his efforts to help the television industry reflect that reality: "doctor shows should have at least one Asian character." He also presented suggestions for improving the diversity of the Academy. Fontana Butterfield addressed feminist and gender issues, saying that at first she had a hard time getting used to saying "actor" for all genders, but reflected that practice makes for better habits of gender inclusion.
National Director of EEO & Diversity for SAG-AFTRA, Adam Moore reminded the audience of the power they have--"vote with your eyeballs, you can see the media you want." Moore used the example of prize-winning comedy about transgender prostitutes, Tangerine (2015) a union movie that used union actors, shot entirely on iPhones. The talent is willing, available, and already in the actors' union. "This is where the most important storytelling happens; diverse communities can now get their stories out using an iPhone."
Getting Played also presented achievement awards to
Dr. Myrton Running Wolf delivered powerful remarks about the current status of Native Americans in entertainment media and beyond, including the history and the potentially troubling future if the status quo does not change.
Dr. Adam Banks, professor in the Graduate School of Education and Faculty Director of the Program in Writing and Rhetoric at Stanford University offered closing remarks that encouraged the audience to reflect on the multiple paths forward toward greater inclusion and social justice in the media. For Professor Banks entertainment media, like all writing in all of its modalities has the opportunity for social change.
Dr. Tarr left the audience with some thoughts about the future:

As other successful movements have shown, collaborations between lawyers, activists, grassroots organizers, and consumers are essential. What began as a documentary I produced six years ago has become this symposium and what I hope will be an ever-expanding conversation about - and inspiration for - solutions and collaborations to end the discriminatory business practices of an Industry that excludes most workers from its opportunities in violation of our civil rights and our country's purported ideals.

Calling all HuffPost superfans!
Sign up for membership to become a founding member and help shape HuffPost's next chapter