By Barbara Falconer Newhall
I thought I knew everything there was to know about getting published: How to write the perfect pitch for my book. How to write to write a query letter to agents and publishers. How to find an agent, a publisher a publicist, a market -- a reader. You get the idea.
I also thought that the whole point of writing a book was to reach thousands, maybe tens of thousands of readers, with nice royalties pouring in as the icing on the cake.
I thought I'd never need to read another how-to-get-published book. I've got a whole shelf of them in my writing room, btw, marked up in pencil and ink and bristling with annotated sticky notes, books with names like "How to Write a Book Proposal," "Thinking Like Your Editor," and "Platform."
Then along came Brooke Warner with her latest book "Green Light Your Book: How Writers Can Succeed in the New Era of Publishing" (She Writes Press, 2016).
I bumped into author and book by chance at the Bay Area Book Festival in Berkeley a few weeks ago. I bought a copy as a courtesy after chatting with Brooke. A few days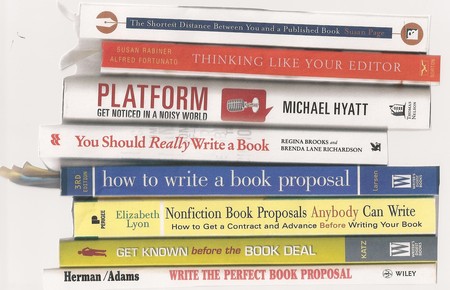 later, I took a peek at it over breakfast and I couldn't put it down. Hours later I was still reading, still in my PJs.
It turns out that the world of book publishing has changed dramatically -- since I first set my sights on writing a book. And since I bought my first how-to book ("The Shortest Distance Between You and a Published Book" by Susan Page) back in 1990-something. And even since I first signed a contract with Patheos Press for "Wrestling with God" in 2013.
Getting Published Is Easier Than Getting Discovered
Susan Page's book served me well when "Wrestling with God" was still a gleam in my eye. But the publishing world has since been turned upside down -- thanks to online book retailers like Amazon, thanks to ebooks, and thanks to the recent surge of self-published books.
Now, getting published is easier than ever. Getting your book discovered -- not so much.
Here's what Brooke has to say about he fast-changing state of book publishing these days:
Big Mergers, Big Five, Big Money. As a result of mergers and acquisitions in recent years, traditional publishing is now controlled by five big, big corporations. The bottom line for them -- most of the time -- is no longer "Is this a fine book that has a contribution to make?" The bottom line now is -- the bottom line. Big money. The pressure is on editors and authors to be "more commercial," resulting in what Brooke regards as a general dumbing down of the publishing world.
The New Wild West Book Scene. Some 300,000 books were published traditionally in the US in 2014, Warner reports. And self-published books totaled a whopping 458,564 in 2013. This sheer volume of books -- and choices for readers -- is creating a Wild West state of flux for the publishing landscape.
Discoverability -- Suck It Up and Play Ball. The surfeit of books creates a new problem -- discoverability -- for author and publisher, both traditional and independent. Yes, anyone can get published, says Warner, but it's difficult to get media attention and get discovered by readers when there is so much competition. Readers have more places than ever to spend their book-buying dollars. Good books languish. Brook's tough-love advice to new authors: "Suck it up and play ball."
Respectability Replaces Vanity. Self-publishing has become respectable as numerous authors -- established and wannabe -- have opted to keep control of the publication of their books. Vanity press has lost its stigma. Still, very few authors, traditionally published or otherwise, make impressive sales or readership with their first books.
Hybrid Presses. A middle ground has emerged -- hybrid publishing, whereby an author pays for some or all of the publication expenses in return for higher royalty rates. (Brook's company She Writes Press, founded in 2012 is an example.)
Platform, Platform, Platform. Platform is more important than ever. More than ever, traditional publishers are reluctant to take you on if you don't have an established reader base. And, more than ever, self-published authors need to establish a fan base well before publication if they are to sell books.
Sales in the Three Figures. Some industry observers assert that the book market is more skewed than ever. Not so long ago, under the old traditional publishing model, a few books would sell one million copies, and tens of thousands of books would sell in the four figures. Today, some book series might sell more than 10 million copies, while hundreds of thousands of lesser-known books sell a couple hundred copies or fewer.
Fast Turn-Around. On the up side: the turn-around on self-published books can be astonishingly fast. "Green Light Your Book" was published in 2016, but in it Brooke mentions events that took place just months before, in 2015.
Getting Published Today -- The Take-Away
The take-away: if you really want to turn that gleam in your eye into a book, there are lots of people out there willing to help make it happen -- editors, designers, publishing outfits, publicists, people like Brooke Warner -- for a price.
Will you find enough readers to pay for your time and cash investment? Maybe, maybe not. Which makes this the new bottom line: Do you care if you make money on your book? Do you care if only a few hundred people read it?
c 2016 Barbara Falconer Newhall. All rights reserved.
Still on My Bookshelf
(Minus some old favorites that are surely outdated by now)

"Platform: Get Noticed in a Noisy World: A Step-by-Step Guide for Anyone with Something to Say or Sell," Michael Hyatt, Thomas Nelson, 2012.

"Thinking Like Your Editor: How to Write Great Serious Nonfiction -- and Get It Published," Susan Rabiner & Alfred Fortunato, Norton, 2002.

"You Should Really Write a Book: How to Write, Sell, and Market Your Memoir," Regina Brooks and Brenda Lane Richardson, St. Martin's Griffin, 2012.
Popular in the Community