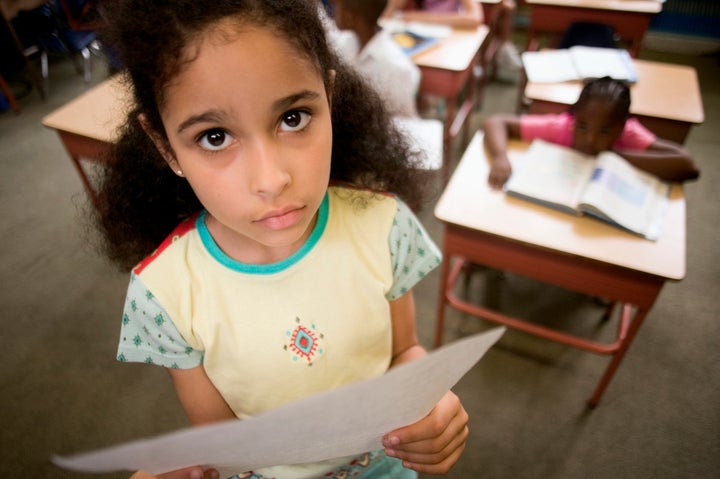 Ending vacation and starting the fall school term is a challenge for all children. It can often be a dreaded change for children in divorced families for whom it often means meeting a new teacher and strange children. The teacher who welcomes the anxious child by name, with genuine interest and a comforting word is worth her weight in gold. Such beginnings can shape the child's entire learning experience for the year. Building a cooperative relationship with the teacher as school begins is well worth the parents' efforts.
All studies of children in divorced families report academic difficulties during and after the breakup. Children often move to new neighborhoods and new schools after divorce. But even in familiar schools new concerns abound. It's not hard to understand. A child who is preoccupied with instability at home has a hard time paying attention to the teacher. The worried child silently spins endless catastrophes while sitting in class. "If my parents leave each other, what is to keep them from leaving me?" "What is going to happen to my Mom or my Dad?" "Who will take care of me or my baby sister?" One six year old refused to remove his jacket or to let go of the sack of beloved toy soldiers that he carried to class on a sweltering day. Hunched over his desk he explained to his teacher, "I always have to be ready to go. "Go where?" asked the puzzled teacher. "I don't know," wailed the frightened child.
Children need to feel safe in order to learn, whether at nursery school or high school. It is important to enlist the teacher as an ally. In today's busy school, the parents need to take the initiative. The teacher needs to be informed of the child's custody arrangement, whether parents come separately or together for parent teacher conferences, and who is to be called if child gets ill at school. But beyond these essentials it is helpful to the child, if child together with a parent has walked or driven the route to school together before the school term begins. It feels closer that way. It helps if the parents can reminisce happily with the child about their own school experiences. Most of all it is very important for the parent to maintain ongoing interest, enthusiasm and patience about the child's progress.
At the beginning of the term one or both parents should meet the teacher. This will enable you to convey the value that the family places on education, your eagerness to help, and your hope that the teacher can encourage the child's interests in subjects or projects that excite the child. The meeting would enable you to describe the child's interests or talents, along with problems that might arise, and to establish ways for future communication.
Teaching is a difficult profession. So is parenting. We need to help each other.