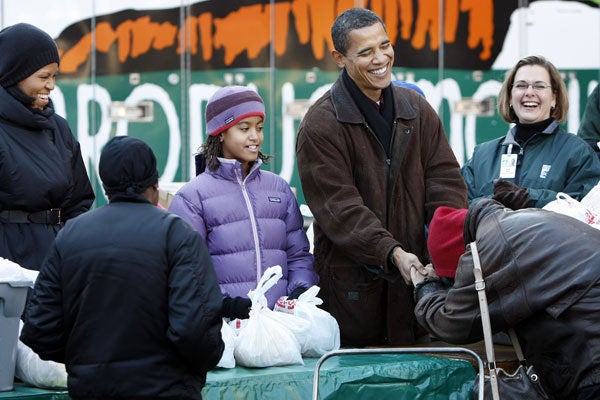 Communities and non-profits across the country are gearing up for what will undoubtedly be a record number of volunteers on this upcoming Martin Luther King Jr holiday, declared by Obama to be a National Day Of Service.
The Obama inaugural committee has launched a new website, contest and all, Michelle Obama has reached out via email and video, and Colin Powell took the stage to announce his call to action.
But the most important aspect of all this is: What can you do?
* Public service ads that feature Dr. King's voice and Isaac Newton Farris, Jr., CEO and President of the King Center, have been distributed to more than 4,000 radio stations. The National Association of Broadcasters is sponsoring a "radio roadblock" when stations are encouraged to air the spot on January 15, Dr. King's birthday.

* The Corporation has launched a Martin Luther King Jr. Day of Service Fan page on Facebook and is working with Facebook and Facebook Causes to encourage users of the highly popular social networking site to volunteer or organize their own service projects to mark the King Holiday and Inauguration weekend.

* The King Day of Service website at http://www.mlkday.gov has a wealth of tools for planning and promoting projects, including new "do it yourself" action guides.

* The Corporation has enlisted entertainment, business, nonprofit, and sports leaders to serve as Ambassadors of Service including Jordin Sparks, Tony Dungy, and Michael W. Smith.

* ServiceNation, a coalition of more than 120 organizations campaigning to make service core ideal in our democracy, will host a service project to beautify a Washington D.C. elementary school.
ServiceNation, another great resource, has a host of events planned for January 19th, including a breakfast panel featuring Martin Luther King Jr. III, Mayor Fenty of DC, actors Tobey Maguire, Demi Moore, and Ashton Kutcher; the renovation of the Simon Elementary School in Anacostia, DC, at which over 300 volunteers will spend the day painting classrooms and hallways, creating murals, and renovating the school library; as well as a live broadcast via MTV of official Inaugural Youth Ball, celebrating the the large youth voter turnout this year and the continued community improvement.
What are you planning on doing? Have some great community outreach plans that you would recommend to others? Know of other great service resources that we undoubtedly have missed? Share them all in our survey here, and we may just feature them on the Huffington Post!