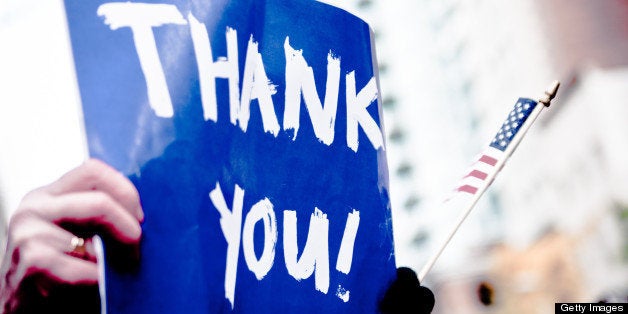 When you think of it, "holiday" isn't exactly the right phrase for what began as a day of remembrance, a day to honor those who gave their all for this country. What began as a solemn occasion has somehow morphed into something very different.
Memorial Day seems to mark the beginning of summer. It used to be the day (at least on the East Coast) when white shoes made their first appearance, to be worn no later than Labor Day. Kids in school became more and more restless as the days warmed into June and the long summer days beckoned. Then of course there's the legendary Indy 500, the lead-up to it, the race itself, the BBQ's and get-togethers afterward. That's a national milestone of sorts. But even the Indy 500 takes a back seat to the flood of retail messages we get at this time of year. Last year a major network carried a news story on finding the best deals during the Memorial Day sales.
Really? Wait. What happened to the remembrance part?
In 2000 President Clinton wrote, "I ask that all Americans come together to recognize how fortunate we are to live in freedom and to observe a universal 'National Moment
of Remembrance' on each Memorial Day." He asked that all Americans pause at 3PM on Memorial Day for a moment of silence. I think that's a great beginning. It carries us back to the original meaning of the Day of Remembrance when it began almost 150 years ago.
On this Memorial Day, let's come together in a day of reconciliation to honor the fallen and thank those among us who selflessly served this great nation. If you're close to a National Cemetery, this is the day to visit. Stand in the reverent silence of all those flags marking the graves of men and women who gave their all.
If you have friends or family members who are veterans, say thanks. Turn to that stranger on the corner, or the man sleeping in a doorway. Take a moment to think of what they gave. Consider the flood of new veterans returning from Iraq and Afghanistan to take their place among veterans who served from WWII through Korea, the Cold War, Vietnam, the Gulf War, Bosnia, all the intervening years.
Honor every one of them always, but especially on this day.
Support HuffPost
The Stakes Have Never Been Higher
Related
Popular in the Community