The seemingly stagnant movement towards gender equality in the workforce bubbled to the surface at this year's annual IAB Leadership Conference in Phoenix. Let's be clear, this is not just a female issue and it's not a minority issue -- it's a social issue. We need to shift the focus from what the next big digital breakthrough will be, to finding the future employees who will actually create it. And to do so, we must become aware of the unconscious bias that lives in each of us.
This conversation sparked on center stage with an insightful talk from Freada Kapor Klein, Founder of the Level Playing Field Institute, and continued to brew in the more intimate setting of The Ipsos Girls' Lounge. A roundtable of female executives left the pretenses behind and got down to the root of it.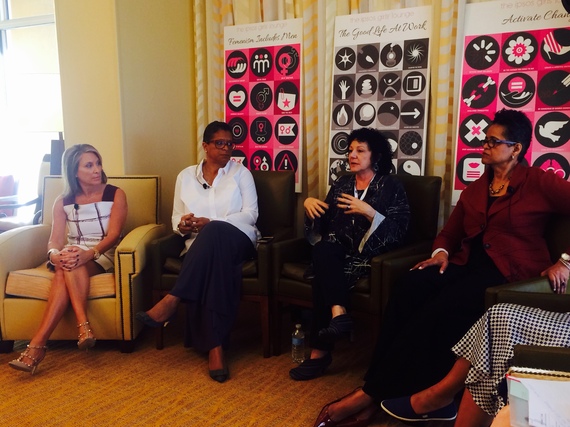 Freada was direct, "If you believe that your company is currently a meritocracy...if you believe you're the best and the brightest...if you believe you're the smartest person in the room and that you deserve the billions of dollars based on the biased events that got your business funded - YOU don't think that diversity is fair."
She continued, "I don't know of any Caucasian male CEO that gets up in the morning and looks in the mirror and says, 'I'm here because of an unfair advantage.'"
Acknowledging that she was likely in a room with many affluent parents, she transitioned to the early college decision process. It's common knowledge that those who apply early have better odds of being accepted, but she noted it's the privileged kids who don't have to wait to hear about financial aid, that are actually applying.
I believe that everyone who has worked hard should afford their kids every opportunity they can, as I have for my own children. But here's where she really made us think: "So, why not disclose it on the application? How many SAT classes you bought for your kid, how many coaches you hired, how many summer camps you sent your kids to for college essay writing...and then I want that information disclosed, side by side with the SMASH kids (a summer academy for low income underrepresented students of color focused on computer science, engineering, math and science) who showed up and took the SAT ONCE and went to the worst public school in their district. You then tell me who has the unfair advantage."
She did it; she made the room aware of a bias that we as parents may not have even known existed.
We Are Still Far Behind
Audra Bohannon, Senior Partner, Korn Ferry, shared why she thought the gender equality issue is still so dismal. "You cannot just put money forward to address it...you cannot just staff for it. There has to be a fundamental paradigm shift in the culture of an organization, where it is a conscious decision to appreciate ALL people and ensure that everyone will engage and do their best work."
The reality is, as Audra noted, "We feel most comfortable with people who are like us." We're moving fast and have to make even quicker hiring decisions, so we gravitate towards what we know.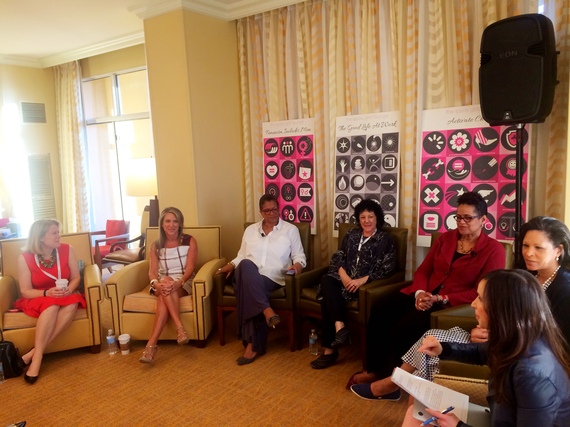 Meredith Kopit Levien, EVP Advertising, The New York Times, shared supporting data of how diversity advances business with these stats from McKinsey: "Companies that have more gender equality are 15% more likely to perform better than the market, and companies that have more racial and ethnic quality as well, are 35% more likely to outperform the market."
Google is one of the companies spending an enormous amount of money and effort on this movement, and Bonita Stewart, VP Americas Partner Business Solutions, Google, shared why she think it's working. "We were the first to disclose. Acknowledging and sharing your data is the first step. We do live a view of meritocracy and inclusion."
Referring to herself as a real example, she said, "Who would've thought an African American woman would be selected to head up the automotive division?" And this was over 8 years ago. Google has been committed to diversity for many years.
So how did Google get there? "Training. It starts with the people managers. 80% of managers at Google have undergone 'unconscious bias' training," said Bonita. "We learned to fish differently to find talent."
When leaders think about their employee roadmap and how they want to build it, it shouldn't be, 'Let's hire that African American...or that Hispanic or that woman, so we have diversity at the table.' When you do it that way, you're hiring the available, versus bringing desirable traits to the team. Think about a multi-skilled team and what each can add, whether it's understanding marketing to African Americans or developing Spanish language creative, and that hire may not even be African American.
The Retention Problem
There lies an even deeper problem after hiring, and that's retention. After interviewing over 19,000 individuals for her book, Giving Notice, Freada found it's the day-to-day slights that build up over time that make people leave. People of color are most likely to leave, with white women one and a half times more likely to leave than men.
If companies are going to spend all this money recruiting diverse talent, they also need to spend money to keep talent.
Linda Boff, Executive Director, Global Brand Marketing, GE credits Sheryl Sandberg for prompting her organization to have honest conversations with the help of Lean In Circles. "While it takes a long time to move the numbers, anecdotally I feel we're so much better, we're having 'conversations like this' with men in the room."
Freada said leaders can't be what they don't see. Her organization runs Hackathons for low-income kids of color, so that leaders and mentors from Google, Facebook and LinkedIn, can see the talent firsthand. The mentors encourage the kids to build an App and solve a real problem in their school and community. This is something CEOs need to see!
One team created an App that synced GPS and police data to track real-time gang violence in their neighborhood, so that they could find the safest way to walk home from school. These young brilliant minds lived in Oakland, just 20 miles from Google and Facebook offices, yet had never met anyone from the tech field before the mentorship.
Sandra Sims-Williams, Chief Diversity Officer, Publicis Groupe, added, "Ask your CEOs to have meetings that are different (i.e. not the same old folks in the room), so that they come from a place of curiosity and are interested in other people's perspectives."
Putting this into action, we invited Randall Rothenberg, president and CEO of the IAB, to the Girls' Lounge to listen and participate. Randall and Michael Theodore, Senior Vice President, shared the launch of the IAB's Education Foundation, created to tackle the twin problems of lack of diversity and growing skill gaps in digital media and advertising. Though when Randall said, "In the future we won't have Girls' Lounges, we'll just have Peoples' Lounges," I had to blurt out, "Sorry Randall, we will always have Girls' Lounges!"
Change won't happen if we just talk about it, it will only happen if we do something about it. Here are some key takeaways to bring to your workplace:
• Own your data and be accountable for change. Acknowledging your diversity data is the first step. Numbers reinforce that change needs to happen.
• Create 'Unconscious Bias' workshops. Become more acutely aware of your daily actions that reflect your own biases.
• Fish differently. Be a mentor and introduce underprivileged kids to your work environment. Start younger; do not wait until they are college interns.
• Engaging someone who isn't "like" you. Ask them a question about who they are - not the project they're working on.
• Rewrite job descriptions. Use the phrase, "Experience working with a diverse team." Avoid using the word "aggressive," it's more likely to attract only men.
The new Love Without Labels campaign from the Ad Council embraces our mission: Before anything else, we are all human. It's time to embrace diversity. Let's put aside labels in the name of love.
Related
Popular in the Community