This article is part of HuffPost's "Reclaim" campaign, an ongoing project spotlighting the world's waste crisis and how we can begin to solve it.
When my husband came home one night and announced that his job would be moving us to Hong Kong from New York City for one year, he also said my overstuffed mess of a closet could not come with.
Since Hong Kong apartments are notoriously tiny, he said, we'd have to downsize.
"Try to pack everything you need for the year in one carry-on suitcase and one duffle bag," he said, allegedly not mocking me.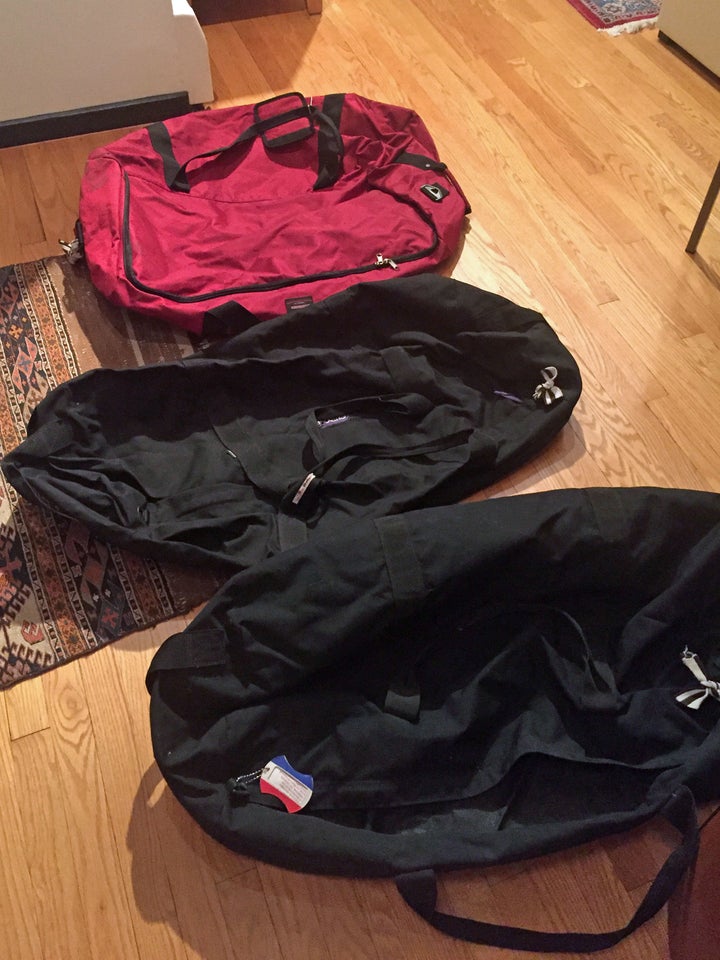 After a long weekend spent earnestly attempting to KonMari my life, I realized I could declutter all I wanted, but the reason my wardrobe was in a constant state of disarray was not because I couldn't fold properly. It was because my shopping habits were dismal.
Though I'm no spendthrift, I'd begun to frequent department store sale racks and fast-fashion behemoths ― H&M, Zara and other affordable brands that churn out chic styles at a breakneck pace ― more often than I care to admit. I donate old clothes to Goodwill a few times a year, and sometimes consign nicer pieces I own, but lately I've felt myself devolving into a sad cliché of privilege and consumerism.
So I used my upcoming move as an excuse to overhaul my closet and purchasing patterns. My goal seemed simple at first: In six weeks, pare down my wardrobe to the fewest amount of pieces necessary, responsibly donate the excess items and eliminate cheap-yet-trendy clothes from my life going forward.
Turns out, letting go of things I owned was easy, but finding responsible ways to get rid of them was difficult. Here's how I went about changing my shopping habits, purging most of my closet and trying to find new homes for all my old items.
First, I unsubscribed from about 1,000 newsletters.
Changing my retail routine would start by reversing the relationship I have with stores. Instead of seeking out stores for the things I need, I'd gotten used to opening my inbox and viewing the tons of clothing options waiting for me.
Without even realizing it, I had become the recipient of daily missives from ASOS, Everlane, Gilt, Bloomingdales, J.Crew, J.Crew Factory, Shopbop, Net-a-Porter, Tibi, The Outnet, Mr. Porter, Neiman Marcus, Rent The Runway, Gap, Gap Kids, Pottery Barn, Pottery Barn Kids, Buy Buy Baby ― and at this point I had to step away from my computer because I don't even have kids, so how is this happening to me?
Then I emptied my closet and dresser of everything I don't wear regularly.
This included but was not limited to undergarments, socks, shoes and outerwear that were:
Uncomfortable
Itchy
Too tight
Too loose
Generally ill-fitting
Stained
Falling apart
Anything that made me feel bad about myself had to go, too.
I went from 12 T-shirts down to seven. From 17 pairs of socks to nine. And from 11 pairs of jeans down to two. I also only wear one pair of sweatpants from the pile of six that sit in my dresser. So I nixed the superfluous five.
These incremental decreases seemed minor at first, but before long I was tossing entire drawers of old swimwear, workout clothes and sweaters from high school. When I added it all up, six 13-gallon garbage bags of "stuff" were removed from my average-sized New York City closet.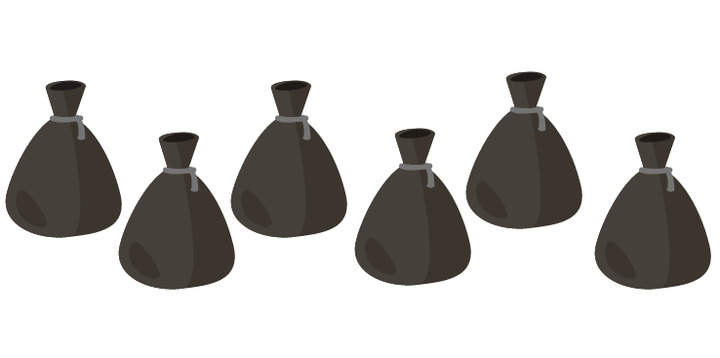 But now I had a problem.
The average American throws away 70 pounds of textiles each year, according to the Council for Textile Recycling. I'm not actually sure how heavy each trash bag was. Whether I got rid of more or less than the national average, it was still a terrifying amount.
Worse, 85 percent of the stuff we toss ends up in landfills, while only 15 percent gets donated and recycled, per an estimate by the Environmental Protection Agency. 
Knowing this, I couldn't just leave my trash bags of clothing out by the curb. 
But donating secondhand items to charities doesn't guarantee that they'll be worn again. Thrift shops including Goodwill and Salvation Army stores have more clothing donations than they know what do with. A significant portion of donations are typically reclaimed by textile recyclers and turned into rags. And now that everyone's closet is brimming with $8 tops and $12 skirts, thrift shops are no longer the cheapest ticket in town.
So I searched for places where I could resell my fast-fashion items to people who wanted them.
I had the most luck with the consignment app Poshmark. The friendly community of secondhand clothing sellers and purchasers embrace buying fast-fashion pieces, but the process takes more time and dedication than I was able to give, since my moving day was fast approaching. I was able to sell a handful of pieces, like the J.Crew sweater and Zara top below. It was only a drop in the bucket.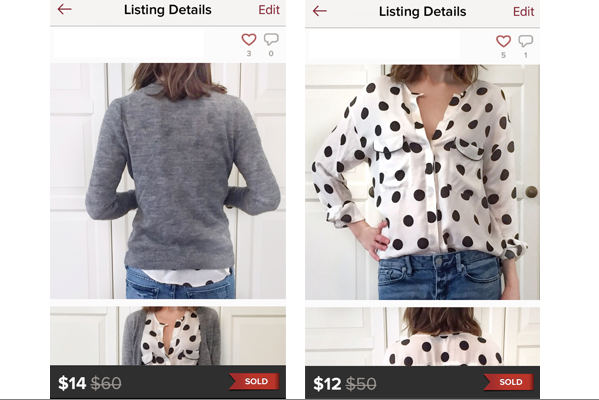 I then called my friends to see if they needed any clothes.
Turns out this was the best way to move a bunch of inventory. 
I went back through my stuff with different friends in mind and put aside specific items for specific people ― dresses for folks who had weddings to attend, and work clothes for friends in more formal business environments.
Much to my surprise, my friends took many of the clothes I put aside for them. 
Eventually, I reduced my garbage bags from six to five. I donated the remaining bags. 
The moving company I hired offered a free service in which it took any bags or boxes of clothing or canned food donations to local New York charities. All food donations support Move For Hunger and the Food Bank for New York City, and clothing donations are given to Salvation Army.
While some of the items from the five bags may end up clothing someone in need, it's safe to say that many of the items will be turned into rags, end up in landfills or flood markets in developing countries, a reality that can devastate local manufacturing and economic growth.
So what did I learn?
Just because I downsized doesn't mean the items magically disappeared from this earth. Save from the few items that went to new homes, the majority of the things I tossed just became someone else's problem.
By the time I moved, I could fit all of my clothes (plus a tennis racket) into one duffle bag. My shoes, accessories and toiletries took up my carry-on suitcase.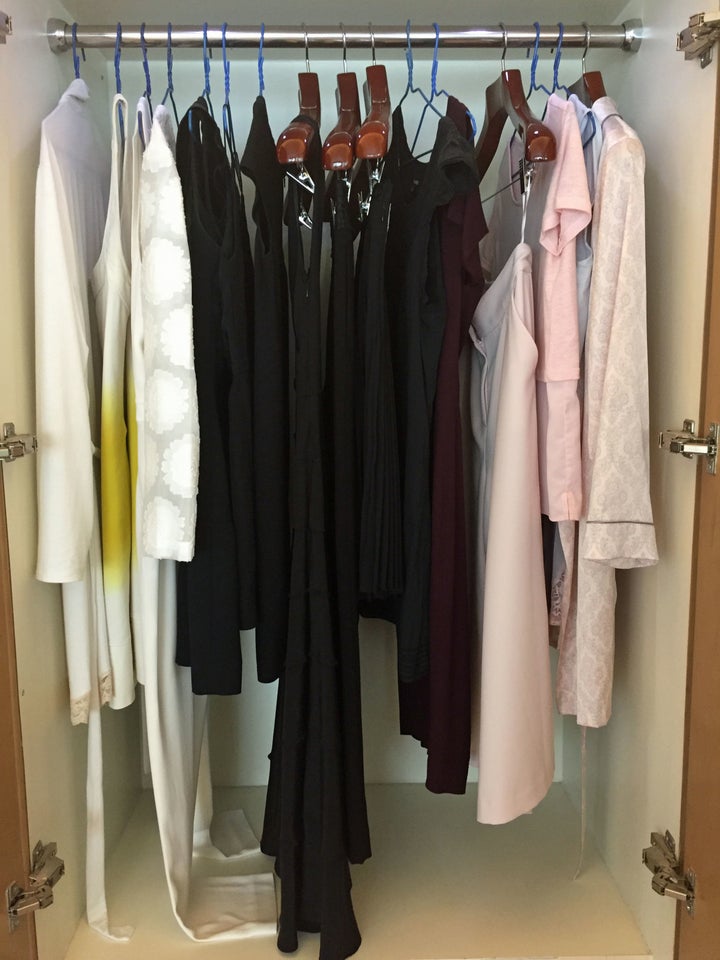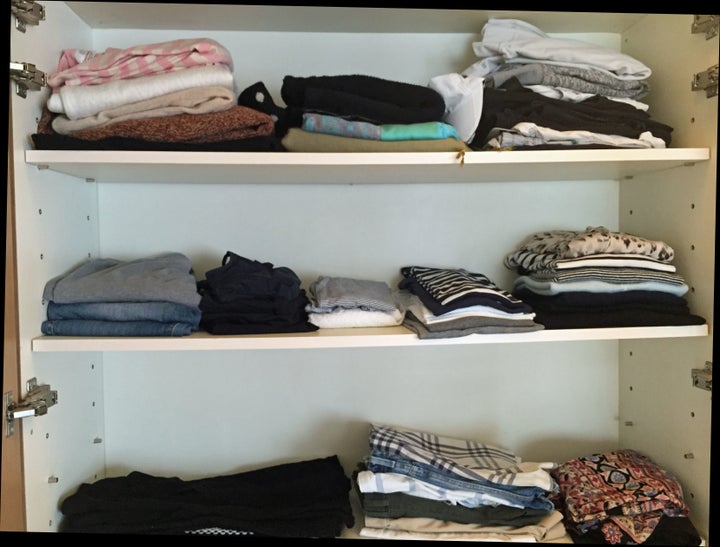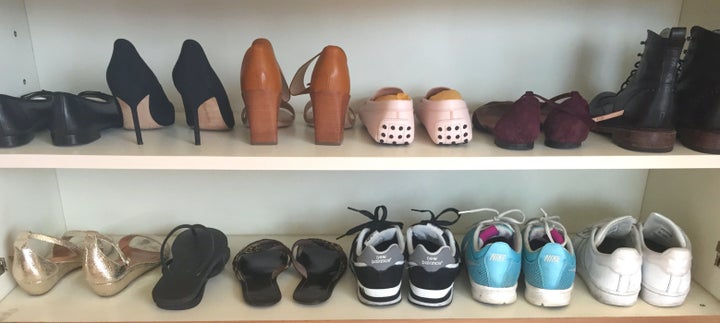 But even with a sparsely filled closet, I've still only worn a fraction of the items above, and many of them are still ones I bought from fast-fashion retailers in the past few years. 
I haven't purchased a new thing since my massive purge, and it's safe to say I won't for some time.
REAL LIFE. REAL NEWS. REAL VOICES.
Help us tell more of the stories that matter from voices that too often remain unheard.