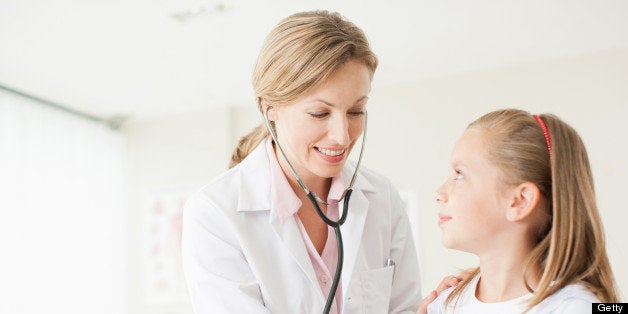 Spending a little extra time on your family's healthcare can save you time and money.
1) How should we prepare for back to school?
#1: Review your health insurance policy and make certain that your coverage is active.
#2 Schedule your child's back to school check-ups well in advance. Pediatricians get very busy during the summer back to school time period.
#3 Even if your child's school does not require proof of an annual physical exam, it is a good idea to make sure your child is healthy and up to date with necessary tests and procedures.
2) How can parents avoid overpaying for healthcare?
It's important to do an annual review of your family's insurance plan. Most people take less time choosing their plan than they do watching a movie. A little extra time every year to make sure you have the best plan to meet your family's needs can save you thousands of dollars down the road. Consider your overall coverage by weighing your plan choices and their offerings, including deductible, premiums, co-pays, prescription costs, etc. Plans are not all the same and every family's needs are unique. The time you spend to review your plan annually is great preventative care.
If you have a PPO insurance plan, make sure that your pediatrician is a preferred provider in your insurance company's network. It's also a good idea to make sure that the hospital your doctor has an affiliation with is also in your network. Out of network doctors in out of network clinics and hospitals are avoidable expenditures. If the doctor/hospital is really important to your family and out of network, you might want to consider changing to another insurer if that's an option.
Don't pay the bills your receive in the mail for visits, tests and procedures that should be covered by your insurance. Often healthcare providers will send you a bill to see if you will pay the amount they did not receive in compensation from the insurance company. It's estimated that nearly $68 billion is lost to fraud and billing errors every year. Before you pay anything, take time to review the bill, and check with the insurance company and healthcare provider to make certain no mistakes have been made.

3) What are some easy ways to keep medical paperwork organized?
Most healthcare providers have finally moved to standardized medical claim forms. This alone should help make the process a bit less confusing.
Ask for a copy of every document you sign, and a copy of all medical tests/reports (lab work including blood and urine tests, scans and imaging, etc.) for your files. Keeping a long-term history for every family member will help you if you switch healthcare providers or when children leave the nest. Although many forms are automated, it's smart to print a hard copy and keep a file somewhere safe in your home.
Ask for itemized copies of all medical bills and Explanation of Benefits (EOBs) from your healthcare providers and insurers. Never simply accept a bill that is not itemized to include medical billing codes and a description of the procedure.

4) What can parents do if a claim is denied?
Parents should call the insurance company and file an appeal immediately. New legistlations requires that the insurance company answer appeals within 72 hours. If the insurance company remains uncooperative and the parents believe the claim is justified, contact a professional advocacy group for assistance.
If a medically necessary test or procedure is denied, parents should also file an appeal immediately. If the insurance company does not waiver, it is important to get expert advisement. If necessary, parents can contact the state insurance board to seek resolution.
5) What are some common healthcare errors we make, and how can they be avoided?
#1 We pay bills we do not owe. Billing errors are commonplace in the healthcare industry, and far too many providers charge more than they should just to see if consumers will pay. Know your policy parameters, check to make sure your bills are correct, and never simply pay a bill because you receive it.
#2: We don't negotiate for the price of procedures or services up front. If you know your child needs a test or procedure that isn't fully covered by insurance, shop around in your area to see where you can find the best price for it.
#3: When we owe money to a medical provider, we pay rather than negotiate. Even after a test or procedure or visit has already occurred, you can still save money by calling those involved and negotiating a better price, provided you know what you're doing.
Managing your family's healthcare takes time, but it is well worth the effort. You deserve to get all of the healthcare you receive at a fair price.
Sarah O'Leary is an author, healthcare expert and founder of ExHale Health. She can be reached at info@exhalehealth.com.
Related