Disaster strikes. You or a loved one has suffered a heart attack or a stroke. You're rushed to a hospital. You need care -- the best care possible -- right away.
What follows is a blur. Nurses do this, doctors do that. Tests are run. A diagnosis is made. Treatment begins.
Was it the right diagnosis? The right treatment? Did your caregivers make those decisions by following the published guidelines -- the recommendations based on the latest research?
Your prime concern is whether you recover and how quickly. But what about evaluating your care from the hospital's perspective?
Tracking "patient outcomes" is the most basic way of keeping score. Yet it only tracks the end result. It doesn't evaluate the steps taken along the way.
Going over the protocol followed in each case is important because it can expose areas of improvement in a hospital's system. This isn't a game of "gotcha." It's simply recognizing that any system, no matter how well-intentioned or well-designed, can likely be improved, and following the respected, accepted guidelines ensures the best treatment for each patient, every time.
In 2000, published reports indicated that those guidelines for treating cardiovascular diseases were not always being followed. So my organization, the American Heart Association, set out to create a decision support tool that would electronically provide physicians and other members of care teams with those guidelines at the point of care and discharge.
With the help of some of our top medical volunteers, we created "Get With The Guidelines," a technology platform that allows hospitals to observe and, when needed, revise their treatment and counsel to patients. Additionally, we created a registry that lets us track results over time. (Please note, a patient's personal details are not included.)
This is all about improving the quality of care in real time. Whereas studies show what has already happened to a patient, sometimes months after discharge, this is an opportunity to make a difference when it matters most -- while care is being given.
Dr. Deepak L. Bhatt is a cardiologist and researcher -- the executive director of Interventional Cardiovascular Programs at Brigham and Women's Hospital Heart & Vascular Center in Boston, and a professor of medicine at Harvard Medical School. He also is the national chairman of the American Heart Association Get With The Guidelines steering committee. It's my pleasure to turn this spot over to him to continue this conversation.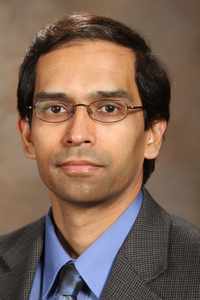 When a patient appears to be having a heart attack, a quick, easy first step is giving them an aspirin. This has become such a common practice for so long that most people know it, even those outside of medicine.
So when Get With The Guidelines began, it seemed likely that our review would show that every heart attack patient received an aspirin.
The figure was around 90 percent, which is excellent. But for something so well known to not be closer to 100 percent showed that we were on to something. In real-life, busy systems, what should happen doesn't always happen. If all heart attack patients aren't getting an aspirin, more critical steps are probably being missed.
Get With The Guidelines seeks to ensure that the right patient is getting the right treatment at the right time.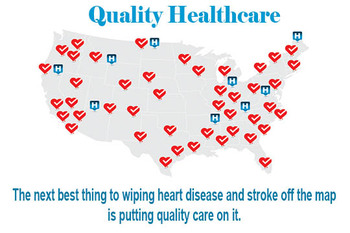 We collect the information about the patients coming to our participating hospitals and we track the full spectrum of in-patient care, things like the use of different medications, procedures, and lifestyle interventions. We see how their protocol compares with what the professional society guidelines recommend and then offer feedback to the site. The more granular we get, the more impact we can have.
Let me share another, more recent example that shows how well this is working.
The most common type of stroke is a blockage of the arteries that supply blood to the brain. These are called ischemic strokes, and many times they can be resolved by a clot-busting drug.
The "door-to-needle" time for receiving this medication is crucial. The longer it takes, the more likely the patient will suffer irreversible brain damage.
The "door" is arrival at the hospital. Caregivers first ascertain that the patient is having an ischemic stroke, and next verify through testing that it isn't a bleeding type of stroke. Only then can they begin the "needle" -- administering the IV medication that will break up the clot and restore blood flow to the brain. Guidelines recommend doing this in 60 minutes or less.
We launched a program called "Target: Stroke" to get more patients treated within that range. Beyond encouraging hospitals, we offered practical ways they can trim time in certain aspects to deliver the clot-buster as quickly and as safely as possible.
It worked -- in every way. And the best part is the many layers in which this worked.
First of all, we reached our basic goal of increasing the proportion of patients who received the medication in less than 60 minutes. That's nice.
What's even nicer is that we also saw lower rates of in-hospital deaths among patients with this type of stroke. This makes sense, of course; the quicker the treatment, the better the outcome and, thus, the fewer lives lost. Another observed result was an increase in patients discharged to their homes. This indicates meaningful recovery. They didn't just survive, they also avoided a stint at an in-patient rehabilitation facility or nursing home.
Bleeding in the brain is the most-feared side effect of this clot-busting medicine, so we were keenly interested in whether this went up. It didn't. This means our encouragement proved to be safe.
We also were wary of whether unintended consequences may cause a complication -- that in a possible rush to diagnose, doctors might use the medicine on patients who didn't need it. Thankfully, we saw no evidence of this.
The full results of this research offer a crystal-clear bottom line. Get With The Guidelines is not only improving processes of care, but we've gone a step further and are leading to better patient outcomes.
We published these results in 2014 in the prestigious Journal of the American Medical Association (JAMA). This is yet another bonus, as the information reaches hospitals not involved in our quality programs -- and those outside of the United States. By contributing to the cannon of medical knowledge, we are offering a lasting scientific impact. We are helping patients now and in the future, and adding to the scientific literature that should improve care for patients all over the world.
Best of all, this is only a snapshot of what Get With The Guidelines does.
In addition to heart attacks and stroke, our work focuses on optimizing care for patients with coronary artery disease, heart failure and atrial fibrillation, and for those who receive resuscitation for a cardiac arrest.
I became involved with Get With The Guidelines because, as a cardiologist and a researcher, I was concerned about the pipeline connecting those two disciplines. I knew great advancements were being made in laboratories, and I wanted to help make sure they truly were getting out of the medical journals and into hospitals and clinics.
I am proud to say we are getting there. Get With The Guidelines offers a sustainable infrastructure, one that can help fix today's problems and be in place to implement tomorrow's new data.
And as we enter a new year, I like where we are headed.