I had been clicking the refresh button for an hour and six minutes on two different computers when, finally, my registration form was accepted. In a record two hours and 27 minutes, the 2013 Marine Corps Marathon reached its 30,000 registrant limit, and I was one of them.
At that moment I wondered what I'd gotten myself into. I was registered; I'd taken a spot that thousands of others coveted. Now I had to run it.
It wasn't so much the fact that I had never run a marathon before or even expressed a desire to run one. I had four half marathons and countless other shorter races logged in my running book. Under normal circumstances, I could get myself in marathon condition in the seven months between registration day and race day.
But those seven months weren't going to fall under the category of "normal circumstances." During that time I had another marathon to get through: my divorce.
When I decided to run the race my husband and I had been legally separated for several months. We still had a long road ahead before the divorce would be final. I hadn't shared the news with most of my friends and even some of my family. I had no idea where I was going to live or if I'd be able to support myself. Just hearing the word "divorce" was enough to bring me to tears.
The Marine Corps Marathon was scheduled for the end of October, about the same time my divorce was supposed to be finalized. Completing the marathon would be my closure, the official celebration of my new independence. It would also serve as my graceful exit from my life as a military spouse, a way to show my pride and gratitude to the military community I deeply respected.
My seven months of marathon training were time-consuming and physically demanding. For all of my running experience, I'd never logged as many miles week after week. I started the process relatively out of shape, thanks to the stresses of my marriage coming apart once and for all.
There were days I flew through 12-mile runs, finishing with a bursting feeling of invincibility that I could conquer anything. Other days I barely managed six miles, relieved to press the stop button on my Garmin as I fought collapsing after an hour of being trapped inside my own head.
I pushed through the pain and the doubt, and before my body revolted to the point I might be forced to quit the effort, race day arrived.
Standing at the start line of the Marine Corps Marathon was unlike anything I had experienced before. Marines were everywhere, double checking race bibs, collecting runners' "throw-away" clothes in trash bags and offering high-fives. I soaked in the energy that surrounded me -- 30,000 runners and hundreds of thousands of spectators cheering us on.
The boom of a Howitzer signaled the start of the race, but due to the size of the field of runners it took a while for me to cross the starting line. I took my first marathon steps walking, then jogging. A few hundred yards along the route I found my rhythm.
I ran past monuments and national landmarks. I posted photos on Facebook to share my progress with friends and gather virtual support. When I needed an extra push, I took out my earbuds and let the cheering bystanders lift me until I fell into my groove again. I hit the wall at mile 17 and called a friend for some tough love. I kept going in spite of the pain and my mind screaming at me to stop.
The sight of Marines lining the route along the last punishing hill filled me with both pride and sorrow. I was almost done with my first marathon. I also realized that I would miss a direct connection to military life. It had defined me. And in spite of the divorce, the experiences that surrounded my time as a military spouse would always be a part of me.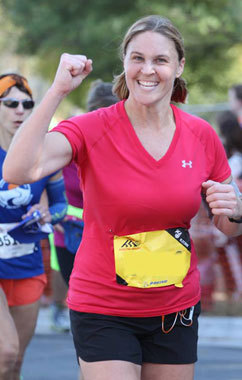 I finished in four hours, 48 minutes and 59 seconds. At the finish line, I was embraced by co-workers, friends and family -- people who had been and continue to be my support team every step of the way.
Twenty-six days after the race my divorce was final. As I stood watching a judge sign the document that ended my marriage, I was reminded of how I felt at the end of the Marine Corps Marathon. I was grateful that moment felt familiar.
The Marine Corps Marathon kept me from indulging those inner voices who nagged at me to yield to the stress of divorce in non-productive ways. Running prevented me from succumbing to depression. It got me out of bed in the morning. It kept me from drowning my sorrows in cartons of Ben and Jerry's and glasses of wine.
My divorce challenges aren't over. But on the tough days I can remind myself that I ran the Marine Corps Marathon, and I'll remember I have a lot of life left to live.