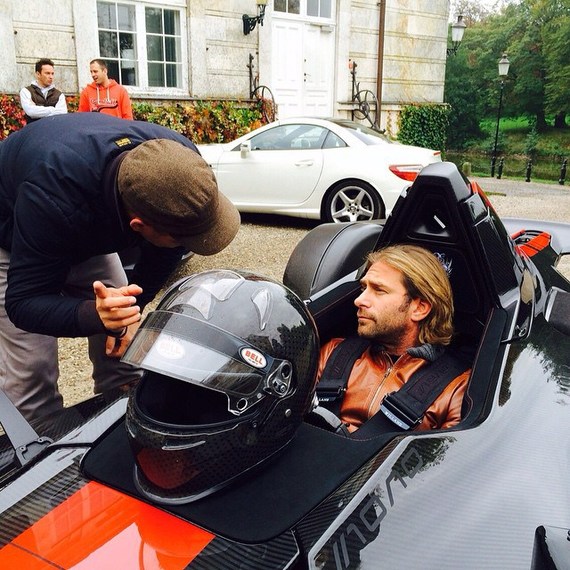 Growing up in St. Catharines, Ontario, Canada, Josh Cartu always had a need for speed and adventure. He dreamed of one day becoming an astronaut or a fighter pilot. When neither one of those came to fruition, he settled for the adrenaline rush that speeding on the ground had to offer by becoming a racecar driver with Ferrari/AFCorse Racing.
Cartu though isn't a name most Formula 1 fans would couple with the likes of legendary Ferrari driver Michael Schumacher or even a modern-day darling like Mercedes AMG Petronas' Lewis Hamilton however. That's because he earns a serious living racing in rallies, drifting circuits and endurance events like the "hypercar"-filled Gumball 3000, which although not considered mainstream by most, certainly possesses a cult following, as evidenced by the growing numbers of rich and famous people who participate in the event every year.
Still, despite the fact his occupation of choice is certainly much more popular in other parts of the world than it is in North America, Cartu has managed to carve out quite a career for himself doing what he loves the most. Going fast. His need for excitement and thrill is what makes him not only a successful driver, but also a successful entrepreneur and somebody that you should get to know a little bit about.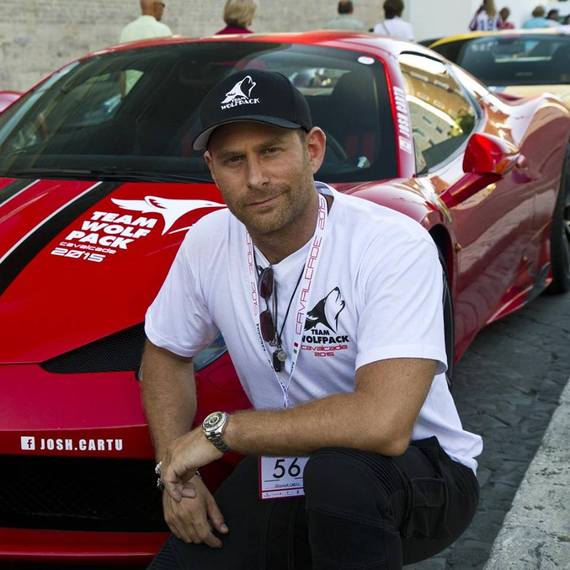 I had the chance to sit down with Josh to talk about his motivation and his views on racing. Here are the best snippets of our question and answer session:
Who were your biggest influences/role models growing up?
Paul Newman, Steve McQueen, James Dean, and The Speed Racer.
Why is open-wheel racing so much bigger in the Middle East and Europe than it is in North America?
I think the reason for that has a lot to do with how American culture developed. There is only one Formula 1 race per year in the United States today and last year, it was on the same day as a NASCAR event. Both were completely packed so I think it's safe to say that Americans are beginning to take a renewed interest in Formula 1. In the prohibition era of America, cars were "hot-rodded" up so they would be quicker than the cops and able to outrun them. After a while, people started getting together and racing these cars on dirt tracks and then more serious events began to take place. The end result to cut a very long story short was NASCAR.
In your own words, what is the Gumball 3000 and why should fans follow it?
There are no events like Gumball 3000. It's rock and roll energy and vibe combined with not normal but severely tuned hypercars. It's something you can see nowhere else. The cars, the enormous number of fans, and the explosive nature of the arrivals city after city -- it's something that has to be seen to be believed. It is definitely the best week of my life year after year and I invite anyone to come out and share it with us!
You've participated in some really long and grueling racing events in your career. What's the toughest part about driving a really long distance through treacherous terrain at a high speed?
The most difficult thing for me has always been staying awake and remaining focused. It can be difficult to drive 1,000km in a day if you are on two hours of sleep and haven't eaten properly. That combined with the typical road hazards, other people not paying attention, and other drivers in more or less the same condition as you are can be quite a problem. For this reason, I don't participate in the parties too much early on... I'm in bed by 2am at the latest and I make sure I get something to eat in the morning. Some carbs and a good night's sleep are the best ingredients for a successful rally and as hard as it is to refrain from going nuts, the finale parties are always the best so it's always smart to save yourself for them!
You're a successful entrepreneur and driver. Both involve taking risks and performing at a high level. What did you learn in your business pursuits that allowed you to succeed behind the wheel?
The most important thing in racing isn't necessarily how quick you are. Sure, it's important to be quick but the quickest driver doesn't necessarily win the race. Business setbacks in my life have taught me many hard lessons but the biggest would have to be consistency and perseverance. I have seen especially in the Ferrari Challenge that the winner of the championship is not the guy who necessarily qualifies first. Consistency allows you to repeat the same result lap after lap; just like showing up at work day after day and pushing the same issues with your staff, staying on top of things. Perseverance is critical because just like on the circuit, in businesses you are racing against your competition and those who fight through their setbacks and push hardest are the ones that succeed.
Racing seems like a very exclusive, high profile and high pressure sport.
What advice do you have for young enthusiasts who want to be a driver like you?
That depends on how old the person is. For kids under 18, I would recommend finding a good coach and karting circuit and begin there. I think that if you can beat all the local competitors, you and your family should already be looking for sponsors to help finance your career. Racing is an extremely expensive sport and without sponsors it can be very difficult to shoulder the cost alone. If you're pushing 40 like me, you will most likely need to pay your own way unless you have some unique selling point. Adam Frank for example (my drifting driver for Cartu Racing) is a very well sponsored driver but we have not yet won a championship. Sometimes it's more about what you bring to the game (image, style, attitude, personality) You can be a very quick driver but you need to be a marketable personality, someone a serious brand can get behind and allow to represent them.
After hearing Cartu's story and learning a little bit more about him, it's easy to see why the man has such a large social media following. The man is one of the best-kept secrets on the racing scene today. Just don't blink when you watch him from now on, you just might miss him speeding by in pursuit of a new adventure on the track, in a rally and even in a boardroom.
Popular in the Community