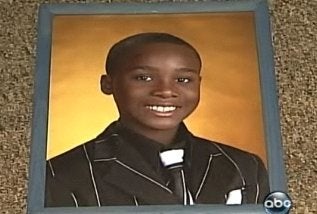 Just last week, an eleven year old boy in Springfield, MA killed himself because he could no longer withstand his classmates taunting him and calling him gay. Carl Joseph Walker-Hoover would have turned 12 today, which is also the annual Day of Silence, when students in schools across the country participate to bring attention to anti-gay harassment in schools.
The boy's mother "contacted the school repeatedly over the last six months to ask teachers to intervene after learning her son had been targeted. Walker said her son's classmates called him gay on a daily basis, made fun of his clothes and threatened to harm him, according to the Springfield Republican."
I read this heart-breaking story right after listening to the latest update on the trial of the alleged killer of Angie Zapata, a young Colorado woman brutally murdered in 2008 because she was transgendered. "The trial marks the first time that Colorado's gender identity-inclusive hate crimes statute--and in fact any state's hate crimes law--has been applied in the investigation and prosecution of an anti-transgender murder case."
Angie was not alone, however. In 2008 "there were at least 21 murders of transgender people in the United States." Why then is the first such case to be prosecuted as a hate crime? While Colorado includes gender identity as a protected status under its hate crime statutes, federal law does not.
Hate crime statutes vary from state to state. They identify specific protected statuses to be covered by the law- such as race, religion, or disability. These status provisions define who does and does not qualify as a victim of a hate crime, and constructs specific groups as vulnerable to bias-motivated crime.
In addition to state law, federal legal protection covers the following protected statuses: race, color, religion, and national origin. For many years, gender was purposefully excluded from the protected status categories (McPhail). In 1994 the Violence Against Women Act was passed. However, it was not until 2001 that a crime was first prosecuted as a hate crime based on gender (Jenness). The Federal Hate Crimes Statistics Act, passed in 1990, only mandates the collection of data for hate crimes based on race, ethnicity, religion, and sexual orientation. Much of the research on hate crime policy and legislation also ignores issues of gender and gender identity and expression.
Efforts have been made to expand the protected classifications covered by federal law. The Local Law Enforcement Hate Crimes Prevention Act, also known as the Mathew Shepard Act, was introduced before Congress each year since 1997. The Act "defines 'hate crime' as a violent act causing death or bodily injury because of the actual or perceived race, color, religion, national origin, sexual orientation, gender, gender identity or disability of the victim" It was introduced in Congress again this week. It is about the time this Act became law.
Legal remedies are only a small part of the solution. Researcher Barbara Perry argues that hate crimes are a means of "doing difference" (p. 2). Perry argues that hate crimes are "a mechanism of power intended to sustain somewhat precarious hierarchies, through violence and threats of violence (verbal or physical). It is generally directed toward those whom our society had traditionally stigmatized and marginalized" (p. 3). This definition moves away from the problems inherent in narrow legal definitions, and focuses instead on what, in essence, these actions are about--maintaining relations of power. Hate crime must be understood within the larger context of inequality that pervades US society.
The performance of hate is not just about the oppression of target groups, but equally about the privilege of its perpetrators. Bringing the concept of privilege into the discussion of hate activity shifts our focus from the victim classifications to the perpetrators and the culture that breeds them. Many hate crime scholars emphasize the significance of the broader cultural context. "Hate crimes have a basis in what the members of a society are normally taught when they are growing up." (Levin and McDevitt p. 51). As Perry concludes, "hate crime is not abnormal, rather, it is a normal (albeit extreme) expression of the biases that are diffused throughout the culture and history in which it is embedded" (Perry, p. 37).
Hate crime exists at one end on a continuum of privilege. It is not simply this one manifestation that must be interrogated, but the entire system of privilege and oppression. Allan Johnson argues that one of the ways that we deny that privilege exists, or minimize its impact, is to blame it on the actions of certain biased individuals. Not only does this approach leave the system of privilege and oppression unexamined, but it is also bound to fail in its efforts to curtail the occurrence of hate crime.
That is why playground taunts cannot just be disregarded as "child's play." We all play a part in the broader cultural context that fosters such hate, and that can lead an eleven-year old to commit suicide. If we are serious about protecting people from violence and crime simply because of their group identities, then we must also take seriously their right to equality in the home, workplace, and school.

References:
Jenness, V. (1999, Nov.). Managing difference and making legislation: Social movements and the racialization, sexualization and gendering of federal hate crime law in the U.S. 1985-1998. Social Problems, 46 (4), 548-571.
Levin, J. and J. McDevitt. (2002). Hate crimes revisited: America's war on those who are different. Cambridge, MA: Westview.
McPhail, B. A. (2002). Gender-bias hate crimes. Trauma, violence and abuse. 3 (2) 125-
143.
Perry, B. (2001). In the name of hate: Understanding hate crimes. New York: Routledge.
Calling all HuffPost superfans!
Sign up for membership to become a founding member and help shape HuffPost's next chapter