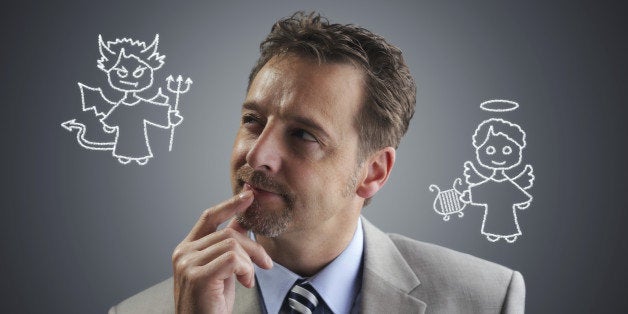 Everyone knows what this is like. You have bought a jacket or dress, paid good money for it, brought it home, and put it in the closet. Every few weeks you take it out, but it just doesn't seem like the right style for this event. So you put it back in the closet. This goes on for months--even years. Your partner says, "Why don't you get rid of that? You haven't worn it in years." But you can't let it go. You say, "I paid good money for that" and then you put it back in the closet. Your closet is getting filled with clothing you don't wear.
Or perhaps this is familiar to you. You've been in a dead-end relationship for years. It's not going anywhere and you aren't getting any younger. You know you should get out, but you say to your friends, "I have put too much into this just to walk away". You also think, "If I leave now everyone is going to tell me that they were right. I'll look like a fool" or "I'll regret that I didn't leave earlier". You tell your friends, "You don't understand. There are things about him that are really special". And you continue to stay.
Why do we get stuck in dead-ends? Why don't we just cut our losses?
The idea of sticking with a bad decision simply because we have already incurred costs for that decision is known as "sunk costs." The costs have already occurred. But we believe that we need to justify those costs by making the decision work out. This is why we stay in bad relationships, hoard those clothes we will never wear again, hold onto stocks that have continued to lose value, and refuse to junk that computer that won't run our new software. We are trying to "redeem" sunk costs. So we throw good money after bad money and end up worse off. We "honor" sunk costs.
There are several reasons we stick with losing decisions.
1. We try to make sense of our decisions. We look back and say, "There must be some good reasons that I have stuck with this". We are constantly explaining our behavior to ourselves and we like to think that there are good reasons to stick with something.
2. We fear wasting. Imagine the following. I hold up a $100 bill and say, "For my entertainment, I enjoy burning money in front of other people. This is a $100 bill that I won't spend or give to someone. But I will burn it". Your response is likely to be both confusion and anger. You are angry that I am wasting money. Why should you care? Because we don't like to waste things. That's why you clean your plate and then worry later about gaining more weight.
3. We don't want to experience the loss. Once we give up on the sunk costs we fear that we will be hit with a wave of regret and a sense of deep loss. By holding onto it we can keep open the option that something will work out. We avoid the feeling of loss. But in reality we are losing every day that we hold onto sunk costs.
1. Examine opportunity costs. Every day you hold onto a losing proposition you sacrifice other opportunities. Staying in a bad relationship means not pursuing a good relationship. Plus, you need more closet space for your new, more stylish, clothes.
2. Would you buy it again? Consider this. If you didn't have the item or relationship, would you go out and buy it again? If not, then it is a sunk cost.
3. Good decisions mean accepting losses. Smart decision-makers know that it is important to cut their losses. Riding a loser, holding onto something that is no longer rewarding, and trying to convince yourself that everything will turn around are not the signs of good decision-making. Know when to hold, know when to fold. It's important to know that it makes no sense to hold onto a losing proposition.
4. Evaluate your regret. Do you really think that if you dropped the sunk cost that a year from now you would regret dropping it? Haven't you let go of other losing causes and decisions? Don't you feel relieved later that it is all in the past?
Unlike animals we are too smart for our own good. We try to justify the past, we anticipate regret later, and we fear wasting. That's why we hold onto losing decisions and why we don't know when to let go of the rope that traps us in the past.