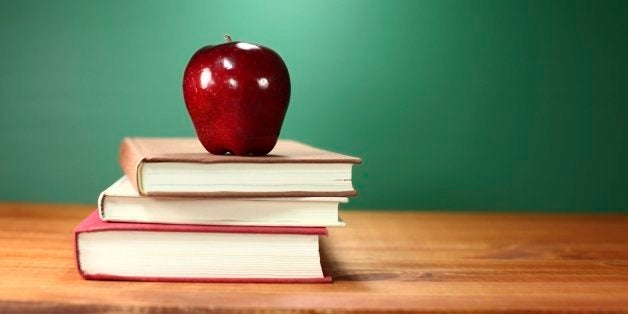 Stores are a'buzzing this time of year with back-to-school shoppers and nervous anticipation of the school year that is about to begin. Kids are wondering if their BFF will be in their class and agonizing over important shopping decisions: backpack or messenger bag? Parents are guiltily calculating how many days until the kids go back to school and trying to remember if they ever supervised any summer reading or algebra review.
When it comes to what classroom teachers really want in terms of preparing students for a successful year, however, stylish school bags and math memorization don't even make the top ten list. Rather, Teachers' Wish Lists include specific skills and teachable traits that make for a peaceful classroom and productive learning environment, such as:
Self-Control
The delicate art of autonomy begins with a toddler's ability to say "no" and is cultivated throughout the pre-school age years. The degree to which school-aged children have mastered the ability to control their emotions and impulses largely determines their success in a classroom. Parents help their children develop self-control by teaching (and modeling) the skill of putting language to emotion and helping kids calm down effectively when they become overwhelmed by thoughts and feelings.
Independence
As your child has grown, he has learned to do more and more things on his own -- using the bathroom, getting dressed, and eating independently were some of his earliest accomplishments. Just as your pre-schooler developed positive self-esteem by his mastery of self-care basics, he continues to grow emotionally when you convey trust in him to complete homework on his own, pack his daily lunch, and put everything he needs for school into his bag before getting on the bus.
Responsibility
It's hard for parents to realize that their child forgot a math folder at home and then to do nothing. The almost unbearable urge is to rush the folder to school and make sure it's in your child's hands before her teacher ever realizes your daughter's mistake. However, the best way to guarantee that your child will forget his folder -- or her lunch, or her gym shoes, or whatever she needs to be responsibly prepared -- in the future, is to save her from the consequences of her mistake.

When you allow your child to experience the results of her actions (and inactions) you give her the opportunity to learn from the situation. What's more, you send her the powerful message that you believe in her and know that she is capable of handling whatever comes her way. Independence and responsibility go hand in hand; teachers need kids to develop both in order to be successful in the classroom. Your child needs both to be able to succeed in life!
Kindness
Most schools have ongoing "No Bullying" campaigns that emphasize creative conflict resolution and hold kids accountable for harsh teasing and aggression. Teaching your kids the importance of good, old-fashioned kindness goes a long way toward helping him succeed amongst his peers and in the school community.
Kindness has everything to do with fundamentals like sharing and giving genuine compliments. It also has to do with more advanced skills that can be practiced at home, like offering to walk a sick classmate to the Nurse's office, showing compassion for a student who is struggling to learn, and empathizing with a friend who is feeling sad. The skill of kindness also extends to refraining from mean-spirited tattling (boy, will the Teacher appreciate this!) and to making sure to include a classmate who is feeling excluded.
When your child knows his ABC's and 123's and has a backpack full of the right school supplies, it does help his teacher move efficiently through a daily lesson plan. More importantly, however, when you help your child develop the skills of self-control, independence, responsibility, and kindness, you give his teacher the gift of a peaceful classroom and you fortify your child with skills that will help him succeed everywhere!
Signe Whitson, LSW is a school counselor and international educator on Bullying Prevention. For more information or workshop inquiries, please visit www.signewhitson.com
Related