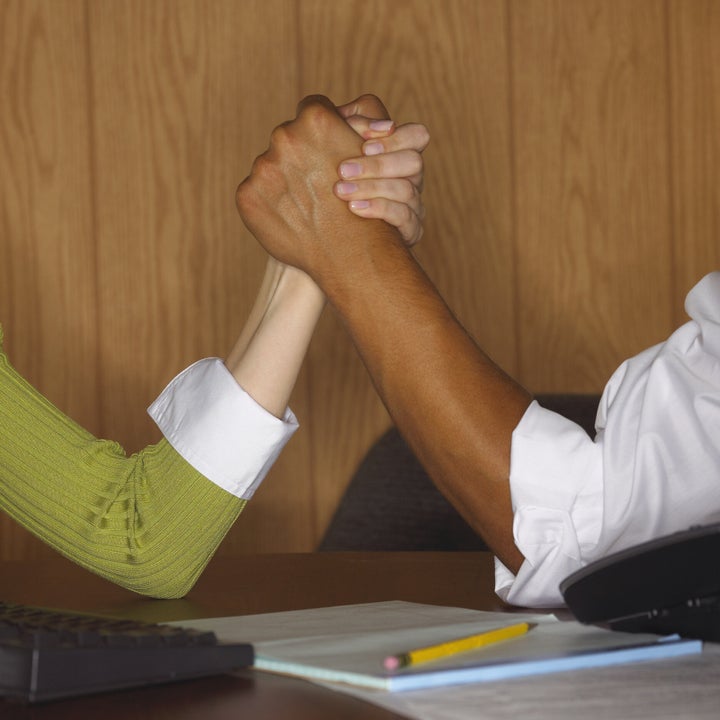 I'm all for exclusive relationships. Except for today. Today, I'd like you to ask your man to commit to every woman in the world. Guys, If you made it to sentence #2, this is your chance. Committing yourself to women's rights is HOT! And while roses and tubs of those Trader Joe's cookies are awesome, there is nothing more sexy than a man who is so self-assured that he'll work to shift the gender-power equation.
March 8 is International Women's Day. Yep. We get a whole day devoted to us. Why? Because -- for far too many -- being female on planet Earth is really hard and scary. We know the abuses: girls left out of school or forced into marriage, poverty, women not controlling their own bodies. And then there's the horror of rape as an intentional weapon of war. These human rights violations diminish every one of us. They also make all of us less secure. Indeed, supporting women is where altruism and self-interest intersect. The best lesson I learned in business school was, the more diversity around the decision-making table, the more resilient and long-lasting the outcomes. Distributed power yields better results. This business plan is a superior idea for politics, too. When women can make their own important life decisions, they become leaders. And when women share power, societies improve. Women have been vital players in the recent uprisings across the Middle East. In Afghanistan, women and girls have been a key focus of our own military's efforts to build peace.
But back to commitment. We're presently facing a diminished appetite for direct US government engagement overseas. This is not only true in other countries, it is true here at home. We can't afford to keep going down the current path of continual military involvement, even when the military is delivering humanitarian assistance. Thankfully, another way to be influential -- and to protect women -- is staring us right in the face: We need to get back in the game on treaty ratification. The START treaty that passed last year is an important step toward nuclear-threat reduction. The CEDAW treaty is next. This is the Convention for the Elimination of Discrimination Against Women. I know, I know. These acronyms are so unappealing. If only those great writers at Jezebel or Entertainment Weekly would take a crack at treaties, maybe they'd have an easier time getting through Congress.
CEDAW has been around since the 1970's. For the most part, the countries that have NOT ratified it are megalomaniacal messiahs (Iran), have a problem with pirates and warlords (Somalia) or just recently finished a murdering rampage, and we're not sure they are done yet (Sudan). Oh, and the United States. Embarrassing, I know.
There is no excuse for the United States to stay out of this treaty, so I'm not even going to mention some of the lame reasons that elected leaders and foolish pundits put forward to oppose it. I'm pretty uptight when it comes to work, but I was actually thrown out of Senator Jesse Helms' (R, NC) hearing room in 1999 along with a sisterhood of congresswomen. We were there to demand a hearing on the treaty. Senator Helms was a gentleman throughout the demonstration, but he was still wrong. The treaty has been acted on several times by the Senate, but has never made it to a full vote.
We need to get this treaty passed through the Senate, ASAP. In the coming years, CEDAW will be a vital tool for us to be influential without boots on the ground. With an international treaty standard behind us, we'll be able to amplify our voice for the human rights of women in Afghanistan and elsewhere. Working through cooperative rule-based arrangements is the way to go.
Women are the modern face of global security In today's world, the safety of people across borders is as important as the safety of people within them. Threats like freaky weather, genocidal instability, pandemic disease and economic calamity cannot be prevented by one country acting alone. Unlike the past, security is now about individual self-determination as much as it is about hardware. Hence, investments in our own credibility help us to persuade global audiences and influence outcomes. Most of these influence tools are non-military.
A global legacy of women's priorities already informs policy debates about a modern strategy for U.S. security. For decades, women the world over have championed the safety of people through positive social change. Women rally support for such community needs as health care, clean water, economic justice, safe streets and education. As we've discovered in Iraq and Afghanistan, meeting these basic needs is a good counterterrorism strategy.
When I trained women candidates, I always polled them on perceptions of U.S. national security. The most heated discussions occurred over Hurricane Katrina. It makes sense. We were completely unprepared, and we lost an American city.
We need to take action to bring women into leadership roles and attend to their safety and prosperity if we want a decent future for the planet. Why? Well, for one thing, we solve problems differently. We rely on networks differently, we value relationships differently. Not better, but differently than men.
Then there's this: I don't have hard data, but I am the mother of a four-year-old boy. I buy him crunchy granola toys and talk to him about peace with hand puppets. Yet he remains a jumbo-sized death magnet. Ask any parent. If a baby boy isn't walking yet, silence is a happy thing. It means sleep. But past 15 months, silence means dead. Or that he has found something lethal and is stuffing it in his mouth despite all attempts to hide it up high. Just since January, my little guy has given me several "presents" including a razor, a frosted swiss-army knife and, last week, a shiny handsaw on my pillow. This week, he came home from school and announced that "I didn't choke anyone today." Hmmmmmm.
Now, I could interpret this through all kinds of Political Science theories, but hand puppets and handsaws aren't a bad analogy of U.S. foreign policy over the past few decades. My son will be fine, by the way. He'll have me trying to balance out all those unintentionally suicidal tendencies. It's America's standing in the world that I'm worried about. We need to commit to being present in a different way. Standing up for women and girls by passing CEDAW will be a tremendous next step.
Calling all HuffPost superfans!
Sign up for membership to become a founding member and help shape HuffPost's next chapter