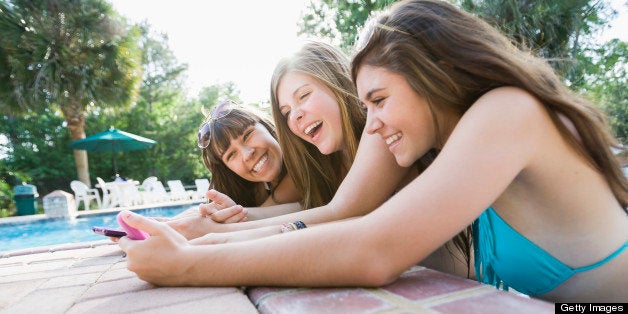 Just say the word "bathing suit" and women and their teen daughters cringe in collective dread. And, yes it is well-documented that teen girls consistently rate themselves as being too "fat" and teen boys rate themselves as being too thin. Well, summer is just around the corner and teen girls are dusting off last year's bathing suits or getting ready for that trip to the mall in search of the perfect bathing suits that will flatter their bodies, that will attract the boys and that will let them look just like their peers. That's where the trouble comes in. Teen girls come in all shapes and sizes and the current trending bathing suit style might not be right for everyone. There is another fallacy here. Teen girls are assuming that the teen boys will like the girls best who also look very skinny in their bathing suits. Now, I know of no such poll and no such research that indicates that anyone other than these dieting teen girls think that emaciated is attractive.
In preparation for bathing suit season, I have lots of advice for parents, teachers, teens and anyone else who talks to teen girls and may exert some influence over them. Hear me out, please.
Yes, physical attractiveness may play a role in attracting the boys but there are many other factors that we fail to talk to our kids. People tend to like people who are similar to them and who also like them. This makes sense doesn't it? If a teen girl likes a teen boy then his self-esteem increases and the reverse holds true. The size of a bathing suit is significantly less important.
Explain to your daughters that they are not equal in worth and beauty simply to the size of their bathing suit. It is way more important for them to feel good about what they are doing and to have fun in activities. It is unlikely they anyone of the opposite sex will ask them what size bathing suit they are wearing. If they do then that is a shame. It certainly shows a lack of conversational ability.
This summer, encourage your daughters to wear bathing suits that they feel good in, to have fun at the beach and to focus on making friends and conversation, not losing weight. They will create a summer full of much fonder memories. And parents, while you are at it, please do not criticize your own body. As I know all too well from working with teens, your teens are watching you and listening to how you their role model feels.
PS: Remind your teens to wear sunscreen. Make sure that they know how to swim and swim well. Talk to them about the risks associated with drinking and swimming. Yes, the two are a dangerous combination. Encourage them to look out for the safety of their friends at the beach. Drownings do occur. Don't assume that bathing suits and body image are the only things that you need to talk to your daughters about. This summer, focus instead on teaching your teen girls to look out not only for their own safety, but for the safety and well-being of their peers. In other words, there are much more important issues than bathing suit size.
Do you agree or disagree?
Related