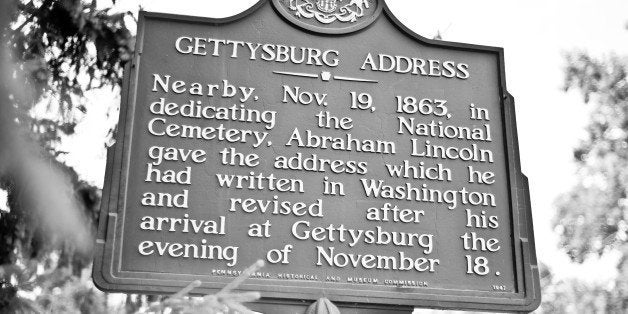 "Four score and seven years ago, our fathers brought forth on this continent, a new nation, conceived in liberty and dedicated to the proposition that all men are created equal."
This week marks the 150th Anniversary since Abraham Lincoln uttered those immortal words on November 19, 1863 at the dedication of the cemetery holding the remains of 40,000 soldiers who died at Gettysburg.
While our country has made giant strides since Lincoln's address, we as a nation have yet to realize fully the goals of equality and liberty that Lincoln set forth.

One hundred and fifty years after Lincoln's Gettysburg Address, equality for many Americans remains elusive.
But as Lincoln clearly recognized -- even during that dark time -- the flames of liberty and equality that define this country cannot be extinguished by adversity, no matter how severe.
We've seen it again and again. From civil rights, to women's rights, to marriage rights, this country has reinvented itself in the quest to make real the transcendent values that Lincoln proclaimed in his historic address -- that all men are created equal in a nation conceived in liberty.
We in Illinois embraced Lincoln's notions of equality and liberty when the state legislature took the momentous step to approve same sex marriage earlier this month. Now one of 16 states that will allow loving, same-sex couples to marry, Illinois has demonstrated to the world that no matter how great the obstacles, the principles of fairness and tolerance--the bedrock of our society -- ultimately triumph.
Lincoln's address at Gettysburg -- 272 words dedicating a cemetery at the site of one of the Civil War's bloodiest battles -- has been called by scholars the source of all modern political prose.
But it's more than that to me. It is a speech that stakes out the ideological high ground, connecting in a very personal way with the spirit of the Founding Fathers. Lincoln takes as his inspiration the words of Jefferson's Declaration of Independence rather than the Constitution. In doing so he sets out in no uncertain terms that a rebirth of freedom is at hand, where equality stands supreme.
Having earlier in 1863 signed the Emancipation Proclamation, the words "all men are created equal" no doubt had special meaning for Lincoln. But he almost certainly understood the long road that lay ahead before public opinion would catch up with his and the Founders' lofty vision.
In a real sense, this country is still striving to catch up with those visionary ideals that form its moral foundation.
Progress has been fitful. Too often, advances in civil rights or women's rights are undermined by wrong-headed legislation or weak-kneed political leadership. The battle to secure these basic rights continues decades after the vast majority of our society has recognized and accepted them.
And the same has been true for same-sex marriage. What most Americans now view as a basic human right has been subverted and delayed for years by an ever-shrinking group of people who are opposed to social progress, in glaring opposition to the precepts of equality and liberty put forth by our Founding Fathers.
But not in Illinois. By passing marriage equality, we continue to re-imagine ourselves and our society, bettering ourselves and securing a more just future for our children.
It is inevitable -- and at times maddening -- that this change is messy and slow. But change does come, and that is heartening to me. As Lincoln noted at Gettysburg, there is unfinished work ahead of us.
Lincoln modestly predicted that no one would "long remember" what he said on that November day. He was wrong, of course. The themes that Lincoln sounded in his historic address inspire and challenge us still. For proof of that, just ask my friends and constituents in Lincoln's home state who will enjoy marriage equality for the first time.
Popular in the Community