ISTANBUL -- For over twenty hours in the last two weeks, I wandered around the barricades near Istanbul's Taksim Square, smelled the tear gas on the roof of the iconic Atatürk Cultural Center (AKM) while photographing the crowd beneath and talked to the rebellious youth as well as hardline authorities to understand and report about the largest political demonstrations in the history of modern Turkey.
"How could a few 'occupiers' manage to mobilize millions here and beyond, in 77 provinces of Turkey and dozens of cities in the world?" was the main question that I was asking to myself.
The answer was neither near the barricades nor on the roofs, but I'd found it out soon inside the tents at Gezi Park, a wooded public space adjacent to Taksim Square.
There, you can see that this may not be a political revolution, but definitely, it's a communication breakthrough for Turkey.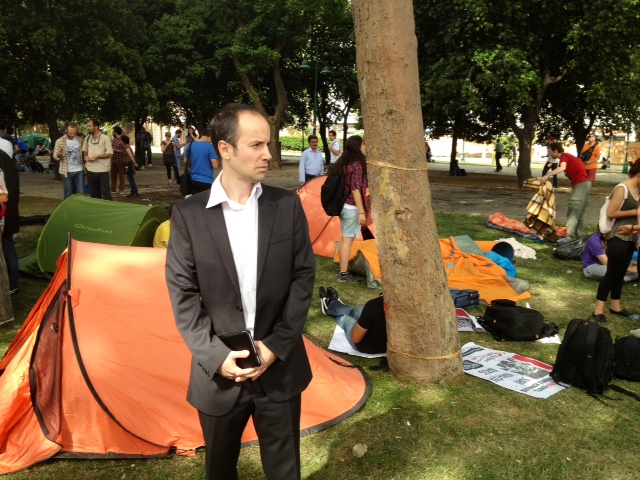 SINGLELADIEZ FIGHT FOR THE ONLY PARK IN TAKSIM
"I love nature and I'm voluntarily here to save these trees," 32-year-old Tugce Ozel who works in the advertising sector tells me at Gezi Park.
When local authorities started to demolish the park on May 28th, fifty environmentalists tried to stop them, but failed to save the first five trees.
As police kept using more and more tear gas and water cannons, crowds got larger and larger. Ozel was one of the first people who organized the initial resistance through social media. And they were among the first protestors who arrived in the scene to stop the bulldozers.
"I'm the community manager of the Association for the Protection and Beautification of Taksim Gezi Park. On April 13th, we organized a festival in the park. After all, this is the only green space left in the area where kids can play, people can hang around with their pets and outdoor art can be exhibited. Most of the first people who came to save the park from bulldozers were the people who participated in the festival, experiencing its beauty," Ozel explains.
After Prime Minister Tayyip Erdogan announced that a concrete replica of a long-gone Ottoman barracks would be rebuild there, Ozel and her association had filed a lawsuit.
The court granted a motion for stay of execution on May 31, but it didn't stop the government's insistence to demolish the park with bulldozers supported by police.
Besides being the CMO of a digital marketing company, Ozel is the member of SingleLadiez, which is, in their own words, "an entertainment & social media project made by 5 girlz."
'MY BODY, MY DECISION, NO POLITICS'
Each of these five young ladies, who normally work to find most entertaining ways to connect brands with people through real-life parties and virtual social media gatherings, had found themselves on May 31st being tear gassed by the police in different neighborhoods around Taksim, just because they were passing by after leaving their offices or homes.
"Frankly, we are apolitical people. After being tear gassed for just passing by, we asked each other and discovered that none of the SingleLadiez had ever participated in any political demonstration in the past," Ozel says.
This is when Ozel and her friends in the advertising business decided to mobilize their social media networks, which include not only thousands of young people from Turkey's "Generation Y", but also several celebrities, thanks to their relations with the largest PR agencies.
Last year, Ozel and her friends had participated in a social media campaign to raise awareness to stop the government adopt a bill that would ban abortions. The campaign, titled "My Body, My Decision," had managed to be a Worldwide Trend on Twitter in just forty-five minutes with the hashtag #soruyoruz, which means "We Are Asking (To The Government)."
"It was all about our own personal freedoms as women. The government shelved the bill after huge public outcry, but they still didn't stop intervening in people's lives, like with the latest restrictions on alcohol sales. The trees of Gezi Park was the last straw."
So, once again with Gezi Park, the goal of the campaign was not about forcing government to resign. It was a simple message to Erdogan with a concrete demand:
"Please forget about the nature-massacre at Gezi Park, stop the construction in line with the court's ruling, uphold the rule of law and respect the locals' opinion when deciding on such projects from Ankara."
But how could they convey this democratic message without provoking people? Ozel answers:"In the past, I organized election campaigns of two political parties; one left-wing and one right-wing. I didn't vote for any of them, but I'm a professional, so I know how to be at the same wavelength with the mass and transmit the message without corrupting it. When you have such a noble cause like saving trees, it's easier to do it, as long as you use the correct information with the right language."
THE VIRAL AVALANCHE: 'MAN, THIS GAS IS GREAT!'
In a country where the largest political demonstrations in its history couldn't be reported by mainstream cable news possibly as a result of self-censorship, 31,000,000 Facebook users and 7,200,000 million tweeps turned to social media to get informed in the last two weeks.
According to a study by New York University, at least 2,000,000 tweets with Gezi Park protest hashtags were sent in just eight hours on May 31st. Various sources say 8,000,000 tweets were posted the next day.
"Even I was mentioned 415,000 times on Twitter," Ozel utters timidly.
But how come this decentralized, disorganized, spontaneously-developed social media campaign to support Occupy Gezi recorded such a huge success?
As just one of the voluntary spreaders of information, Ozel finds the roots of this success in the strength of the content and the beauty of the form. She says that Turkish people have two underlying qualities:
"First of all, we're a nation who gets nourished with humor. Everybody is like a comedian who can invent great catchphrases. Secondly, we celebrate life, but are fearless of death. You can't intimidate these people with tear gas, because we're the Turks who inexpediently check if there is a leak in the bottled gas at our home by using a cigarette lighter!"
With such qualities on the grassroot level, it was easy for the art directors and graphic artists who were supporting the protests to compile the best jokes and catchphrases at the park and present them in a very attractive way.
It was equally easy for advertising people like Ozel and SingleLadiez to distribute these powerful and beautiful messages through social media, creating a viral avalanche that would draw the excited masses from the virtual world to the psychical one.
REVERSING THE MESSAGE IN CHAPULCU STYLE
Protestors were also succesful in strategically reversing the messages from the government that targeted them:
When Prime Minister Erdogan defined them as "chapulcu" (pillager, hoodlum), for instance, they adopted it cleverly, instead of rejecting it as an insult.
That was how "chapulling" would be recognized by WikiPedia as a neologism and even a song would dedicated to this new genre of political activity.
Speeding through the virtual borders of discourse, the protestors braced to enter the psychical world, too: When police tear gassed them, for instance, their response was pro-active again: Instead of referring to all those old-school revolutionary clichés, they adapted a famous phrase that's been frequently heard in the scenes with American junkies praising a drug in Turkish-dubbed Hollywood movies, replacing the word "shit" with "gas":
"Man, this gas is great."
For many protestors, this communication process is powerful, inspiring and mobilizing. This is why I was not surprised today after learning from a colleague that the Prime Minister's Office called one of the leading advertising agencies in Turkey and asked them to delete all the Gezi-related tweets of their employees. I was also not surprised when I heard a lot of claims that the government had been intentionally slowing down the Internet connection to disrupt social media communication.
The fact that there are five government figures in the "Top Ten Social Media Influencers of Turkey" list wasn't enough for them to keep calm in the face of an ever-surging opposition on Twitter. According to a research by Ebrandvalue, a huge majority on Twitter supported Occupy Gezi and opposed Erdogan by a margin of 68,000 to 800.
This is the reason that many Turks took it as a norm after they learn that scores of Gezi arrests were reportedly related to Twitter activities. After all, Erdogan had labelled Twitter as "a curse." And more strangely, when you write "Twitter.com" on your browser's address bar with Turkish special letter "i without a dot" instead of the regular "i" in English, you're forwarded to governing AK Party's official website now!
Although I find the "Turkish Spring" analogy a bit superficial and misleading, other numbers tell us that Occupy Gezi is bigger in social media in Turkey than any other Arab Spring revolt was in respective countries.
For example, the aforementioned study by New York University shows that ninety percent of tweets on Occupy Gezi were originated in Turkey. Two years ago in Egypt, only thirty percent of tweets related to the revolution came from IP addresses originated in this country.
A SOCIO-POLITICAL REBEL WITH A CAUSE
To a great extent, it's a valid generalization that the Turks who were born in the 90s don't know much about politics and don't read a lot, which is mainly a result of the systematic efforts from the right-wing governments after the military coup in 1980.
"Two-thirds of today's occupiers were born and grew up in post-political Turkey," according to Tugce Ozel. Their parents, who drove the country up on the verge of a civil war in the 1970s, had "resigned" from being leftists and rightists after the coup, hence raising de-politicized children. The fight in the 1970s was collectivist; today's fight of the "selfish generation" is mostly about individual rights.
According to a survey by Bilgi University in Istanbul, fifty-four percent of the park occupiers had never been at a political demonstration before and seventy percent of them don't feel affection to any political party. Ninety-two percent of them is simply against the authoritarian rhetoric of Erdogan.
And not all of the protestors are white-collars like Ozel and her friends. The foot soldiers of this movement are students and fresh graduates who also unexpectedly rebelled.
At a nearby tent, I met three protestors in their early 20s.
Ulas, who has recently graduated from a high school but is still unemployed, told me that he came to Gezi Park from the Asian side of Istanbul:
"After reading the unbelievable reports about police brutality on Twitter, I tuned in to cable news, but only some penguin documentaries and cooking shows were on air. So, I came to Taksim to see it myself on May 31st. But the police violated my constitutional right to travel, tried to stop me and hundreds of other people before we manage to reach Taksim. When they resorted to their tear gas and water cannons, although the crowd didn't do anything violent, I decided that I should stand against this injustice and started to stay in the park to support the peaceful protest."
When I asked about the bruise that's just under his left eye, Ulas said "police threw a stone." "I thought some protestors were throwing stones to the police," I reacted in surprise.
"Some protestors did and we tried to stop them. But at one time, some policemen threw stones, too, because their stockpile of tear gas canisters was running low," he answered.
WHO WILL PROTECT US FROM THE PROTECTORS?
I couldn't verify if Ulas was really wounded by "police stone" or with something else, but there are several photographs showing some civilians in the ranks of the policemen throwing stones towards protestors.
High school students Oguz and Onur told me equally appalling, consistent stories about police brutality:
17-year-olds getting beaten for four days in illegal detention, tear gas canisters which ended up in apartments after being shot carelessly, heavy police vehicles speeding up in alleys inconsiderately...
"We read such things on social media, then we witnessed it ourselves and we began pouring into this park everyday at 3pm, after our lessons are over. We just demand our rights," Oguz explains while his peers in the tent nod.
It reminded of that famous Gezi Park poster that went viral:
Young tent-dwellers get excited when I talk about all the creative slogans and mottos of the movement. They give many other, funny examples, like:
"Beware, you're messing with the generation who enjoyed beating up police in Grand Theft Auto!"This is a generation raised not by television, but by first-person shooters and all the chaotic Internet forums like "Inci Sozluk" in Turkey. On such websites which are rife with meme-generating, taboo-breaking, anonymous young men, you can see glimpses of Turkey's future, although among a million meaningless swearwords.
'WHY IS THIS HATE, THIS STUBBORNNESS?'
As I stepped out of the park, a protestor gave me a sticker that read the principles of the French Revolution: "Liberty, Equality, Fraternity."
When he wanted me "to stick it on where my heart is", I asked if it's because showing that I believe in these principles "from the heart" or if it's for some other reason.
"No," he said, "Just to hide the logo of the brand on your shirt. We're all equal here and let's don't advertise anything but our democratic demands."
At a TEDx event on June 14th in Alsancak, Izmir, ad-woman Tugce Ozel would be speaking alongside other SingleLadiez to explain their role in the protests. Before we said goodbye, her last words were as follows:
"After the police-supported construction workers removed the first trees, we had planted new ones in the same place. The next day, they came back and this time they threw these saplings to a garbage grinder in front of our eyes. Why is this hate? Why is this stubbornness? If our Prime Minister has a bone to pick with somebody, we beg him to close that account with those people, not with our trees. The nature, any way, will soon or late take its revenge for the harms we caused. Until then, we'll remain as the advocates of those trees, do everything to stop this construction and keep this movement completely peaceful. We'll keep this civilian and we'll keep this civil."
THE GREAT COALITION OF NEW TURKEY
When 30-something social media professionals like Ozel and graphical artists who are especially talented in creating and distributing powerful, inspiring images like "the whirling dervish with a gas mask", come together with 20-something foot soldiers like Ulas or Oguz in their tents, no government can enforce its will in spite of the people's demands.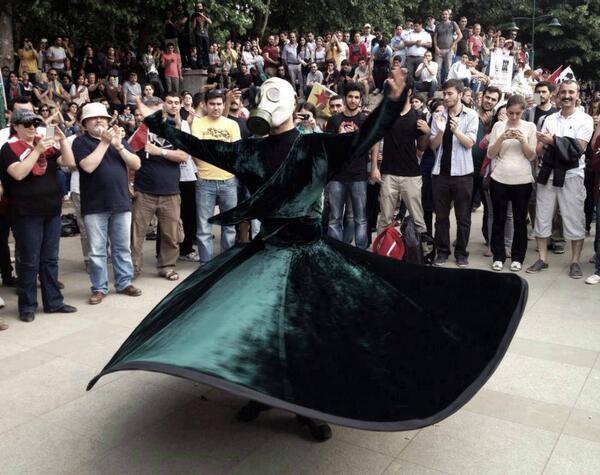 Some marginal groups and partisan militants tried to hijack the movement, but its core remains loyal to its values of non-violence, passive resistance and apolitical unity.
Although police have just cleared up barricades and opened up Taksim Square, Gezi Park is still as defiant as Erdogan himself.
In the short term, Occupy Gezi has already won, as the government took a serious step back to accept to hold a referendum in Istanbul, asking people if they want a military barracks or a park right in the middle of the city.
In the long run, it's hard to predict it, but I'm sure about one thing:
Like the right-wing in the United States, Islamo-conservative Turkish government fails to read the changes in demographics and how "minorities" are being empowered by and with the New Media.This is how hundreds of thousands of seculars, Kurds, ultra-nationalists, far-leftists, environmentalists, feminists, white-collars, blue-collars, 70-year-old women and 17-year-old students from all corners of Turkey come together to make an urban, pluralist and decentralized pact to say "No!" to an increasingly divisive and authoritarian central government.
This outcry is an echo from 1808, when the first constitutional movement here had begun, reverbing still in today's Turkey, where the checks and balances system of the state is anti-democratically severed by the current government on several levels.
All in all, Occupy Gezi looks like the symptom of a social paradigm shift that brings about the potential to evolve into a force, which can indeed create more inclusive political and economic institutions.
And considering Prime Minister Erdogan's presidential ambitions and the ongoing parliamentary process to draft a new constitution on the eve of three critical elections in 2014, this sounds like a good sign for the future of Turkish democracy and free speech in the region.
Related
Popular in the Community