Bronx migrants face fresh uncertainty finding refuge from persecution, detention
"They can take us back to Africa, once they find our travel documents," said Abrafo. "We are just sitting on a time bomb ready to explode."
Twirling his hoverboard between fidgety hands, Abrafo was seated with his friend Salim at Accra Restaurant in the Bronx, where a sizable West African community has taken shape.
The two friends sounded some hopeful notes, but also nervously discussed their precarious immigration situations. Both fear being deported at a moment's notice.
Salim works at a chic restaurant in Harlem, doing deliveries and kitchen tasks. He has plenty of friends, an established routine, yet is ambivalent to call the Bronx his home, since it might not be for long.
The asylum seeker from Ghana has gone through a rough couple of years, which culminated in 16 months at the Adelanto Detention Facility northeast of Los Angeles. That was after a grueling journey from his homeland through the Americas, following death threats in his community.
Until he gained freedom in March, Salim subsisted with a sizable clique of Muslims from Ghana at Adelanto seeking a fresh start after fleeing their country. While it's hard to pinpoint the reason each individual made the trek, they seem to have fled due to a combination of economic insecurity and religious persecution -- allegedly because their own community doesn't tolerate homosexuality or conversion to any branch of Christianity.
This group of more than a dozen Ghanaians is gathered in an unlikely locale in Southern California across the east and west wings of Adelanto, whose management is contracted out by Immigration and Customs Enforcement (ICE) to GEO Group Inc. Members of Congress have detailed unfair treatment there and detainees have demanded an end to the harsh conditions. Many of the Ghanaians and others have been forcibly repatriated following extended periods behind bars.
The experiences of Salim and his countrymen through the labyrinthine immigration system generate key questions about the nebulous asylum process and the utility of long detention terms, particularly in private facilities like Adelanto.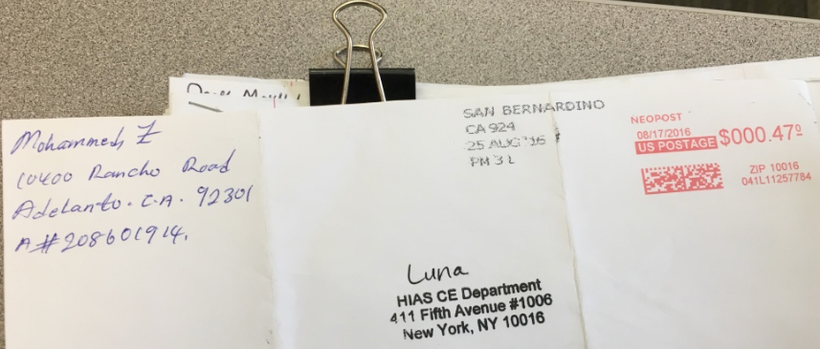 Vickie Mena, an immigration policy advocate formerly at Community Initiatives for Visiting Immigrants in Confinement (CIVIC), says that the mass of asylum seekers at the southern U.S. border includes large numbers of people from as far as Nepal, Bangladesh, and various parts of Africa, including Somalia and Ghana. Most make their way to South America by plane, traverse the treacherous Darien Gap into Central America, and then travel by land through Mexico to an American border checkpoint.
Mena said most of the African arrivals are not sneaking in and then getting apprehended. In her experience, they walk up to the border terminals and simply declare asylum or demand to be reunited with relatives once asked by U.S. authorities for their paperwork. However, she said that many have faced a far more difficult and lengthy journey than those coming direct from Central America.
"Our law is that anyone coming to the border can claim asylum. They need to be taken seriously," said Mena. "But what it's translated to is, 'We'll put you in a profiting system and let you languish [in detention],' especially for folks who don't understand [our] language or the laws."
"Migration is natural and beautiful," she added. "But forced migration, on the other hand, is violent and deadly. We should be supporting these folks more." Mena also said immigrants who could pass a "credible fear" interview, meaning officials can determine they fled from a legitimately dangerous situation, deserve more public sympathy.
"You end up with people who don't know the system or the way that it operates, the forms you can file, days you can wait, things you can do to represent yourself to get out. There's no attempt [to help]. They don't have support systems."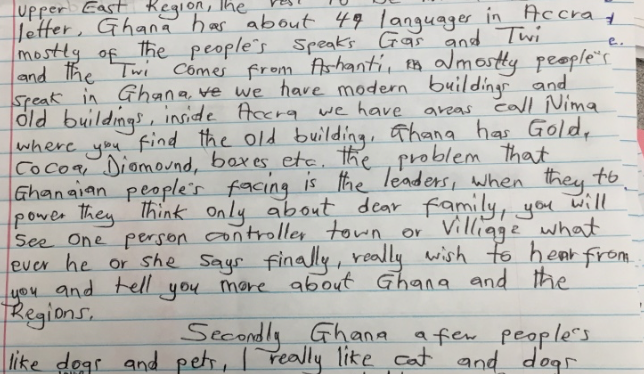 For his part, Salim spent well over a year at Adelanto before being released March 23. In the months leading up to his freedom, he participated in a pen-pal program through which many of his fellow detainees exchanged handwritten letters with a cohort of volunteers in New York City arranged by the Hebrew Immigrant Aid Society (HIAS).
The trove of letters sent and received by the nonprofit refugee protection organization contains some offers of friendship, requests for pictures, recipe exchanges, and emotional expressions of solidarity with detained arrivals.
One letter, dictated by Salim in the Hausa language to his friend who could write better English, is dated Feb. 9, 2016: "We don't have snowfall in Ghana. I only watch a couple of video about it on T.V. news here in detention house. Streets, cars, houses been covered by huge amount of snowfalls...Stay safe bless."
A previous letter dated Jan. 12 said: "Thank you for showing your concern about me...and praying that one day will be set free."
After he settled in New York on April 21, Salim sent a letter in what appears to be his own handwriting: "I have been release from the detention. I want to write you to inform you." He also sought help finding work in the clothing design industry.
Salim, who asked that his real name not be used out of fear for his situation, seems to be among the luckier ones, having left Adelanto and found employment in the food-service sector. Another man, Faruk, wrote in February: "Life is about obstacles, and one must be strong when been encounter by problem or hardship. I know things would be alright and still keep in faith."
One letter to a volunteer named Luna by Mohammed from Kumasi, Ghana, talks about soccer and basketball, then Ghanaian music and food: "The northern region of Ghana, their best meals are tuo-zafi, kwalulu, tubani...and Ashanti region, their best food are fufu, ampesie, banku."
While not many Americans may have heard about the varieties of ethnic cuisine in Ghana, the letters are a chance to engage with a vulnerable population stranded far from home, in more ways than one.
"Just over a year ago, so many people were waking up to the global refugee crisis and were eager to make an impact," said Janna Diamond, a program associate for community engagement at HIAS. "Specifically in New York and DC, there were not a ton of opportunities to connect with newly resettled refugees, because they're not [coming to] places where the cost of living is high."
Diamond said her volunteers are drawn to help persecuted people who have "ended up on U.S. soil, where they're treated like criminals."
In contrast with direct refugee resettlement activities, the letter-writing initiative is aimed largely at asylum seekers struggling, defensively, in the face of deportation orders, to obtain official recognition of their status. "Indirect service could leverage that intention to take action and provide compassion to people who need it. I had no idea just how meaningful it would be. [Volunteers] come back because they want to receive letters."
She added that, of the letters written in New York, around 30 percent receive a response from a detainee at Adelanto.
"I needed to do something more than feel or pray or sing," said Ilana Boin-Wallach, a volunteer who decried the "ugly anti-immigrant politics in the U.S."
"Letter-writing has been intense," she added. "We connect across cultures, letting the detainees know we are thinking of them."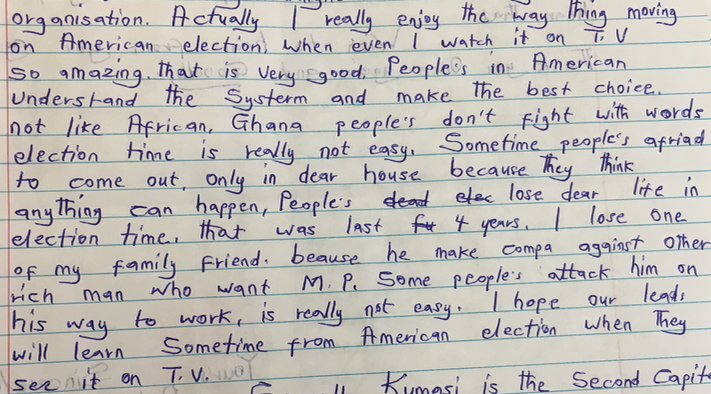 Kristina Shull, a 2016 Soros Justice Fellow at CIVIC and adjunct professor at the University of California, Irvine, says stories like Salim's are important for the wider American public to hear, because they're generally hidden from view. "They shed light on people whose experiences we're seeing more and more, due to global instability and climate change," she said.
For migrants from Ghana and other seemingly stable countries, Shull said, "The U.S. might justify deportation based on good relations, low corruption, and no conflict. But many judges are not knowledgeable about dangers on the ground."
And while there is neither war in Ghana nor notable religious strife, many Ghanaians report that their Muslim co-religionists in big cities and small towns enforce oppressive rules, leading many residents to seek opportunities elsewhere -- with a high risk of harm if sent home.
Salim couldn't post bond of $28,000 that he was offered by a judge, but luckily he was able to verify sponsorship in the U.S. through a CIVIC visitor-volunteer. He then traveled cross-country to join up with his uncle in the Bronx.
While behind bars at Adelanto, he had called attention to the conditions -- labeled unjust by activist groups -- through descriptions of poor health care, substandard food, and disrespectful guards. Last November, around 30 protesters demonstrated outside the facility, as some of the facility's 1,450 detainees conducted a hunger strike.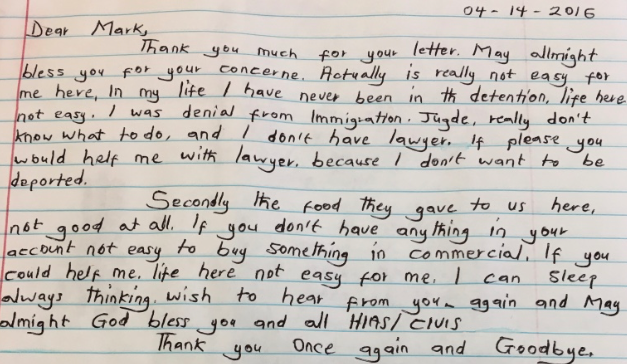 Credible facts and freedoms
While it's difficult to verify any asylee's claims, Salim says he fled Ghana because he faced persecution for having worked as a sort of pimp for gigolos, getting paid a commission for recruiting men to participate in gay sex encounters. Although he says he's not homosexual himself, Salim explains he was just trying to earn some money by helping out his gay friends.
"What they wanted me to do was against our law, against our religion. It's not accepted in our country, in our community," he said.
While faith-based discrimination certainly qualifies, those seeking asylum in the U.S. are not able to claim sexual orientation as a protected class, since that is not among the list of official asylum categories, which includes "race, religion, nationality, membership in a particular social group, or political opinion," said Michelle Mittelstadt, spokesperson at the Migration Policy Institute.
Asylum criteria are controversial and hotly debated. Those kept in detention while their cases are pending theoretically pose a greater flight risk, criminal history, or cannot prove ties to the U.S.
The GEO Group in August said it welcomed ICE's announcement of a an "independent review of its current detention and processing centers." The company added that it offers "high-quality, cost-effective services in safe, secure, and humane residential environments pursuant to strict contractual requirements and the Federal Government's national standards."
Salim, for one, never thought he'd end up running from the perils of his homeland to the inside of a possible death trap.
After acting as a middleman for illicit sexual acts in Ghana, he left Accra for Ecuador -- which Ghanaians can visit visa-free. From there, lacking any Spanish language skills, he made his way towards North America.
"The U.S. gives us freedom, but in Adelanto we didn't see that," he said nonchalantly. "In Africa it was not easy, but there [detained in California] it was not easy either."
"Some of the [others at Adelanto] also had a gay issue, many had a financial problem, and many hide their stories. But a lot of them just don't tell you what brought them there."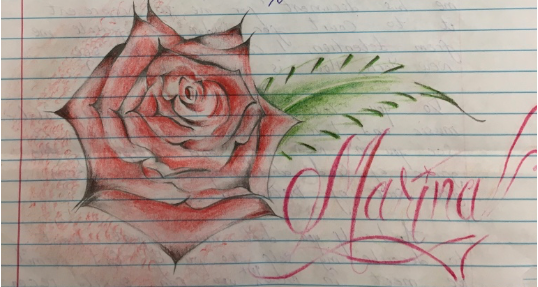 Calling all HuffPost superfans!
Sign up for membership to become a founding member and help shape HuffPost's next chapter
This post was published on the now-closed HuffPost Contributor platform. Contributors control their own work and posted freely to our site. If you need to flag this entry as abusive,
send us an email
.