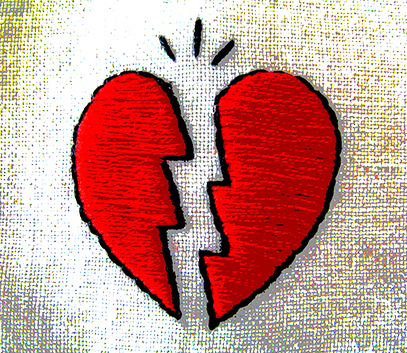 Everyone says divorce is just 'like' a death. But, divorce isn't really 'like' a death. It is a death. A death of shared dreams. A death of your former Self. A death of 'home.'
A death that brings the same physical, physiological and emotional suffering that occurs when a beloved friend or family member dies; depression, grief, weight loss, disorientation, shock and guilt.
As a yoga, meditation teacher and author of several books on grief and healthy living I've employed all of the usual tools, techniques and therapies that I know to work in healing the heart and soul. Slowly, ever so slowly, these are beginning to have the positive result I'd prayed for.
And, having just passed the 'it's been four months since we last spoke' marker, it seems that in this first quarter of 'coping with divorce' I've moved forward some. I can at least now remember where I parked my car! The light is a little stronger and the dark less so; I appear to now be in the blurry space between black night and bright day. Yet, hours do pass, sometimes days when I still feel down, depressed and discombobulated.
However, this past weekend something really lifted my spirits. I volunteered at the monthly #HashtagLunchbag event in Los Angeles, helping to prepare and hand out over a thousand lunches to the homeless and hungry. A hundred or so of us convened to make sandwiches, write love notes, and package them with water and fruit into brown paper lunch bags. We then drove to L.A.'s downtown skid row where there are literally thousands of homeless people wandering about in various degrees of mental health, cleanliness, clothing and sobriety.
We hit the streets outside the Midnight Mission and somebody wearing a wildly placed blonde wig and red leotard -- I wasn't sure if it was a man or a woman -- asked for a lunchbag. I gave him/her a compliment on their 'look' and they radiated back a beautiful beaming grin.
Then we passed a man wearing a shredded and dirt encrusted suit with some pimping brogues. In an attempt to fight off the 80-degree heat of a Californian winters day he was stealing some shade under the remnants of an umbrella. I knelt beside him and asked him about his style. Apparently, his parents were pastors and always dressed their best for church. He "loves to look sharp, too." "It shows," I said. He winked in reply with his sparkly eyes.
Wandering through a thick cloud of marijuana smoke to a bedraggled but noisy group of men and women jostling us for the lunches; "Hey, one for me," arms reaching towards us, "I need one for my kid too," bodies pressing against us. I stepped back and hollered, "Only if you say Hashtag Lunchbag!" They did. Collectively. With infectious smiles and amusement.
Next a family, nestled among a collection of tents, carts and cardboard 'homes' -- Dad, kids, elder brother and Mom -- debating out loud whether or not Mom deserved another drink. Helplessness and hopelessness etched deep into their faces. I joked with the elder son, and, after handing them lunches, asked, "Do you need anything else?" "Yeah. For you to take me home with you!" he said. I gave a cheeky smile and replied, "Maybe next time!" Our mutual laughter echoed off the mission wall.
Then Lily appeared. A sweet, bundle of joy dressed in a floppy pink hat and oversized brown trench coat giving the impression of a child wearing her parents' clothes. She was so grateful, asking if she could make us paper flowers as a thank you. We hugged, and shared our love for colorful hats. Then, as Whitney's 'I Wanna Dance with Somebody' blasted loudly from a stereo we held hands and twirled together down the street.
Despite having volunteered all over the world, with orphans, the disabled, the homeless, the dying, I realized that none of these Karma Yoga experiences -- being in service to others -- has occurred while I've been on the slippery slope of suffering myself. The act of connecting, taking a hand, giving a hug, sharing a compliment, reaching out to another human being, totally dissolved my own pain. I found my Self and lost 'myself' all at the same time.
This past weekend I gained a deeper understanding of Mahatma Ghandi's advice; "the best way to find yourself is to lose yourself in the service to others." If Ghandi were still alive I'd Tweet him and invite him to insert the prefix "When depressed . . . "
Related